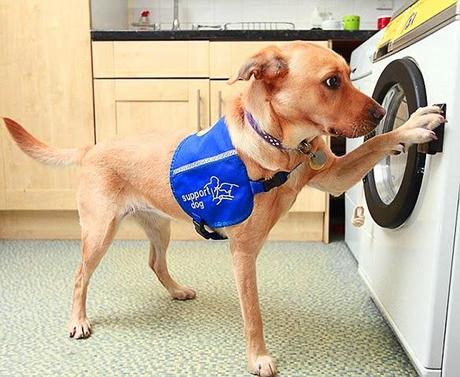 Duffy, demonstrates the World's 1st washing machine operated by a dog | Ross Parry

Laundry is a never ending chore that many of us must deal with on a weekly basis. For those who thought it was strictly for humans, think again! The Pet World has recently come to the rescue! A 
revolutionary 
washing machine has recently been created that could change the lives of millions! It's a washing machine that can be be operated by the bark of a dog!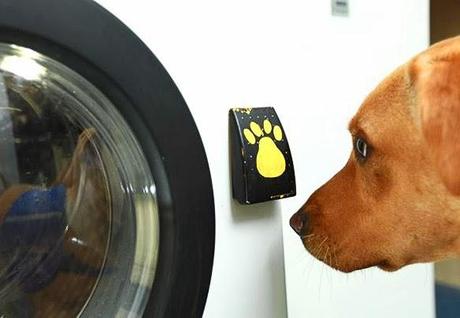 The 1st Paw activated washing machine

It's called the "Woof to Wash," the first washing machine that enables specially trained service dogs to operate it with a custom paw pad and prompted to start on the command of bark.
THE CREATOR Created by John Middleton, Managing Director of UK laundry specialist JTM, who came up with this solution to help people with disabilities who find it challenging to wash clothes in a conventional washing machine. "I had been working on a single program washing machine to make things easier, and there was a lot of demand for it," says Middleton reports the Daily Mail.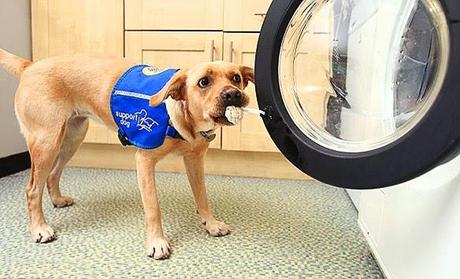 Duffy pulls the door open | Ross Parry
HOW IS IT DONE?
Dogs can unlock the machine by pressing the paw pad and open the machine door with a rope. With specially trained dogs who can strip beds and fill laundry baskets a complete load of laundry can be realized. Before the beginning of the laundry cycle, measured amounts of detergent are added automatically from a storage bottle on the machine.
People with disabilities, epileptics and children with autism will benefit from the invention through the aid of Support Dogs Charity, a organization in the UK who provides canine assistants.
In collaboration with Support Dogs Charity and manufacturer Miele Professional where Mr. Middleton worked with a team of engineers to create the washing machine.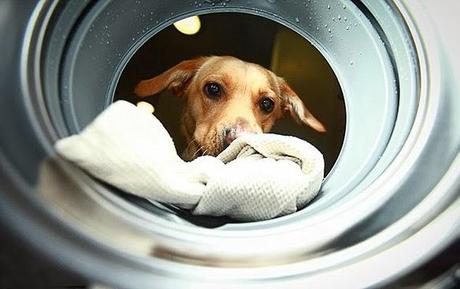 Laundry is no longer a human chore | Ross Parry

THE UNVEILING
The invention was unveiled at the Support Dogs headquarters in Sheffield, South Yorkshire, UK where a two year-old Golden Lab named Duffy demonstrated the machines ability. "The idea is to simply show what can be done - because the possibilities really are endless," says Middleton.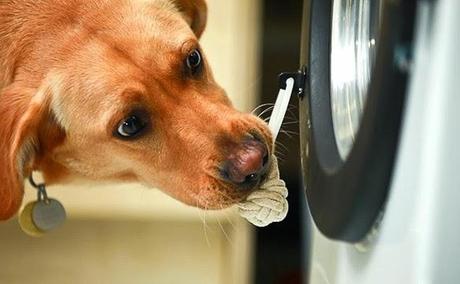 Individuals with disabilities can be helped by
this revolutionary machine | Ross Parry

"A normal washing machine can be very challenging so the single program machine is very helpful," says Director of operations of Support Dogs, Rita Howson who praised Mr. Middleton for his invention. "...A lot of people we work with also have speech problems. For instance, some with cerebral palsy would have great difficulty so a voice-activated machine is handy," adds Ms. Howson. "What John has brilliantly come up with is to tailor make these machines to each individual's needs."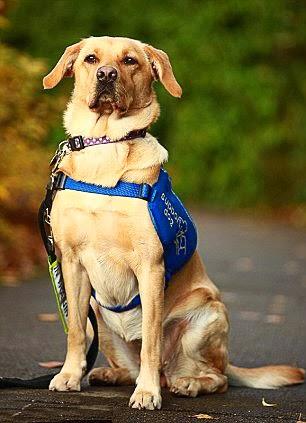 pictured Duffy from Support Dogs |
Ross Parry

THE CHARITY
Support Dogs is a small charity established in 1992 that has helped trained over 200 dogs throughout the UK and relies on donations. 
The charity's dogs are trained by use of voice command and hand signals to assist in turning on retrieve mail, turn on light switches, opening doors, assist individuals in dressing and undressing, in addition to doing laundry! 
More information can be found at their website at www.supportdogs.org.uk

VIDEO: The Revolutionary Dog-Operated Washing Machine
VIDEO: THE Woof Wash Demonstrated
SOURCE: Daily Mail