This is the weekend edition of TheMarioBlog and it will be updated as needed. Next blog post is Monday, January 16. I will be reporting from Hong Kong all of next week

TAKEAWAY: It is 2012 and it may very well be "the year of the template."  Am I the only one hearing that word uttered more often than ever before?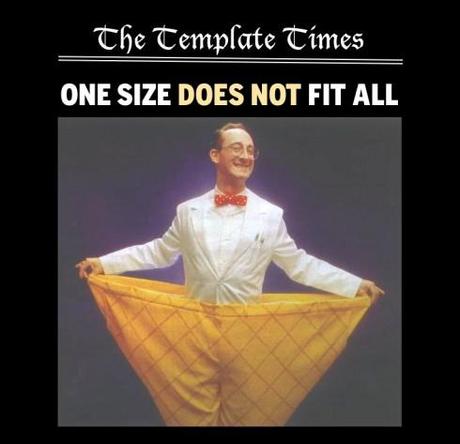 Image: (Micky Aldridge via Flickr)
OK, we all have built templates.
Of course, we all have.  One completes a design—for whatever platform—and it is the template that takes us to the finish line, guarantees continuity and provides sustainability by expediting production.
So far so good.
But, it is 2012, or about 13 days into it, and I have been approached at least three times already by organizations that ask:
"Can you and your team build us some templates that we can use with various titles?"
Does it matter that one title is in one industrial city, the other in a high income level, and a third in a part of the city populated by newly arrived immigrants?
Not really, I am told. Usually the person with whom I am having this discussion has a good argument: We must save money, hope you understand.
Yes, I do understand.
However, I find it difficult to strip a title of its personality and, instead, give it a generic, fit-all look based on a series of abstractly prepared templates.
I know that templates can be life savers.  Templates can give one specific design its foundation, provide designers and editors with a formula on which to build, and allow them more time to apply on the creative aspects of newspapering.  When I say that a newspaper is 60% formula and 40% surprise, it is those templates which guarantee the systematic formula from day to day.
However, I believe in a template specifically designed to compliment a look, for a brand, for a specific title, and NOT as economic remedies that ignore the one thing that gives newspapers anywhere a reason to be, and a reason to survive: their uniqueness, their sense of their community/environment.
A chaotic, but authentic, newspaper look is ten times better than a sanitized, decaffeinated one based on a template compensating with systematic coolness what it lacks in individuality and soul.
Let's not make 2012 the year of the template, please.
Newspapers are in trouble, but I doubt that we will alleviate the situation by stripping their souls, too.
TheMarioBlog post #925