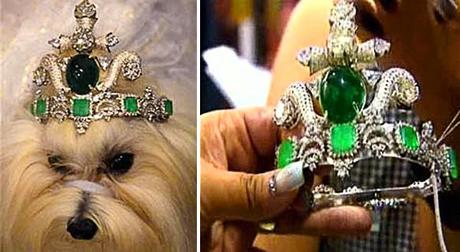 Kanune, a male Maltese wears a $4.2 Million Dollar Dog Tiara | Reuters/Corbis

In a global economy where the recession still exists,  DOGS are still living the good life.
T
ake the extreme example of this $4.2 million dollar DOG tiara that has shaken up the Pet World. 
Normally reserved for the days of kings and queens, let's rewind back to the year 2009 in April when Thai jewelry designer Riwin Jirapolsek unveiled this opulent canine jewel at a dog show in Bangkok, Thailand.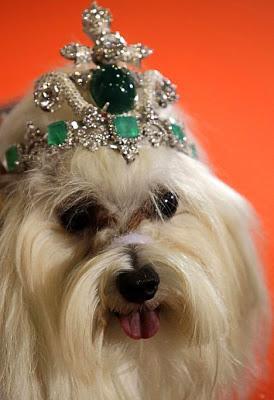 The Most Expensive Dog Tiara in the World
CUSTOM DESIGNED
The designer wanted to create something special for his 15-year-old male Maltese and that he did. 
To fit the occasion, Jirapolsek
used titanium with 250-carats of emeralds
and diamonds to create this piece from his mother's jewelry collection. The piece took nearly two months to finish and 
Jirapolsek
has no plans for selling the tiara.
"I will make a hair clip next time because my dog has to wear clips everyday otherwise its fur will block its view," according to Reuters..
Does this dog have any idea what he's wearing? Probably not, but the worldwide attention he's drawn to his owner's design is priceless.

VIDEO: See the World's Most Expensive Dog Tiara!
SOURCE: Reuters