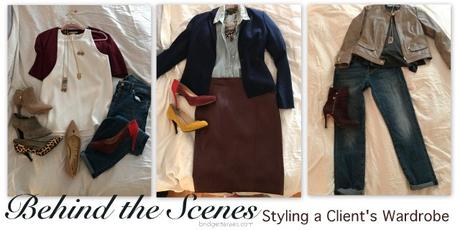 You may have heard me talk about Ms. Chic before. She is a long standing client of mine who always let's me post photos from our styling sessions. Last week, I took some time to incorporate some recent purchases into her current wardrobe. With her permission, I am showing you some of the styling of outfits I put together. In cases where I could find some of the pieces in these photos I included some links to them. Let's get started!
Behind the Scenes: Styling Ms. Chic's Wardrobe
Outfit #1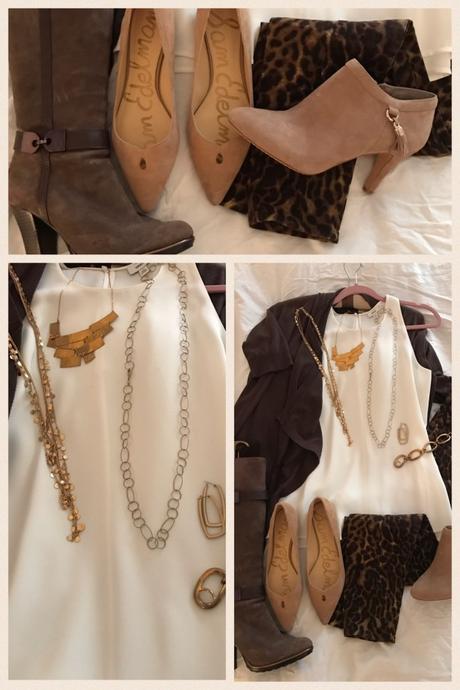 When I styled these outfits Ms. Chic wasn't home so I told her to leave me some pieces she wanted me to focus on. The first was this sleeveless Vince tunic and another was a surprisingly flattering pair of leopard skinny jeans from Lauren Ralph Lauren.
After pairing the two pieces together, I knew I had to add a layering piece. So I added a drape front 3/4 sleeve cardigan in brown that was in Ms. Chic's closet, and offered these jewelry and shoes suggestions, including these Sam Edelman nude flats.
Outfit #2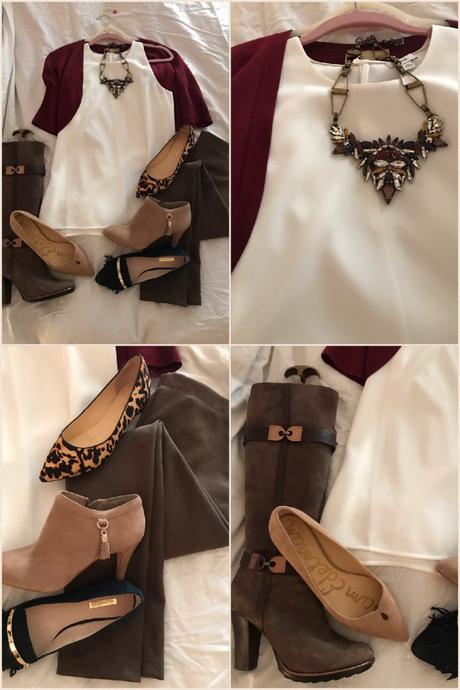 With layering pieces in mind, I grabbed Ms. Chic's shrug from Michael Kors in burgundy. You have probably heard me talk about these shrugs before. They're quite expensive but really versatile. Well, good news, Michael Kors has the burgundy style on sale for around $210. I know that is still a lot, but compared to $695 it isn't. With the same Vince Tunic, I added these taupe-y/olive faux suede leggings. Finishing the outfit, I used this incredible necklace we bought from BCBG and I included several shoe options, including these leopard flats and the Sam Edelman nude pair. I wish I could share info on those peacock colored fringed loafer flats but they are Louise et Cie from last fall. A lot of clients bought them.
Outfit #3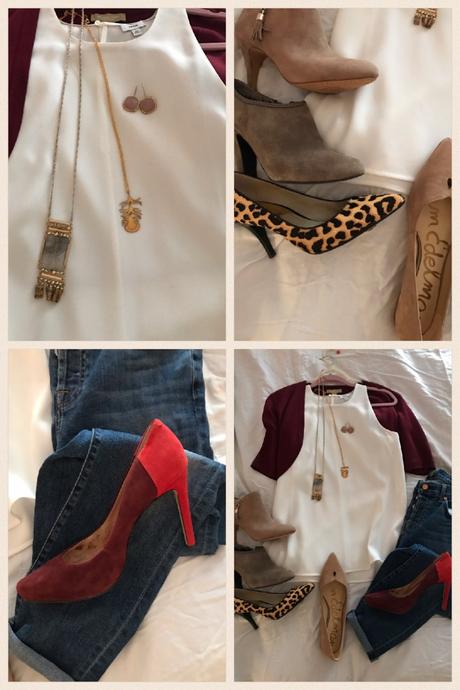 In this next outfit, I kept the tunic and cardigan the same and swapped the bottoms for a pair of boyfriend jeans by 7 for all Mankind. I gave several shoe options and jewelry suggestions. I wish I could share a link to those two tone pumps Ms. Chic owns. They are probably my favorite pair that she owns.
Outfit #4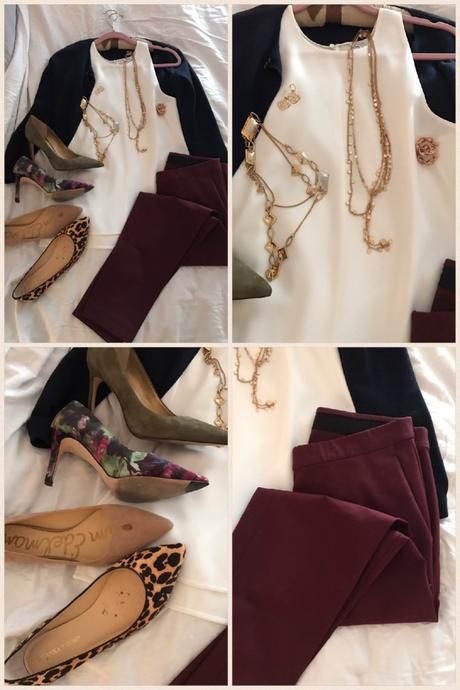 This last look using this Vince tank I styled using a pair of burgundy Theory pull on skinny pants that Ms. Chic already owned. Over it, I added a navy Elie Tahari cropped cardigan, added some jewelry suggestions and gave Ms. Chic the ability to choose flats or heels by suggesting these printed Via Spiga pumps from last year, a pair of warm grey suede pumps, the Sam Edelman flats and printed leopard flats.
Outfit #5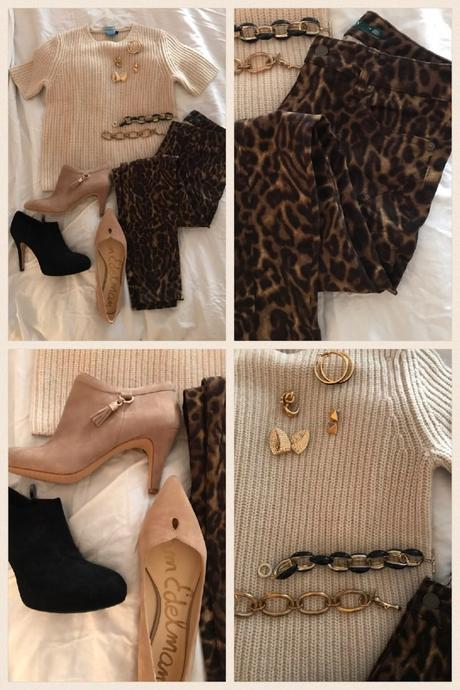 Next up, I grabbed the Lauren Ralph Lauren skinny jeans again to offer a few more options. In this outfit I used a Theory cashmere short sleeve sweater that Ms. Chic had in her closet, threw together some jewelry options and gave her the option to choose tan shoes and black using tan booties, the tan Sam Edelman flats and a pair of last year's Vince Camuto black booties. Yes, even though I don't wear black personally does not mean I don't style my clients in it.
Outfit #6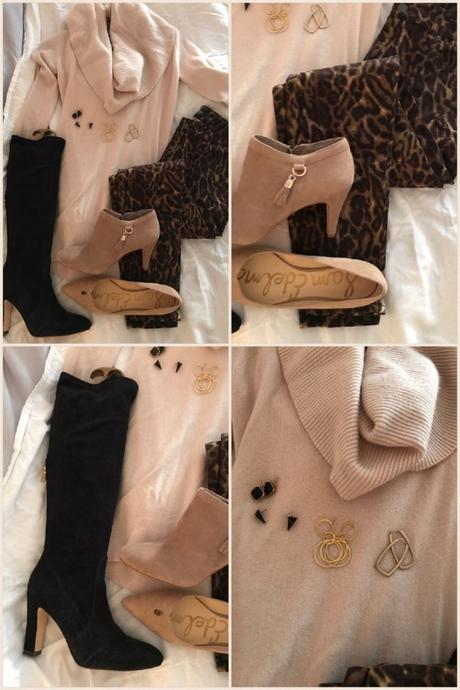 This similar outfit I styled using a cashmere turtleneck sweater in the same color as the short sleeve Theory sweater. I offered the suggestion of tall black boots (the booties can work equally well) and the same tan shoes as in the last look.
Outfit #7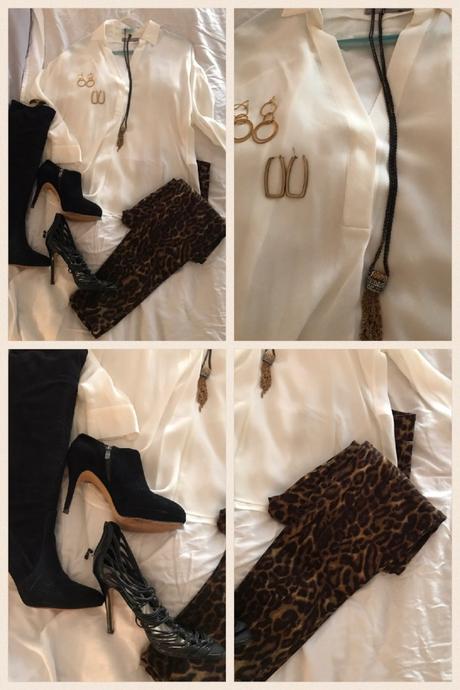 Next, I added this very popular Vince relaxed blouse to these Lauren Ralph Lauren jeans. This blouse has been very popular with clients this season. I will give you a head's up, it runs very large. With it being more of a night out look, I looked back into Ms. Chic's closet and grabbed these strappy heels that have been around longer than I have been styling her, these tall boots and black booties. I added some jewelry options including this tassel that Ms. Chic has had for years.
Outfit #8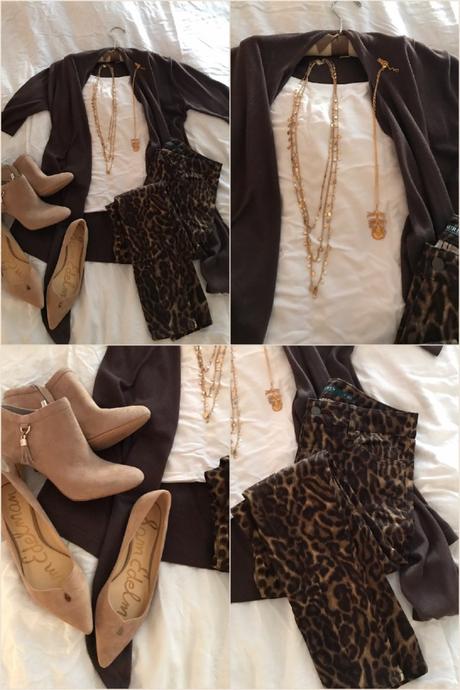 Outfit #9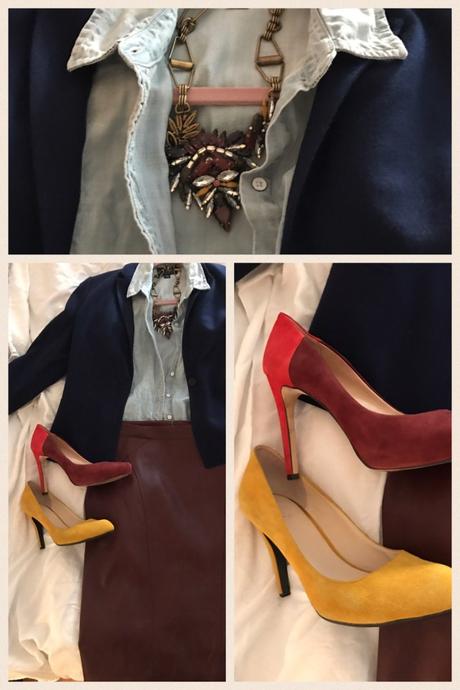 Outfit #10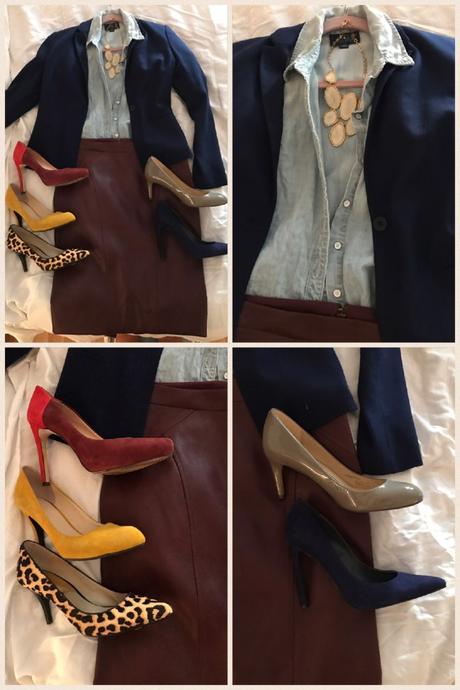 Outfit #11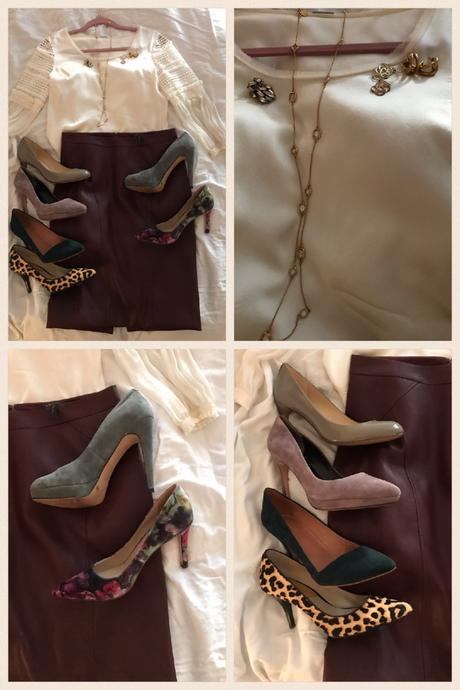 Next, I styled the skirt with this blouse that Ms. Chic and I both love because it has sleeves. It can be nearly impossible to find work blouses that aren't sleeveless that when Ms. Chic bought it a few seasons ago it quickly became a favorite. I grabbed it and styled it with the pleather skirt and used offered all these shoe and jewelry options.
Outfit #12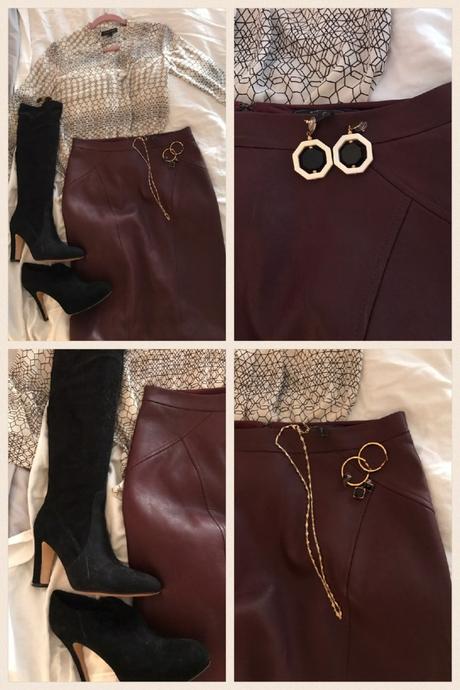 In this next look using the pleather skirt, I grabbed a black and white top that is a few seasons old from Banana Republic. With this more optic outfit, I suggested black boots or booties, black earrings and just a short gold necklace to fill in the neckline.
Outfit #13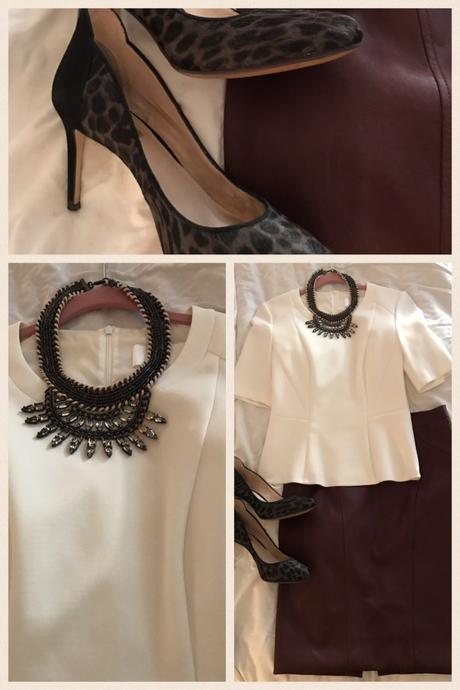 Here the skirt is again with a back zip short sleeve top from BOSS Hugo Boss that Ms. Chic bought about a year ago. To it I added this statement bib from BCBG that I can't seem to find anywhere online and a pair of black and grey tonal leopard pumps. Ms. Chic can also wear her black suede boots and booties too.
Outfit #14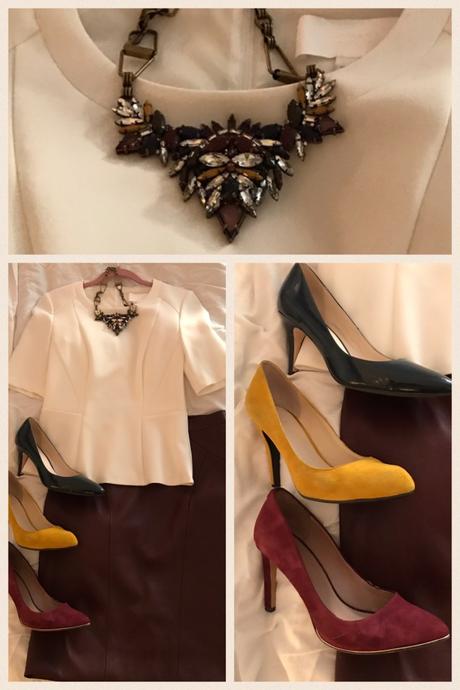 Swapping out the necklace for the colorful BCBG style, I used the colors found in the necklace to offer three shoe options.
Outfit #15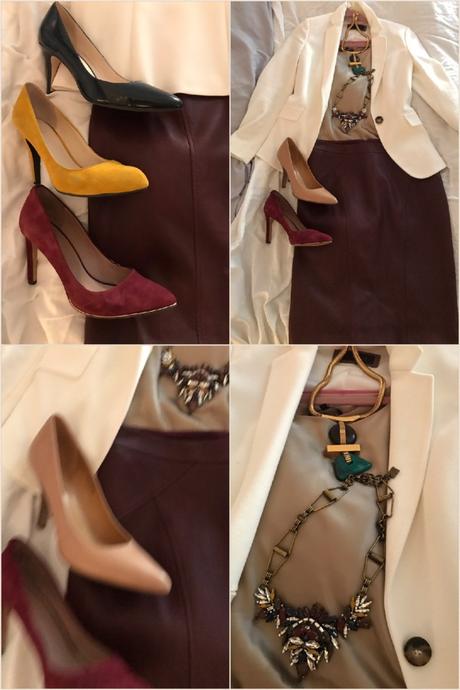 Outfit #16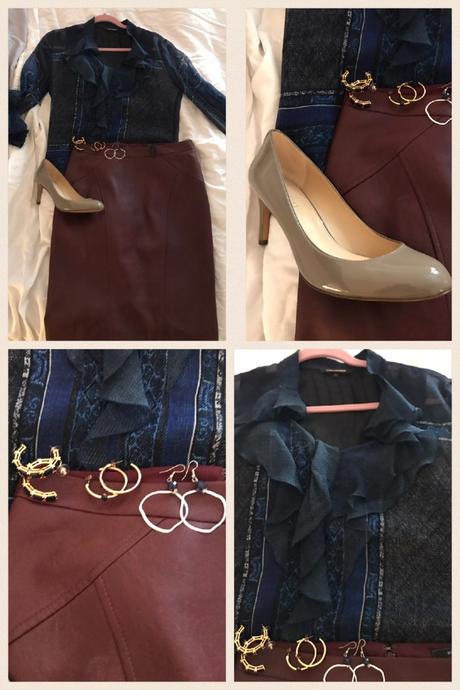 Outfit #17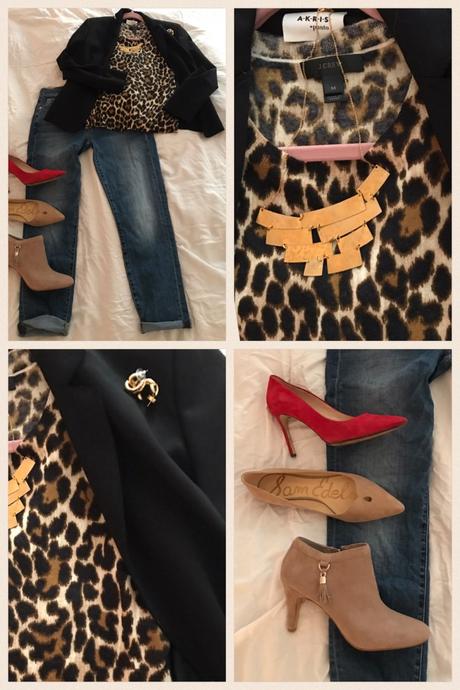 Lastly, I moved into styling Ms. Chic's 7 for all Mankind Josefina boyfriend jeans. I seriously could devote an entire day to styling these jeans alone. The first outfit I styled using a leopard shell from J. Crew, a basic Akris Punto blazer over it and offered several shoes suggestions. The red is a less obvious choice that I really thought added some interest to the overall outfit. Of course, for more casual days, I loved adding the Sam Edelman flats. The tile necklace is from Anthropologie and one that I wish was still in stores.
Outfit #18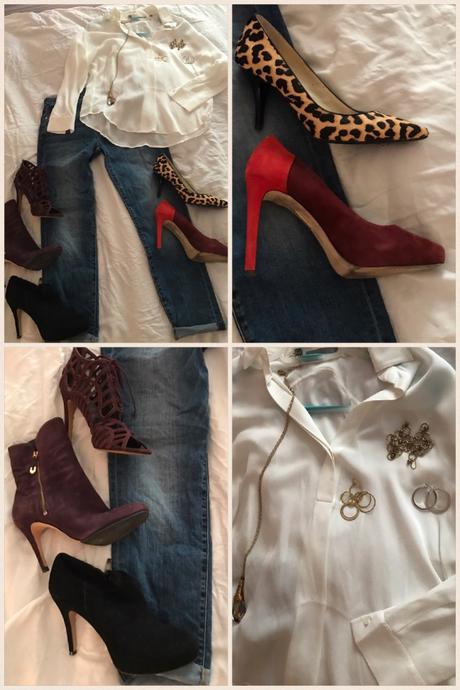 Next, I used the drapey Vince blouse that I used earlier with these jeans, added some jewelry options and these amazing shoe choices. I can't even begin to tell you how stunning those burgundy caged heels are.
Outfit #19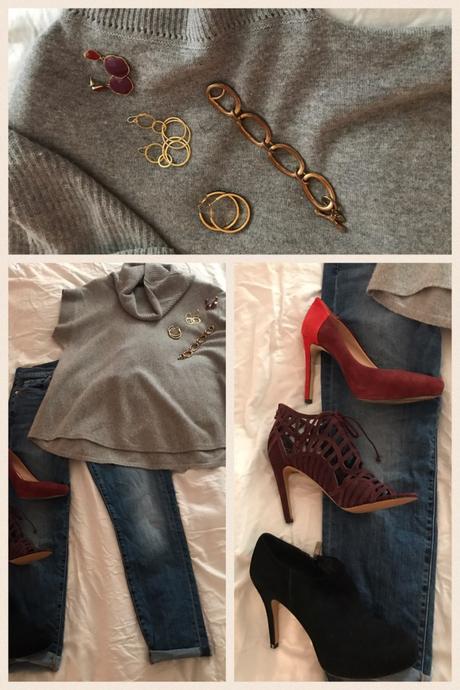 As you can plainly tell, Ms. Chic has no problem wearing heels casually or to work. I know that makes her a bit rare, however, in her case, I have no problem adding heeled options to this weekend look of these boyfriend jeans and Vince cashmere sweater from a few seasons ago. However, a look like this can look equally good with flats or low heeled booties if you are looking to duplicate.
Outfit #20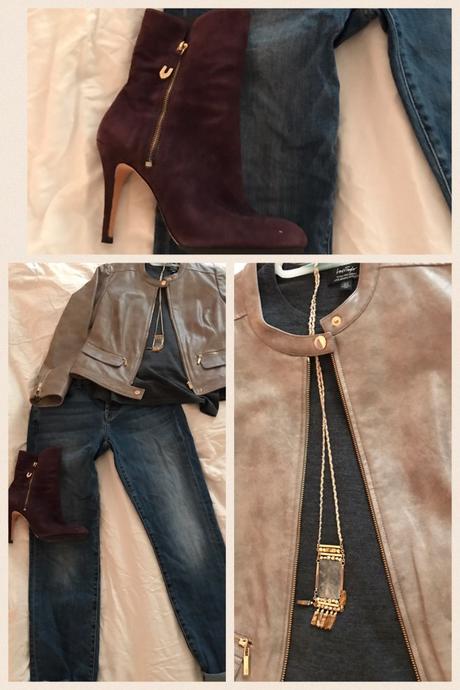 Outfit #21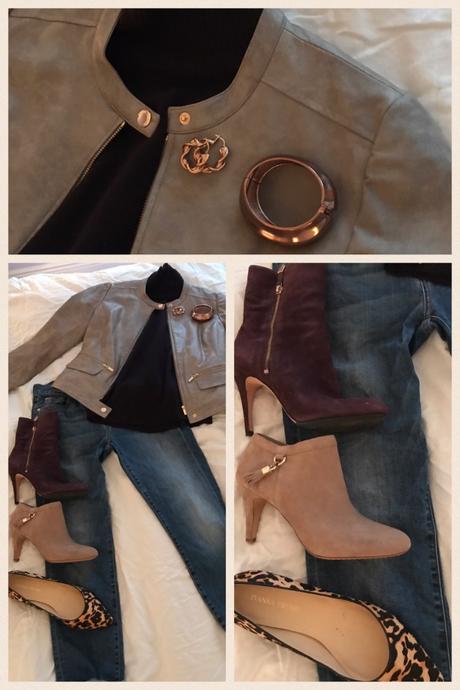 For this outfit, I used a dark plum turtleneck sweater from Ms. Chic's closet and paired it with the Vince Camuto jacket and jeans. To it, I used the tan booties, leopard flats, burgundy booties and suggested rose gold jewelry.
Outfit #22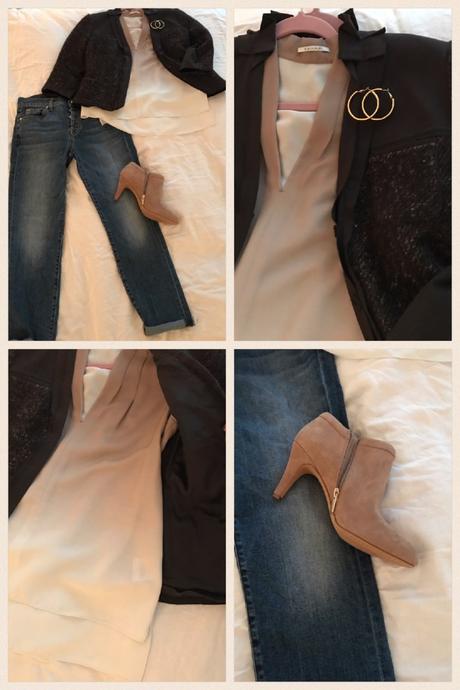 In this outfit I took an ombre T Tahari blouse and tweed jacket that Ms. Chic already owned and typically wears to work and styled them with the boyfriend jeans. I used the tan booties again and just suggested hoop earrings.
Outfit #23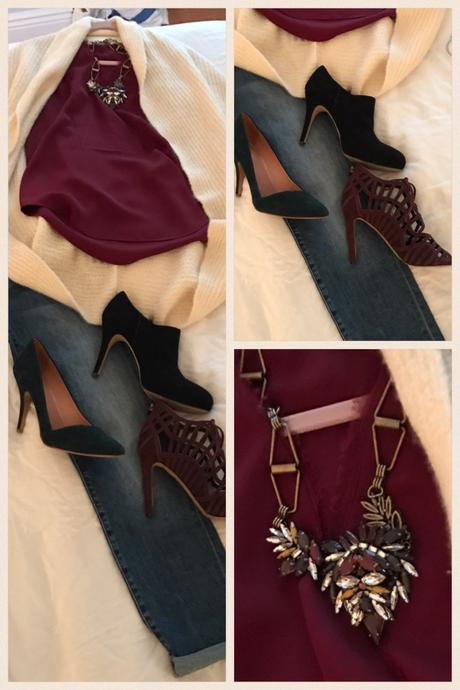 In this last outfit, I used a burgundy top and slouchy cardigan to create this look with the boyfriend jeans. To finish the outfit, I added the BCBG necklace and black booties, the burgundy caged heels and, for contrast, the dark teal pumps.
I hope you enjoyed getting a look at Ms. Chic's wardrobe and just a few of the outfits I put together. And a huge thanks to Ms. Chic for allowing me to do it. Even if you don't own the exact pieces, I hope these looks give you some ideas for your own closet.