Hot on the heels of the the "Echoes of the Past" promo videos released yesterday, HBO Producer Jenn Grauer has tweeted that she has been on the set to conduct interviews with the full cast for this seasons Behind the Scenes Promos. She has even been kind enough to tweet a photograph for her interview with Alex, Anna and Stephen.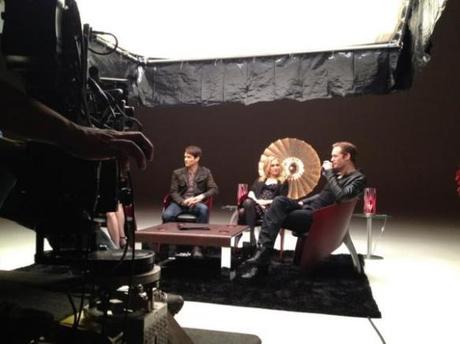 We presume the pair of legs next to Stephen belongs to Jenn herself!
You can follow Jenn's twitter page here to check out if she gives any more updates.
Hopefully this is just the start of a massive promo campaign for Season 5, and of course Mr Northman is obviously looking mighty fine.
Not sure whether to draw conclusions from the fact that Anna is being interviewed with Alex and Stephen. A few people are predicting a Sookie and Alcide Liaison this season, but no sign of him in that little group. It could just be that these 3 actors are considered the show leads though?
Let us know what you think – are you excited about seeing this interview when it is released?