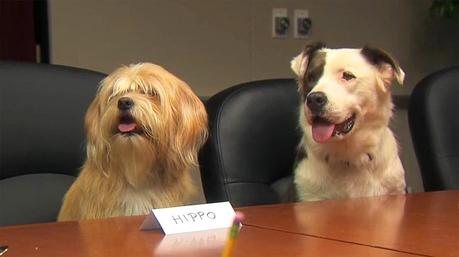 Two furry respondents give their opinion in a Pet Focus Group | YouTube via BigLots!
Focus groups are often thought of as sterile meeting places where people gather to give their belief, opinions and perceptions on products and services. But what happens when the respondents are dogs? In this comical commercial  presented by giant discounter Big Lots! we are invited into a world where Pets rule and their feedback are king!  In the following video, two facilitators ask the opinions of their furry counterparts. Their responses may leave you chuckling in your seat. The commercial features two professional improv comedians as the focus group facilitators and respondents featuring cats and dogs with the names Boots, Hippo and Porkchop that will sure to amuse the Pet parent and enthusiast within all of us.
The Campaign
The advertising campaign titled "Pet Focus Group" featuring a series of commercials  to be featured online was produced by Chicago ad agency O'Keefe Reinhard & Paul. According to Adweek, Sue Gillan, creative director at O'Keefe Reinhard & Paul said "We realized that instead of scripting this, it would be so much more fun to let pets be pets, and get really good improvisers to react in real time to whatever those animals are doing. "And because you have these human facilitators in the room with the pets, they get to do the heavy lifting around uncovering the quality of the products without the event feeling commercialized. The result feels like a genuine discovery of the products."
The commercials are Big Lots! latest campaign to promote the growing market of Pet food and merchandise offerings.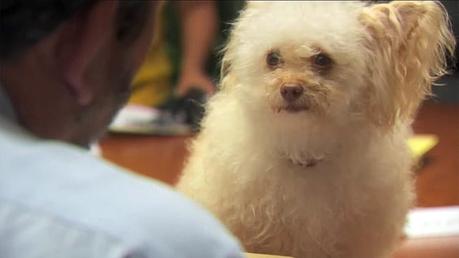 What did you say? A puzzled pooch looks at a focus group facilitator.  | YouTube via BigLots!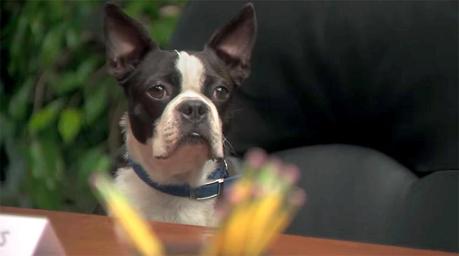 Opinions count from canines in this focus group | YouTube via BigLots!