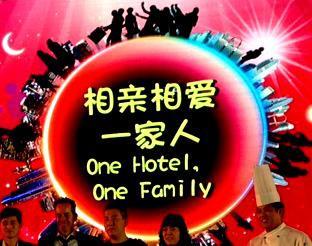 Five months living in the hotel and I finally got a backstage pass! (Just who do you have to um..know 'round here to get a behind the scenes tour!?)

I'm not sure what I expected, but the sheer size and complexity of the hotel's underbelly simply blew me away.
I guess if you're not in the industry, you expect 'back of house' to be a fairly compact entity; perhaps a canteen, a few offices, and a kitchen or two. I mean, front of house in most 5-star establishments is huge, so just how much more can there be, right? 
But let's not forget this is a 400-plus room hotel with three restaurants and hundreds of staff - in Mainland China no less, where space is abundant!
So, with my small person in tow, it was a little like stepping through the magic door in The Lion the Witch & the Wardrobe.
Not unlike Narnia, right now - it feels like the winter in Xi'an is seemingly endless!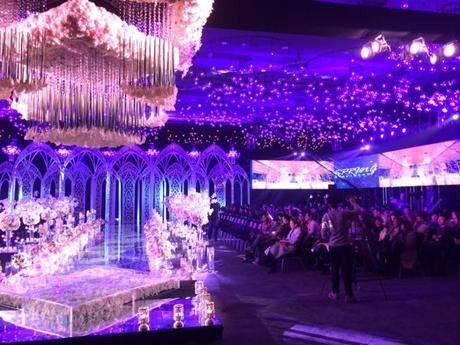 As you expect in 5-star digs, the hotel 'stage' is brightly lit with staff buzzing around 24/7. Concierge staff are smiling and gushing at every corner; lobby bars are serving up colorful cocktails and fine dining restaurants are wafting with delicious-smelling cuisine. Mean time, ballrooms brim with glittering events and hotel rooms are decked out with fluffy white robes and plush towels; not to mention your king sized bed adorned with crisp white sheets.
But behind the curtains of the stellar 5-star performance, what's really going on?
Venturing out of the spotlight and into the abyss, we (much to my surprise) found a rabbit warren of corridors. The scenery is very bare bones, but don't be fooled – behind closed doors we found bustling hives of activity. A small village at play.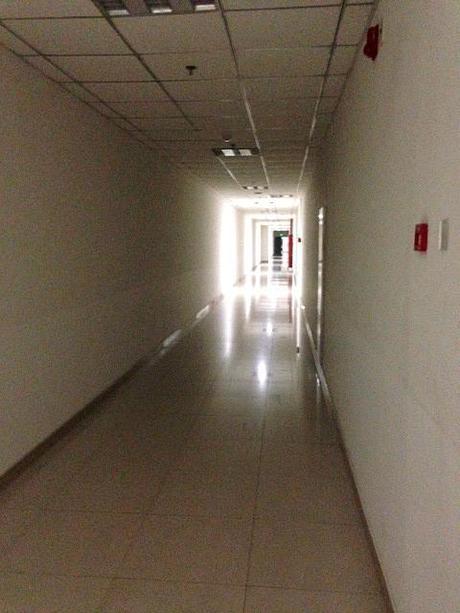 Despite the Chinese New Year 'skeleton' staff list, we were met with "Xin Nian Kuai Le's" at every turn….quite lucky the hotelier had a few remaining Hong Bao (click here for the lowdown on Lai See) stashed in his pockets for this emergency journey, because in this intricate maze it clearly wasn't going to be a quick prop change.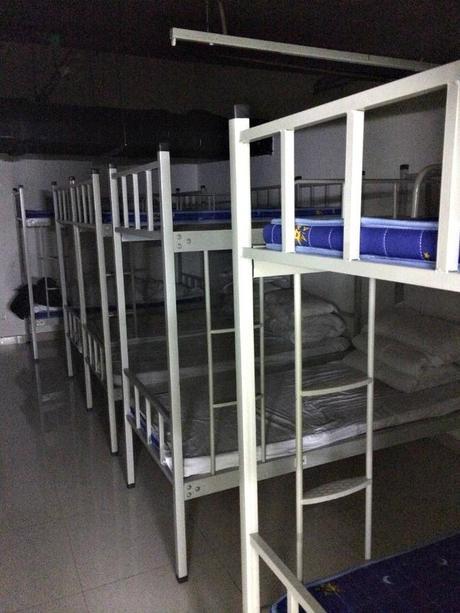 My first surprise, dark rooms filled metal framed bunks cushioning sleeping workers – on split shifts. 'Shushing' a boisterous Ava, we scurried past – but apparently they're used to corridors heaving with bodies while they catch a few zzz's. For many staff in China, hours are long and a kip between shifts is not out of the question.
Further down in the wings we spotted separate kitchens for literally every type of food preparation you can imagine.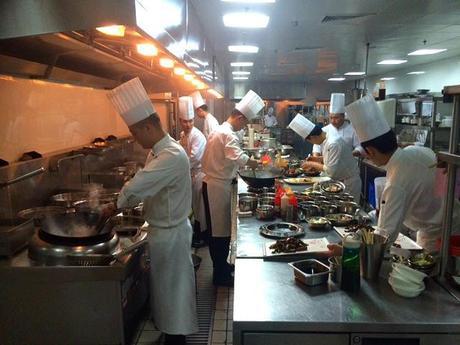 Yes! A budding chef's paradise, you will probably salivate at the idea of a room just for chopping veges! A sushi making kitchen, pastry kitchen, bread making kitchen, butcher, fish prep room etc etc….. (My small person echoing complete surprise at the bread in its doughy form. 'It's white!' she pipes up! Obviously mummy doesn't make her own bread!)
Up another alleyway…and the scene is set for dozens of workers washing, folding and ironing everything from towels and sheets to clothes and well, hopefully not my underwear at this very moment in time! (Shudders.)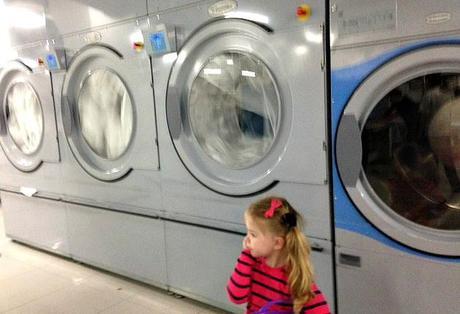 A laundry the size of a small apartment lay before us with enough starch to stiffen a Xianease noodle – the staff probably thought we were mad, oohing and ahhing over giant clothes dryers and sheet straighteners but it was spectacle worthy of applause indeed.
Along the hall and a dry cleaning-style shopfront is overflowing with fresh costumes uniforms in every size and shape (shoes too) where staff check in to collect their week's supply.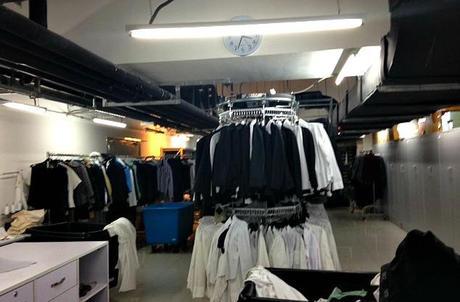 Relaxation rooms (Green Room?), a florist (yes, how else do you think those daily decorations adorn the lobbies of fancy hotels – a set in need of constant revamping), a staff canteen serving 2000 meals a day…and of course a bevy of offices with busy workers.
Tightly shut doors opened on to massive plant rooms with boilers for keeping the water hot, electricity flowing (usually), aircon in action and well basically the 5-star show up and running. (We all know what happens when they stop! If you don't, er, perhaps read this!)
We stopped off to say hello to the ladies in 'service express' who take all incoming calls to the hotel…. Their English is considered pretty good, but if we're ordering dinner by phone we usually muddle our way through with their English and my woeful Chinese, in the end hopefully achieving some sort of edible room service delivered. Today they spy Ava and I and immediately start giggling and using the words "salmon" and "broccoli!" Yep! We westerners are pretty predictable lot! All we eat is broccoli and Sal-mon! (Kind of.)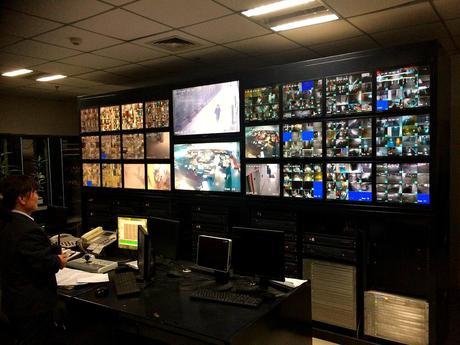 With 300 security cameras installed in the hotel (don't worry, there are none in the rooms, or so I'm told!!) there's even a security room with an entire wall of monitors – enough to rival a TV station, so I believe!
And as a city with a serious bike culture, there's also an impressive parking bay for these two-wheeler modes of transport. 
Nearby to the hotel there are also dormitories for around 100 staff who live more than two hours away.  They are basic but a much sought-after alternative to taking a mammoth journey to and from work each day in manic traffic. Staff also get to eat three hot meals a day and shower – a common scenario in Xi'an workplaces.
So, backstage, in this giant village, it's definitely a no-frills affair; but here in Xi'an where daily life is relatively simple and for the majority of Xianease, luxuries few and far between, it's no doubt more appealing to hang in Narnia where the never-ending winter is warmed up with proper heating.
Just as a hotel can be a refuge for its guests, it's also a home away from home for the staff in a place where outstanding performances are a prerequisite for 5-star presentation.
There's no doubt, through the revolving door, there's a pretty well-oiled machine that (for the most part) keeps the wheels on the 5-star wagon rolling!
The show must go on!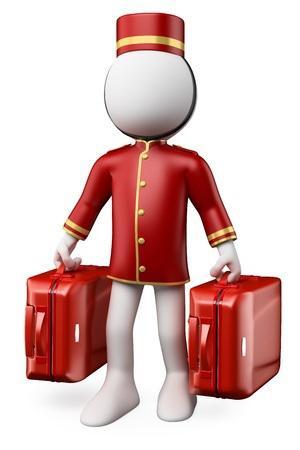 Psst, as for what goes on front of house, behind closed doors…..you might like this post I wrote. Fool's Paradise. Some guests are in a league of their own!