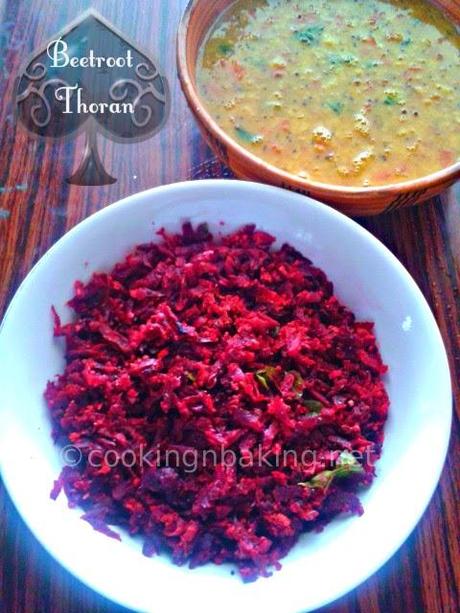 B
eetroot Thoran
A very happy diwali to all. So blogging was getting set back due to severe shortage of time. However I made it a point not to skip anymore. A simple healthy recipe with a video tutorial of our very own Beetroot Thoran.
Diwali was too much of calories so the lunch was a wholesome, healthy meal with rice, pappad, parippu curry and the beetroot thoran.
Ingredients:
Beetroot- 4 nos
Oil- 2tbsp + 2tbsp
Mustard-1 tsp
Black gram (Split)- 1 tsp
Curry Leaves- few
Green Chilly- 1
Salt- as per taste
To  
grind 
and
roast
:
Coconut- 3 tbsp
Green Chilly- 1
Cumin-1/2 tsp  
Method:

Peel wash and scrap beetroot.
Grind coconut, cumin and green chilly to a smooth paste.

Heat oil in a wok and add 2 tbsp of oil.
Fry crushed coconut powder till crisp and brown.
Once it is roasted, remove and set aside.
Heat the same wok with 2 tbsp of oil and fry mustard, blackgram and curry leaves.
Add chopped chilly and fry well in medium flame till crisp.
Add scrapped beetroot.

Add some water, salt and cook by covering it with the lid for 10 minutes in low flame.
After 10 minutes, open the lid and add the roasted coconut.
Mix well and add a pinch of pepper.
Remove from flame.