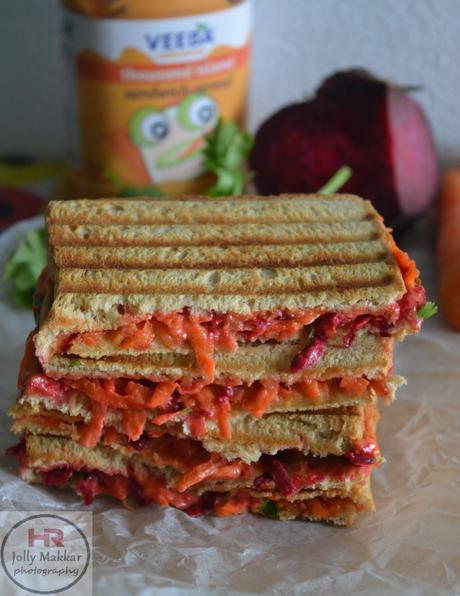 Beetroot Carrot Sandwich Recipe

-Today I am sharing with you all another innovative recipe from my kitchen. The recipe name is carrot and beetroot sandwich. 
I have used simple vegetables which were all time available in my fridge to make this sandwich. Normally children are fussy eaters and don't eat all vegetables.
A simple, healthy and colourful sandwich, combined with the creaminess of mayonnaise ensures that kids will fall in love with these easy Carrot and Beetroot Sandwich. Easy to assemble, these sandwich can be prepared by kids, with a little help in grating the veggies and baked in a sandwich maker.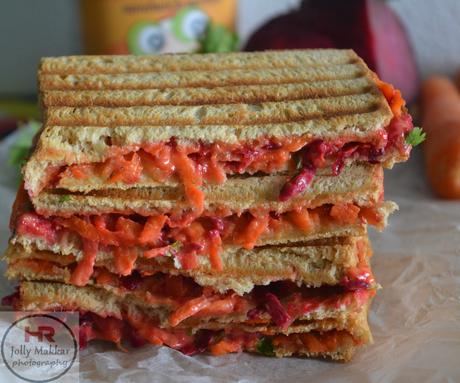 You can serve this sandwich as a cold sandwich also, no sandwich maker is required..just spread the stuffing into bread and cut into halves..Serve it with tomato ketchup or with a glass of juice.
Beetroot, also known as beet, has been gaining in popularity as a new super food due to recent studies claiming that beets and beetroot juice can improve athletic performance, lower blood pressure, and increase blood flow.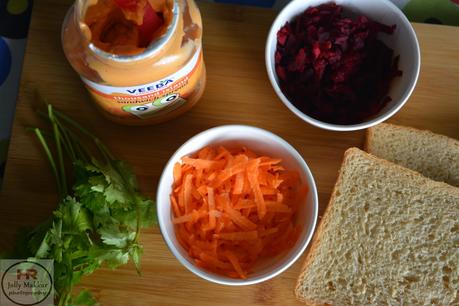 Orange Carrots are rich in vitamin A and are good for maintaining a healthy eye sight.
Red carrots are sweeter in taste than the orange variety. Orange carrots are less sweet, but have a pleasant taste.
Beetroot is rich in folate and vitamin C and iron and radish are rich in folate, fiber and vitamin B6.

This recipe is under A to Z recipe challenge, this month is alphabet B, I have choose "B-Beetroot" and decided to make this colorful sandwich using with beetroot and carrot in a sandwich.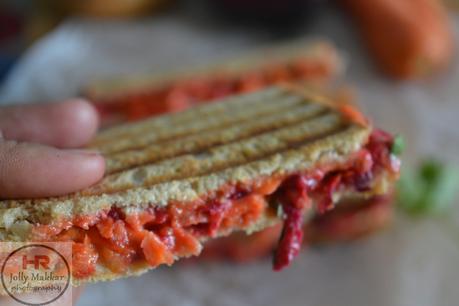 These sandwiches are easy to make and tastes very good. Kids like the sandwich very much as they are not spicy. This is also a perfect school tiffin box for kids. I love this sandwich, I am sure you love this sandwich too !!