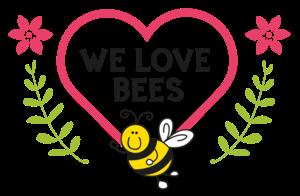 Manchester Bee, beautiful, symbolic and instantly recognisable.  My ancestry is firmly rooted in the city, Moss Side, Openshaw, Chorlton-On-Medlock, Ancoats, Stretford, Northenden and more recently Wythenshawe. They rest in Southern Cemetery, some known to me, many others long before my time, my people, my bloodline, my family. Some, my mother's side, lived in Sale. It was in Cheshire then, affluent, even posh. I'm proud to have been born there and I'm happy that it is part of Greater Manchester now (not everyone is, sorry) because it unites all my family under the same umbrella and I like that. The Manchester Bee is for us all.
The first insect sting I ever had happened in Wythenshawe Park. I was about six I think. Nanna Hetty had taken me out to play and we were sitting on a bench to eat our ice cream. I remember her sitting down first and wafting a bee out of the way for me to sit beside her. The bee must have gone under the wooden slats of the seat to come out again as I sat.  I cried out with pain on my upper leg and there was the bee-sting, sticking out of my skin. Nanna knew what to do and looked after me. I sobbed and sobbed as she got the barb out, taking care not to squeeze. I was brave. Back at her house, the sting area dabbed with vinegar, I soon recovered. Sixty years later, the memory and associated trauma is still strong. Up to now, I haven't had any more bee stings, but I give them their own space and plenty of respect.
My garden, such as it is – largely concrete ground with planting areas and tubs – has plants attractive to butterflies and bees including buddleia, sunflowers and a geum, beautiful and orangey called Totally Tangerine which I just had to have when we first planted this new garden. It comes back bigger and more bountiful every year, of course.
Reading up about bees, I have learnt that 'in the old days' news of a bee-keeper's death would be passed on to them and their hives would be shrouded in black cloth. This was to reassure bees that they were to stay and carry on.  American poet, John Greenleaf Whittier mentions this in his poem, Telling the Bees.
Last week, a special little 'Bee' died. Nine year old Jordan Banks, who played football for Clifton Rangers Bees under 9s, passed away after being struck by lightning.  My heart broke for this beautiful little boy and his family, not known to me, but part of our neighbourhood as he attended our local primary school.  I gave my daughter some flowers to lay at the junior school gate when she took my grandson to school. Yesterday, my son went to see all the flowers and tributes when he took my granddaughter to school. Jordan, doing what he loved, kicking a football about in the fresh air, a selfless young man who did so much for others in his short life.  He was something special.
Tempted as I was to choose Arthur Askey's 'The Bee Song', I opted for Emily Dickinson instead:
The Bee
Like trains of cars on tracks of plush
I hear the level bee:
A jar across the flowers goes,
Their velvet masonry
Withstands until the sweet assault
Their chivalry consumes,
While he, victorious, tilts away
To vanquish other blooms.
His feet are shod with gauze,
His helmet is of gold;
His breast, a single onyx
With chrysoprase, inland.
His labor is a chant,
His idleness a tune;
Oh, for a bee's experience
Of clovers and of noon!
                             Emily Dickinson, 1830-1886

Thanks for reading, stay safe, Pam x
Email This
BlogThis!
Share to Twitter
Share to Facebook