On March 11, 2017 Bomber Brewing hosted the Third Annual Beer League Bash at Britannia Community Rink in East Vancouver. The event ran from 4-10pm and coast $25 a ticket which got you three beer tickets. More sample tickets could be purchased for $1.25 or for donated hockey gear.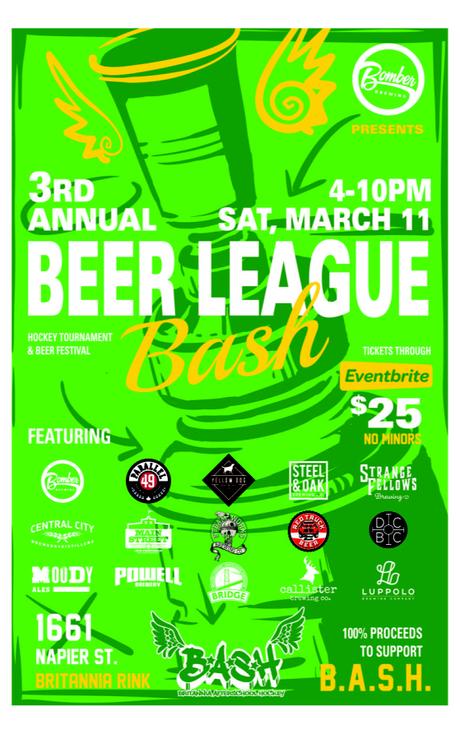 From Bomber Brewing: 100% of the proceeds go to support Britannia After School Hockey. This great youth program gives kids, that normally would not have the opportunity to play hockey, a chance to play. BASH supplies all of their gear and provides coaches/mentors to help develop not just hockey, but life skills. Through this event, the local craft brewery community has helped to raise close to $5000 a year in cash and donated gear to support this program. Come out and enjoy some great beer and some mediocre hockey and help us surpass that level this year.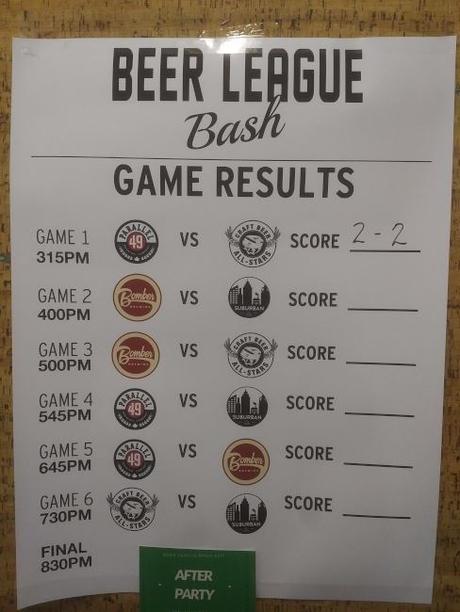 This fundraiser consists of a beer league hockey tournament and a beer festival. Starting with the beer festival in the stands.
The breweries that came to support the bash were as follows: Bomber Brewing, Central City, Moody Ales, Parallel 49, Main Street, Powell Brewery, Yellow Dog, Steamworks, Bridge, Steel & Oak, Red Truck, Callister, Strange Fellows, Doans and Luppolo Brewing.
I really appreciated that some of the breweries brought out beer that was brand new or fairly new to try as this event does seem to bring out the industry and not just the average beer drinker. Without the hockey though this is just anouther beer event. The best of the festival for me was the new release from Bomber called The Code a beer that tied into the hockey movie Goon Last of the Enforcers.
Now that I mentioned hockey again here are some photos from the hockey itself. There were 4 teams this year in the Beer League Bash. The teams included Bomber Brewing, Parallel 49 Brewing, Craft Beer All-Stars and the Suburban All Stars. They held a round robin tournament with music between plays and everything.
This was beer league hockey and there was definitely mistakes but it sure made for some exciting goals. For the first time in the 3 years of this event had the correct finish with Bomber Brewing winning the big trophy!
I would be remiss to share some of the videos of the actual games.
Its not a win without the skate with the trophy!
I was sad to miss the second anual event but this year was a blast! Being a huge hockey fan and beer fan this manages to bring so much good together and it is for a good cause to help get kids off the street! If you did not make it to this event make sure you make it out next year!