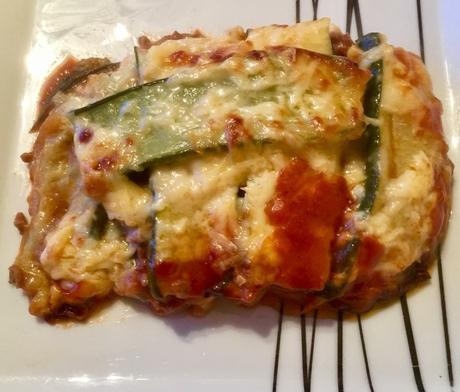 From home chefs to IFF chef of the week, Indian Food Freak celebrates this journey of our every day chefs. Recipe Originality, Recipe documentation with precise measurements, Innovation and Presentation is all that's required to crown our everyday chefs.
Past week, Mr. Steve Westover was crowned as IFF chef of the week. Beef Lasagne was the winning recipe that was explained in four stages.
Recipe: Beef Lasagne
Chef:
Serves: Six (6)
Beef lasagne made using minced beef, sliced aubergines and courgettes instead of pasta. Chef feels that pasta makes it a rather heavy dish and this version is much lighter on the stomach.
Four stage process.
1st stage
400 grams minced beef.
2 large onions, sliced
4 ozs mushrooms chopped
2 cloves of garlic, crushed
1 beef oxo cube
1 carton of passata. About a pint.
Fresh basil,  I used a small bunch and shredded it.
A teaspoon of mixed herbs
Oil of your choice for frying. I used olive oil.
Heat oil in a large non stick pan,  add onions and fry until translucent.  You don't want to brown them.  Add beef and fry until beef is coloured. Add mushrooms and garlic and fry for a couple of minutes.  Add garlic, mixed herbs and fry for a further 2 minutes.  Add passata and oxo cube and stir in well. Add basil and simmer gently for 10 minutes. Turn off heat and allow to cool.
Stage 2 
Preheat oven to 190 fan
2 aubergines
4 courgettes
Olive oil. Enough to coat the vegetables.
Slice aubergines and courgettes lengthways.  About a quarter of an inch thick is ideal.  Place the slices in a single layer in a large flat roasting dish lined with non-stick baking parchment, I used two dishes as it is too much for one.  You could do it in two batches if you only have one dish. Brush the slices with olive oil, on both sides.  Place in oven and bake for 30 minutes.  Remove from oven and allow to cool.
Stage 3
Make a pint of bechamel sauce.  If you google how to make bechamel sauce you will find how to do that.  Add 2 to 4 ounces of cheddar cheese depending on your taste.
Set aside and leave to cool.
Stage 4
Preheat oven to 190 fan
Take a large oven dish.  It needs to be about 2 inches deep.  Spread half the beef mixture on the bottom.  Then layer the aubergines on top of this.  Spread half the white cheese sauce on top of the aubergines.  Spread the rest of the beef mixture on top of this. Layer the courgette slices on top then spread the rest of the white sauce on the top.  Grate 2 to 3 ounces of cheddar cheese over the  top.
Put dish in oven and cook for 30 minutes until the cheese is melted and browned on top.