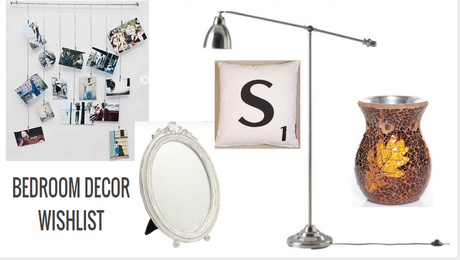 I love browsing home wear websites and picking out things that would look nice in my bedroom, I even daydream about what I would want in my future home. It's quite sad but a girl can dream! Today I've put together a few things that I've seen and really loved lately. As it's getting closer to the official Winter season, I want to make my bedroom as warming and cosy as possible. 
01. Urban Outfitters Tangle Photo Frame ~ £25I love having lots of photos of my nearest and dearest on display around my bedroom. I absolutely love this frame as it's such a different way to display pictures. I think it would be a really nice feature place on a pretty empty looking wall.
02. Laura Ashley Oval Footed Mirror ~ £21.60 (SALE!)I've been on the hunt for a nice mirror that will match my bedroom for SO long now. I stumbled across this when reading one of Pearls and Poodles posts about her wedding. I love the shape and the design, it's not too much yet has a nice detail to it. I can imagine it sitting perfectly on my dressing table and now it's been reduced I really can't resist it!
03. Urban Outfitters S Cushion ~ £20Lately I've been loving lettered decor items, I think they add a personalized touch to a room and are such a simple thing to add. I love the look of this one as it's not too bold, it's a little rough around the edges. However I would never pay £20 for a cushion so simple. 
04. Yankee Candle Leaf Mosaic Melt Warmer ~ £17.99I absolutley love Yankee Candles. My favorite thing to get is new melts for my warmer. They look so much prettier than a normal candle and I like being able to try new scents without buying a whole new candle. As I have an ever growing collection of melts, I'm on the hunt for a new warmer. The one I have at the moment has a gorgeous mosaic pattern so I'm looking for something similar. I love this leaf patterned one, the colours would go perfectly in my bedroom and it's also perfect for Autumn. 
05. Ikea Barometer Floor Lamp ~ £49This is a random one but lately I've been loving the look of floor lamps. Theres an empty corner in my bedroom and this would fit perfectly next to my dressing table. I think floor lamps are a bit of a different twist and are a great way to add more light to your room (if your like me and hate having my main light on).