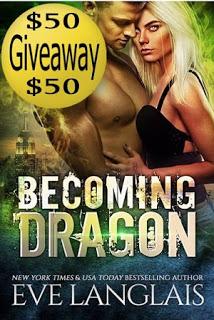 Becoming Dragon
by Eve Langlais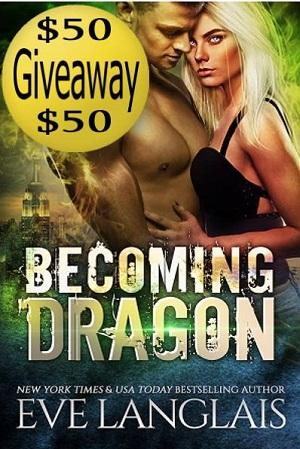 GENRE
: Contemporary Paranormal Romance
BLURB:
Can he embrace the beast within?
I'm a monster. That's what Brandon thinks when he flees the medical institute that changed him. Living a normal life isn't in the cards for him because, while he can hide his scaly skin, his wings are hard to miss. So he runs and lives in the shadows where monsters belong. What he didn't expect to find were others just like him, and they call themselves dragons. Or so Aimi with the violet eyes tells him when she pins him to the ground.
Seriously, though, dragons?
He doesn't want to believe, but the evidence is mounting. Not helping his resolve is the fact that the woman with the silver hair doesn't fear the monster and wants to claim him.
However, before he can think of his own happiness, he has to rescue his little sister. Uncle Theo kidnapped her, and Brandon will do anything to get her back, even if he must embrace the monster within to become the dragon.
EXCERPT
Playing hard to get. How cute. It would make her claiming all the more satisfying—after she stopped hitting him for making it so difficult. Why couldn't he just obey?
Her biggest fear now was that one of her cousins, or even her aunts, would find him first.
He's mine. And she wanted him bad enough that she'd give up part of her treasure to keep him.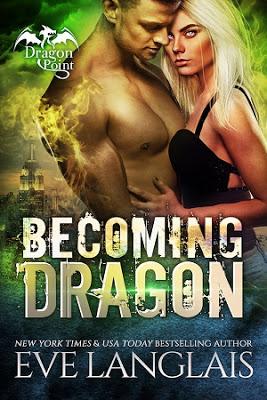 AUTHOR Bio and Links: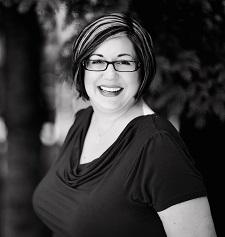 A New York Times & USA Today Bestselling Author




Hello, my name is Eve. I'm a stay at home mom who writes full time in between juggling my three kids, hubby, and housework, I write hot romance with a bit of a twist. I like strong alpha males, naked chests and shifters. Lots of different breeds of shifters. I am also extremely partial to aliens, you know the kind who abduct their woman and then drive them insane…with pleasure of course.I love to write, and while I don't always know what my mind is going to come up with next, I can promise it will be fun, probably humorous and most of all romantic, because I love a happily ever after.




Buy links: http://evelanglais.com/wordpress/books/dragon1

Eve Langlais author page : https://www.facebook.com/eve.langlais.98/

Web page to find out all there is about Eve: http://evelanglais.com/

Twitter: @evelanglais




GIVEAWAY




One randomly chosen winner via rafflecopter will win a $50 Amazon/BN.com gift card.


Three randomly chosen winners via rafflecopter will win a print a copy of Becoming Dragon (international giveaway).
a Rafflecopter giveaway