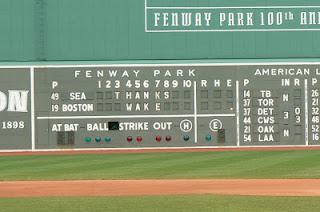 On a day when the Red Sox honored one of their all-time greats, Josh Beckett showed everyone flashes of the great pitcher that led them to a championship in 2007.
Beckett opened the game against Seattle with six strikeouts of the first nine hitters. He then went on to pitch seven innings, and was never in any serious trouble. The Mariners only got one runner past second base all day. The bullpen was flawless as the Red Sox coasted to a 6-0 win, and their fifth straight win.
My friend Eddie called Beckett "Commander Kiss My Ass" after the recent awful outing Beckett had and its aftermath. But if the Red Sox are to get back in this race, the vintage "Commander Kick Ass"  that showed up at Fenway yesterday has to make more and more appearances this season.
David Ortiz belted a homer in the third, Mike Aviles drove in two and Will Middlebrooks continued his impressive start with another RBI.
Before yesterday's game, the Sox honored Tim Wakefield. My buddy Jere was on the premises, and took some great shots (including the one here) of the ceremony and the game that followed.