Here is a story about a former player of mine that should be a lesson for all young players.  This player had a good high school career but even though he went to a Division I college, it certainly was not a top-teir one.  That's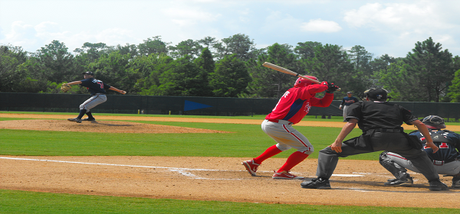 GCL – It's a pro game … with more players in attendance than fans.
because he wasn't the 6'3″ blue chipper with the 90+ fastball.
In four years of college, he split time as a starter and reliever and compiled some pretty good numbers.  He even got a chance to play in the prestigious Cape Cod Collegiate League one summer.
But when the 2013 MLB Draft came along, nobody called his name.  Not a single team.  That meant that teams felt it appropriate to select 1,216 players, but not him.  Not so good for the ego.
However, one MLB team asked if he would like to sign as a free agent and give this pro ball thing a shot.  He signed and was immediately sent to the bottom of the barrel – the Gulf Coast League.  For those not familiar with the levels of pro ball, here they are:
Major Leagues

AAA

AA

High-A

Low-A

Short-Season A Ball

Extended Spring/Rookie Ball (Gulf Coast League being one of them)
At the Extended Spring/Rookie Ball level, you primarily are surrounded by guys just out of high school that are very raw.  It is also the usual first stop for many of the teenage Latin players who have just arrived to America for the first time.  Rosters of over 30 players are common.  They practice every day from about 9am-noon, have lunch, and then play their games.  Not ideal in the Florida or Arizona sun that time of year.
But this player went and did well.  His strikeout to walk ratio was off the charts.  So much so that when two prominent major leaguers were on their rehab assignments, he was selected to throw to them in a simulated game (Teams don't tend to pick young, wild throwers to pitch to their multi-million dollar investments). He did well and probably did it in front of some high level officials in the organization.  
With one week left in his season, he was promoted to the High-A team.  If you look at the levels above once again, you will notice that this jumped him THREE levels.  Not normally done.
After his season ended there was even talk that the organization may move him up to the AA team since they were in the championship and might need an emergency arm.  (As of this writing, this move doesn't seem likely.)
Every year, there are countless players who get the impression from others that they are not very good players.  Too often, players give up on the game or at the very least, start to seriously doubt their abilities.  This player took another approach.  He just pushed forward and kept working hard to get better.  When he got knocked down he got back up and kept going.  When he finally got a couple opportunities, he did not just casually walk through the door, he rushed through it and tried to make his mark immediately.
A non-drafted free agent can be a tough position to be in.  Very little, if any, money is invested in you by the organization so in many ways you become easily expendable.  Along with that, not too many scouts and organizational people are going to stick their necks out for this kind of player.  It's easy to stick it out for a player oozing with talent that everyone loves.  Not so easy for a guy who most don't/didn't consider a prospect.
My former player has had a very memorable 2 months of pro baseball.  It will be a tough road ahead as it is for every pro ballplayer but we are all wishing him the very best for a long and prosperous career in the game.  Even if it ends up being a short one, he has shown many people what is possible when you stay positive, work hard, and keep believing in yourself.
Tomorrow's post: Back to the bag in the air