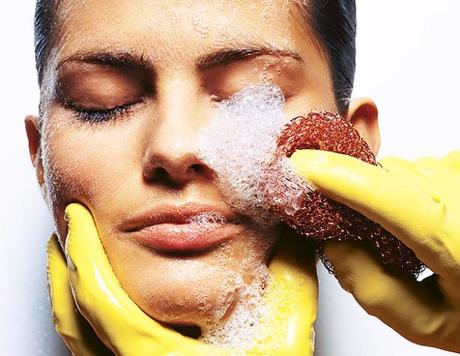 Hey Gorgeous! How many of you exfoliate? Well in case you didn't know there is actually a right and wrong way to rid your face of dead skin cells. From applying your scrub and other products to the pressure you apply, there is definitely more than meets the eye. Keep reading to see the best way to use an Exfoliator.
WHY IS EXFOLIATING IMPORTANT?
Exfoliating with a face scrub is an extremely effective way to remove dead skin cells when skin is not properly exfoliated, dead skin cells will give your complexion a dull appearance. Pigmented areas will appear darker and fine lines and wrinkles will seem deeper.
SHOULD YOU CLEANSE AND EXFOLIATE? WHAT COMES FIRST?
Wash your face before you exfoliate. It's important that your face is clean from all makeup and dirt.
SHOULD YOU APPLY A SCRUB TO WET OR DRY SKIN?
When exfoliating the face, neck always use lukewarm water first.
IS THERE A TRICK TO USING A FACE SCRUB?
After removing makeup, use lukewarm water and gently apply the scrub in circular motions, avoiding your eye area. Never tug or rub downward on the skin.
IS IT BEST TO PRESS HARD, OR BE GENTLE?
The softer the touch the better.
HOW OFTEN SHOULD YOU USE A FACE SCRUB?
This depends on your skin type. Our skin changes day-to-day due to changing hormone levels therefore your routine may change. Start with once a week.
WHAT TYPES OF GRANULES ARE BEST?
Too large of a granule can actually cause damage to the tissue, so avoid anything too abrasive. Small granules typically work best for most skin types.
Gorgeous, I hope this was helpful. What is your favorite exfoilator?
Stay Gorgeous!
Source: Byrdie