Foundation truly sets the starting point for your make up. It can take a add to a relaxed vibe or pull a vamp-y look together with a quick application. Personally going without foundation is not something I am willing to do - unless extremely ill, hungover or forced at gun point - it is the base for my make up, it provides an even canvas for me to do what I feel that day. Of course with this much passion for those little pots of magic, I would naturally have some favourites. So let's get cracking on my current favorite foundations, shall we?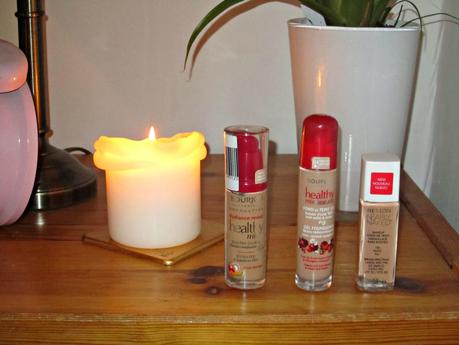 Bourjois Healthy Mix Radiance RevealPrice: £9.99Finish: Dewy. Healthy Glow.
Radiance Reveal promises 16 hours of radiance that will battle fatigue and maintain a youthful complexion. Whether this is true or not is debatable however there is no doubting that this foundation gives the skin a glowy, well rested look while remaining natural. Of course it can be built up in order to gain a heavier coverage. From the three foundations, I would say this one if my favorite simply because I've not found it to be difficult to work with or had any issues. 
Bourjois Healthy Mix SerumPrice: £10.99Finish: Dewy. Semi Matte. Buildable coverage.
Being a gel based serum formula this foundation works perfectly on dry skin which I why I think I love it so much. A little goes a long way and it can easily be built up if more coverage is desired. As with all the Healthy Mix range, this product gives a beautiful healthy glow that covers signs of fatigue seamlessly. My only bit of criticism about this foundation is that sometimes I do find it to gather a little on my nose and chin if it hasn't been worked into the skin properly. 
Revlon Nearly Naked Price: £8.99Finish: Seamless, natural coverage. 
I will get my only complaint about the Revlon Nearly Naked out of the way, it has no pump! This foundation makes a mess, if you pour out too much it can be wasteful and at least once you will end up smearing it everywhere! Apart from the lack of pump, Nearly Naked it a beautiful foundation. Very light and sheer but still buildable for those days when a little extra coverage is required and doesn't require a lot of blending as it practically melts into your skin! 
Although I said Radiance Reveal is probably my favourite, I'm the sort of person that gets bored of a foundation so switches it up and the chances of me choosing one of the other two are extremely high. No matter how many times I try out a new foundation release, at one point or another I will no doubt venture back to my old trusty favorite of Bourjois Healthy Mix Serum, Radiance Reveal or Revlon's Nearly Naked.
Have you tried any of these foundations? What do you think about them?
Happy Monday!