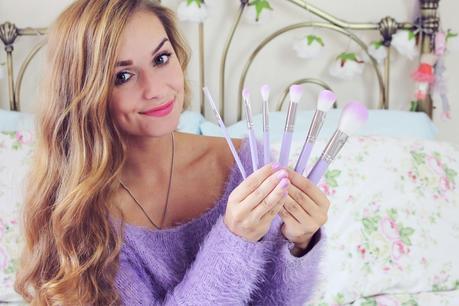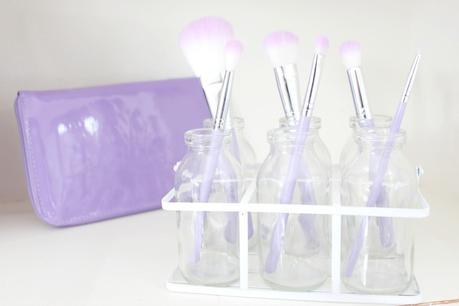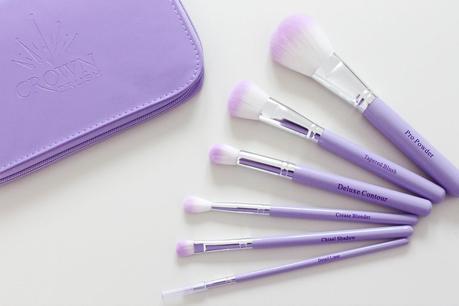 Well I've never seen a brush set that screams 'me' more than this, have you? Pastel lilac, my favorite color. Crownbrush are a brand that I've seen all over the place lately but hadn't been introduced to personally until the lovely Zoe (go read her blog, it's fabulous) sent me some goodies to play with. I instantly fell in love with the 523 Purple HD Set* - it certainly has some brushes that I was missing in my collection and well, my brush pot has had some color added amongst the black handles!
Equipped with a handy mirror and tweezers, this set holds 6 HD nylon bristle brushes, three of which are for the face and three for the eyes. I was desperate for a new powder brush to go alongside my new powder (watch this space!) and the Pro Powder is the ideal density to disperse just the right amount of product to the face. The other two face brushes, the Tapered Blush and Deluxe Contour, are a lot more denser so they're perfect for packing color onto the face. When I have an occasion and want to do the whole 'contour and highlight' shabang properly, I'll definitely be reaching for these to give me chiselled cheekbones.
I've been absolutely smitten by their eye brush offerings. The Chisel Shadow is perfect for packing on color onto your lids and the Crease Blender acts like the beloved MAC 217 to blend any shadows together for a finished look. They really are a great team and all you need for any eye look. I've been getting to grips with using the Detail Liner with a gel liner to help create my favorite cat eye look and it's working a dream for creating thin lines - love!
Overall I'm really impressed with my first experience with Crownbrush and look forward to trying more stuff from them. Let me know what make-up brushes you love to use and if you've managed to try any from this brand. I'd love to know, thanks for reading! 

Facebook 
 - 
Twitter
 - Instagram - 
Bloglovin
 - 
Youtube
Check out my September Advertiser - 
JordanAlice