Space can be at a premium these days and maximizing every square inch can really make a big difference.
I love to incorporate "niches" of all kinds into my design projects. These recessed nooks, crannies, cubbies and alcoves (or whatever else you'd like to call them) can be integrated anywhere in your home and instantly adds a charming detail and focal point in whichever room it occupies.  A niche simply defined – could be a recess within a wall (which is ideal for extra storage and/or highlighting your collections) – or a recess, angle or obscure nook within the architecture of a room itself.
So take a look around your home to see how you can make the most of your space by creating that ideal niche or nook to fit into the favorite room of your house.
Could you utilize the space beneath your stairs for display shelving, a bar area or reading nook?
Is there ample wall space in your foyer or hallways to create that niche to showcase or highlight your favorite object or piece of art?
Do you have a window alcove (a projected bay or bow window) in your living room, dining room, kitchen or bedroom for that ideal banquette or window seat? If so make sure to provide large storage drawers below the seat for easy access to your supplies.
Is there sufficient space within your living room or family room walls to recess bookshelves?
If you're renovating your kitchen have you considered incorporating a recessed niche with shelves over your stainless stove to create a unique focal point?
How about some beautiful display niches within the decking of your bath tub or vertically within the walls located at the head and foot of the bath?
Does your laundry room/mudroom provide you with enough storage?  This would be the ideal area to introduce niches and cubbies for sports equipment, backpacks, heavy outerwear and dog supplies.
Here are some fabulous ideas in all design styles to inspire you!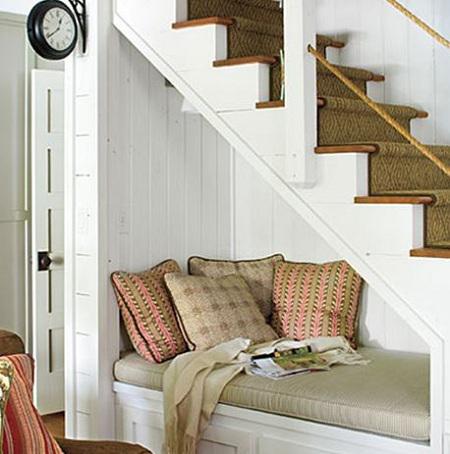 Photo: via Southern Living Magazine
The crisp white walls enveloping this reading nook clad in bead board – and the simple molding of the seat's base compliments this cottage's casual and style.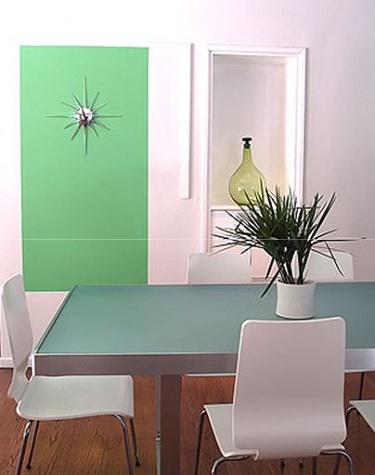 Photo: via Cococozy   Designer: Vanessa de Vargas
This integrated wall niche becomes more of an architectural element in this modern home and simply showcases the pure elegance of the glass vase.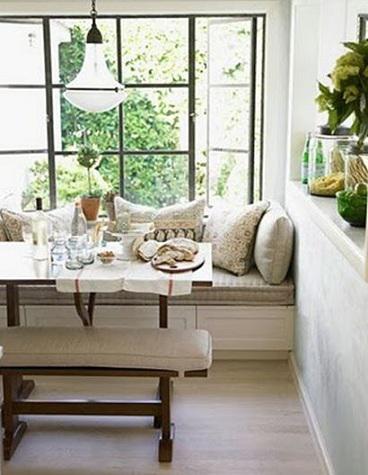 Photo: via House Beautiful
This very charming window seat/banquette spans wall to wall and is tucked into the recess of the gorgeous garden window.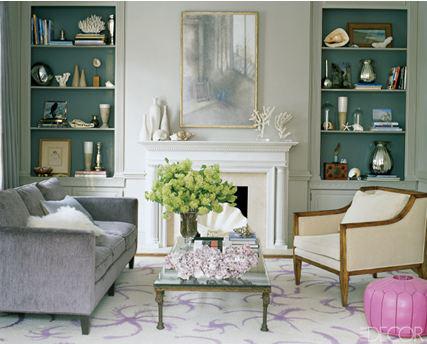 Photo: via Elle Décor   Photographer: Simon Upton
Here the formal living room maintains its sophistication and elegance by keeping it simple.  Painting the interior of the display niches a deeper color – provides instant drama and allows the objects to pop – which ultimately creates a striking focal point within the space.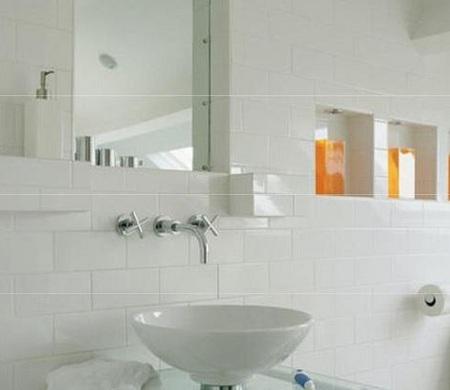 Photo via Remodelista
Here a series of uniform niches to store various sundries is both practical and attractive in this pristine bathroom.
The design possibilities are endless – so next time you're looking for a little extra space, include a niche into your room or better utilize those nooks and crannies!
Stay Inspired!