One of the most praised possessions anyone can claim is a beautiful home. It is such a personal reflection on us, our tastes and judgment. After all it is our castle, where we can relax, sleep, be truly our self and be in control of the situations whether it is a huge mansion type house or a small one room flat, it doesn't matter. Planning and designing a home can be a great adventure only when we realize it is just a matter of using our imagination and creativity.
A refreshing new look for your home can always bring excitement into your life. 
It's never been so fashionable to lie back and relax at home. So take it easy with the decor. From my experience, I believe a beautiful and comfortable home does not require large space or vast sum of money. If we understand some fundamental things, well everything becomes easier to create a beautiful home.
Correct usage of space, arrangement of furniture, lighting & accessories and selection of Colors.
Basically colors play a vital role in our lives and esp. in our houses, be it a choice of furniture, curtains, wall, accessories etc. colors create the mood. 
Collection of everyday objects displayed like gallery also prove that home is where art is... Here I'd like to share with you all few basic ideas which we have applied in our home.
Tip # 1
Living room
 is where we spend most of the time with our family and friends. 
Let the room dictate the theme
. This is where we have to exercise maximum amount of imagination to personalize our own style - from the furniture to accessories to window dressing to even a wall hanging/clock. Here in our living room, to accentuate those cream walls, we have used rust color curtains with golden leaf motif.

If you are tired with the same look of your wall and need a change, but still not the right time to paint your entire house, well then this trick would do - 
Designer Wall
 - Highlight one wall with a contrasting color to complement the rest of the color theme in the room, which immediately gives an alluring look in a day.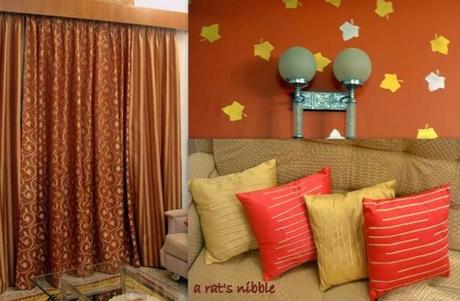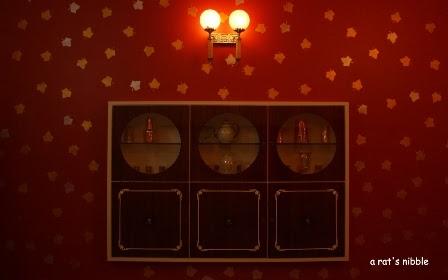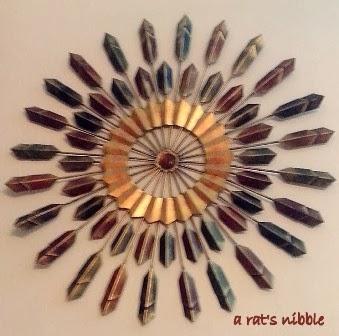 Bored with your sitting area? Updating is easier than you might think, and it won't cost you an arm and leg. Let's say, we don't even have to replace our beloved old sofa. Here this classic beige sofa is modernized just by changing the accent pieces. Those bright pink cushions which I once thought was a wrong buy is now lying in my sofa and making it right in every possible way. 
Bring in more colors and change the mood every season

This
wall hanging
which I bought in Limeroad recently is now an eye-catcher in my hall.
Talking about window dressing, I'd say it is best to dress the windows with floor length curtains (unless otherwise it demands a shorter length) which I personally feel gives a warm, sophisticated and a rich look to any normal room.
Having a Diwan setwith comfortable cushions and bolsters in living area will also create a cozy ambiance. Also placing 
an accessory as a 
statement piece
 in the entrance gives a warm welcoming feeling. As m
y brothers are fond of playing Chess, h
ere we have placed this big wooden chess board as a highlighting accessory in our living area.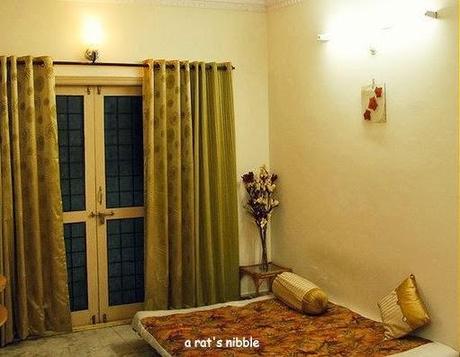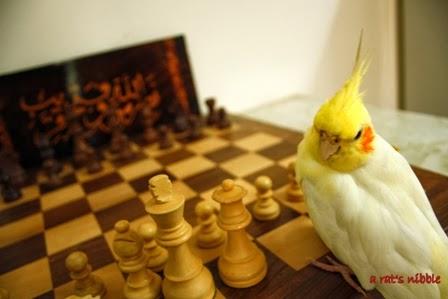 Tip # 2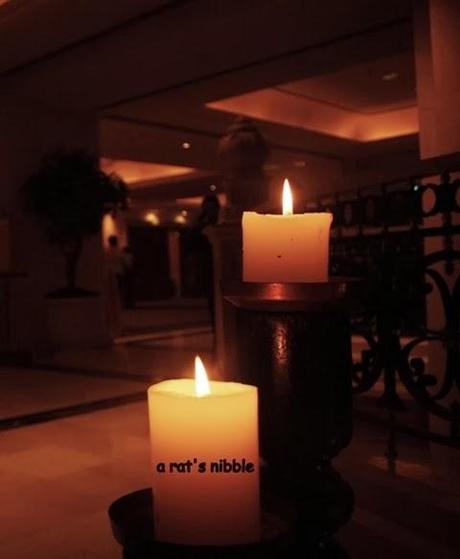 Lighting 
is very important to bring out the ambiance. Make sure to hang the right choice of light fittings that suits the mood and style of that particular room. Lamp shades are always a classic choice to spruce up your living room and bedroom.
Time to flatter your guests with simple lighting. You know, everyone looks better in candlelight. So if you are having a dinner arrangement, well time to place jumbo candles as the centerpiece along with dim lighting.Tip # 3Designing your kitchen is as important as you do with other rooms in order to make the cooking comfortable. Try to have enough shelves and keep your items maximum concealed. Fitting deep drawers are a good choice as they always help to hide away those frequently used utensils which could possibly be an eye sore in a beautiful home.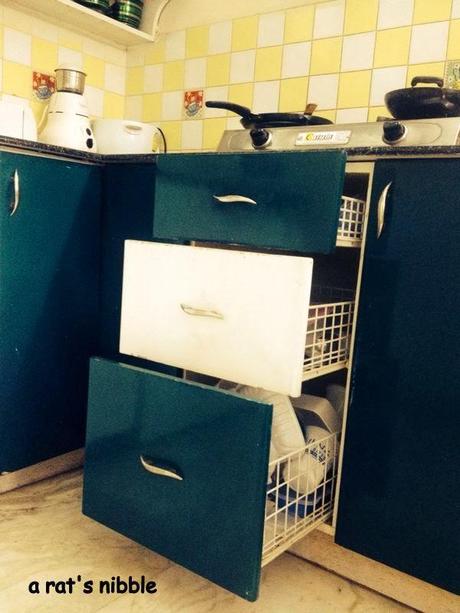 If your kitchen can be viewed from your living room, then hang a decorative interior curtain to hide away the mess while cooking.Tip # 4Bedroom is one's own personal space. Use cool colors to accentuate the room. For the better storage access, under bed drawers are more convenient to keep your bed spreads, blankets, etc. Use heavy curtains for bedrooms as it helps to block the morning sun rays which disturbs our sleepy eyes. :P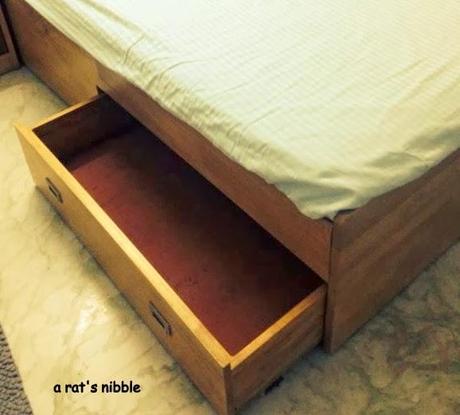 The color theme that runs over this particular room is off white and sunny yellow. The wall being painted with
textured coating
using Asian Paints adds an interesting texture to the room. Throw some colorful cushions for more drama and play as much as you want with the color theme. Its all in your hands. :D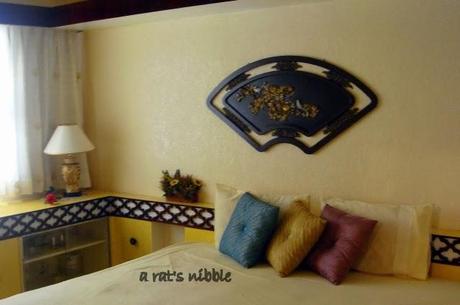 Tip # 5
Create a memory wall
. Having a personalized wall by hanging your best moments captured adds warmth to the home.
Tip # 6
Let's be creative. If you are interested in painting or crafts, then it comes in handy to decorate your home with your personal signature. These simple handmade pista shell flowers, glass art work and the Arabic calligraphy art are my signature at my home.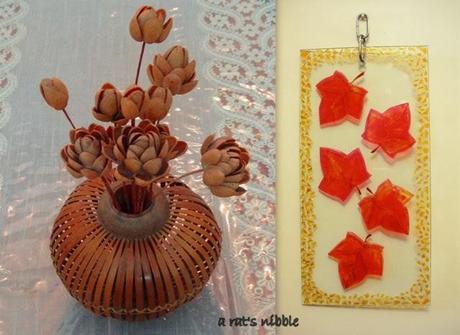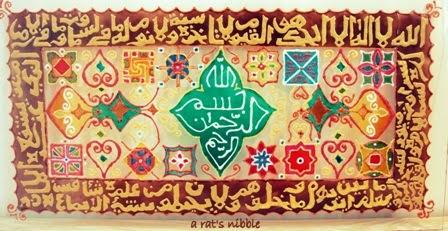 Tip # 7
A glass shelf or showcase in the (living cum) dining area helps you to display the beautiful and occasionally used ceramic items you have. Like say, a tea set, whole dinner set or cutlery items.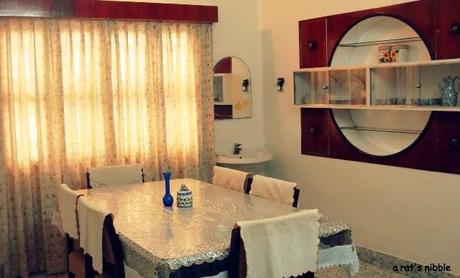 Tip # 8
We have planned and designed almost all the areas in our home with so much taste and theme but why not giving the same importance to bathrooms? It is time to make it convenient as well as elegant with the right bath accessories.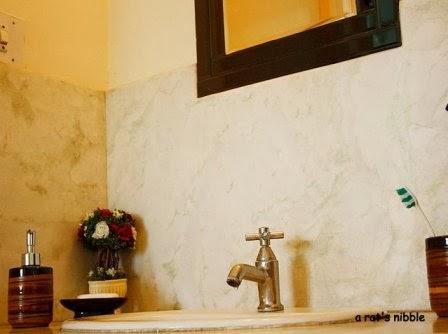 It was once a trend to use the glass wash bowl. As far as I have observed, try not to place it in the often used area unless otherwise you can maintain and clean/wipe it after every use. Because those dried water spots leave the stain which becomes an eye sore to that once beautiful wash basin.
Tip # 9
Let the Children's room have its own theme and play with bold colors in wall n other accessories. 
Using recycled paper and baby ribbons, this handmade Merry Go Round, made by my me and my cousin, is attached to my nephew's crib as a part of the Jungle theme in his room. Cute, na?

Tip # 10
Now that you have painted and set your home in a theme. Whatever style it reflects, f
lower arrangements always bring cheer and freshness to the entire area. Even a creative and simple flower arrangement in kitchen/pantry makes the work area more pleasant.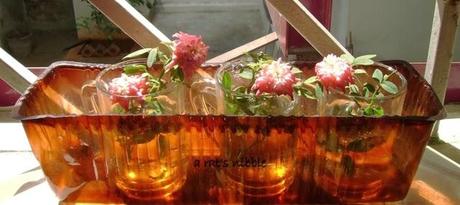 Finally, whatever the theme is, always keep it simple. Try to avoid clutters and too many styles reflected in your space.
Painting and designing the exterior look of the house is also equally importance as much as the care given to the interior to create a beautiful home.
For your home based painting queries, do consult with
Asian Paints Home Solutions
and get ready to turn your valuable asset – house - into the most beautiful heaven on earth.
A Beautiful Home - Owner's Pride.. Neighbor's Envy.. :)


This post is part of Asian Paints great ways to create a Beautiful Home - blogger contest in association with Ripple Links.