In ancient times women wore high heeled footwear to provide the required stability while horse riding to shoot arrows with higher degree of precision. But today flaunting your heels have become a rage in fashion industry. They accentuate your appearance with style.
Heels not only make the person look taller but also give her a boost of confidence. Adding a collection of fancy heels to your wardrobe is a must. High heels are not only confined to stilettos but have evolved in wide ranging varieties over the last few years. Generally an accessory commonly found in short or medium height girls' wardrobe, nowadays high heels are steadily gaining popularity regardless of women's height.
Their graceful and trendy appeal has not failed to cast their magic on every girl. Choosing right heels for the right occasion can tremendously add to the elegance and panache of your ensemble. Let's go through some stylish high heel footwear for beautiful appeal.
Trendy Silver Stilettos With Studs
Look elegant and confident with these high heels. They not only make a women look taller but also add an oomph factor to your personality. Be it traditional or western outfits these heels will always make a style statement. These studded silver stilettos are perfect for weddings.
Chunky High Square Heeled Peep Toe Sandals
These heels are perfect for a cocktail party. They give the aesthetic illusion of longer and slimmer legs. The blue sandals give a denim look and are fun to wear. Chunky heels not only make a good choice for parties but also are sought after footwear for casual lunch or dinner with your best friends. These blue color heels teamed with yellow dress reiterates a happy go lucky personality.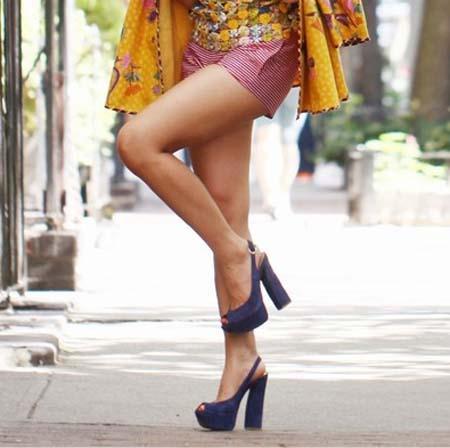 Fantasy Heels For A Punk Look
These funky pair of heels can never go wrong on the trend charts. Although defying accepted norms for heels, these different patterns of fantasy heels can, without no doubt make one a show stopper of any event.  Sport them with your prom or bachelorette dress and get ready to twist some heads and roll some tongues while setting the party on fire.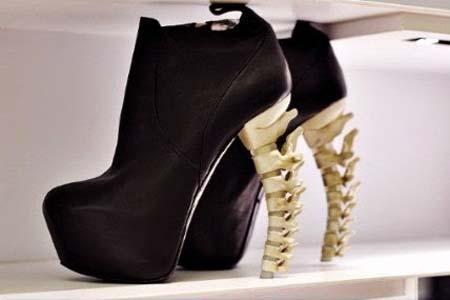 High Heeled Suede Ankle Booties
Boots are resistant to instability of fashion trends and they have always been able to redefine themselves with ever-changing fashion cultures. They have a wide variety of styles, among them ankle length boots are an all-time hit. They add spark to your otherwise boring personality with a sense of stylish fashion. These high heeled ankle boots add a perfect contrast to dark blue denims and bright top.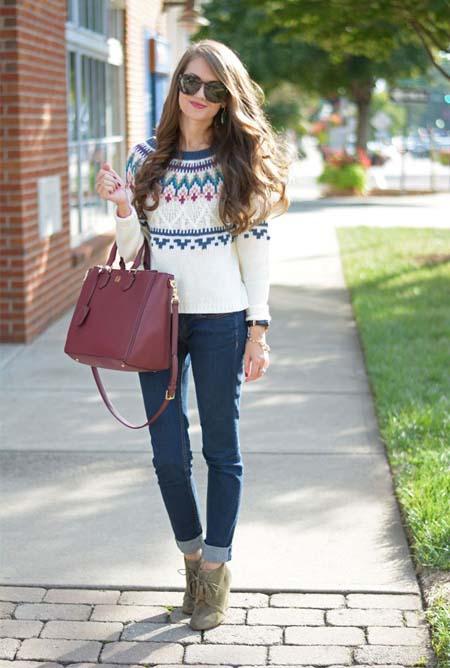 Also Read : Asian Women Hair Colors That Are In Trend
Sexy Beige Peep Toe Pump Heels For Women
Prep up your attitude with these beautiful pump heels. These are all time favorite heels. Be it clubbing, weddings or parties they compliment any occasion perfectly.  Pumps add glamour to any outfit by highlighting slender legs and imposing posture of the wearer. Also known as the party shoes they give you a charismatic look.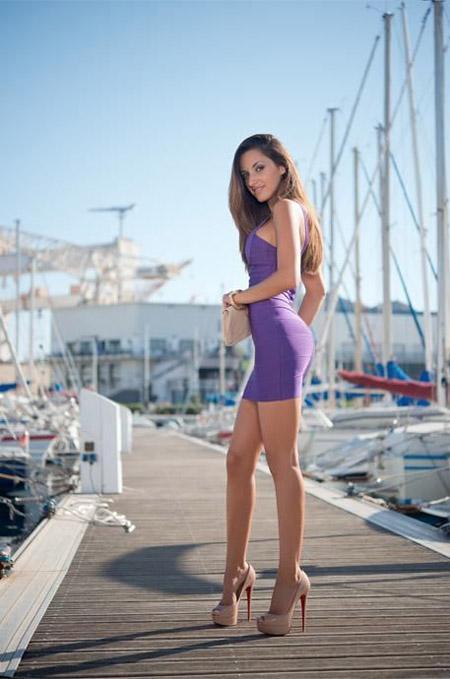 Stylish Green Sling Back Pencil Heels
Flaunt your feet with these sexy shoes. They are open from the back to let your feet breathe and be comfortable on hot and sunny days. They can make any dress look gorgeous. These shiny green shoes can command applaud from your admirers.  Go for bold contrasting colors and be the star of the evening. Brighten the party with these dazzling sling heels. These are a must have in your wardrobe.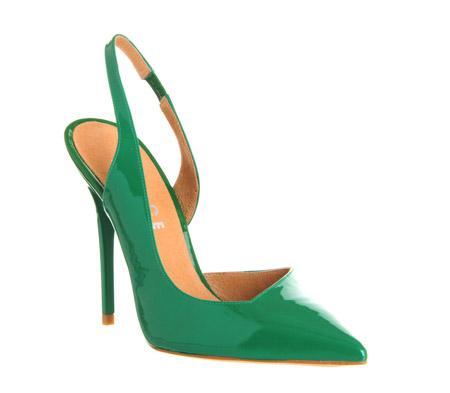 Mesmerizing Prism Heels For Gorgeous Appeal
These classy heels can make your best friends jealous of you. Best fit for retro parties, these prism heel sandals can transform you into a stunner. They add loads of chic style to your attire.Express your fashion statement and beautify your appeal with these classy prism heeled footwear. Surely you will earn hundreds compliments and much coveted attention.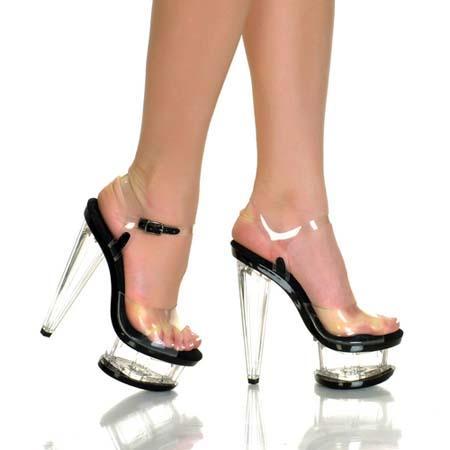 Read : What Outfits To Wear With Palazzo Pants
Black And Gold Peep Toe Sandal With High Heels
Unleash your playful side in these peep toe heels. Color your nails and let your feet peep through your footwear giving you a fancy and sexy look. The variation in the color of nails and heels will make your feet look outstanding and attractive. Fascinate people around you with this fashionable and stylish footwear.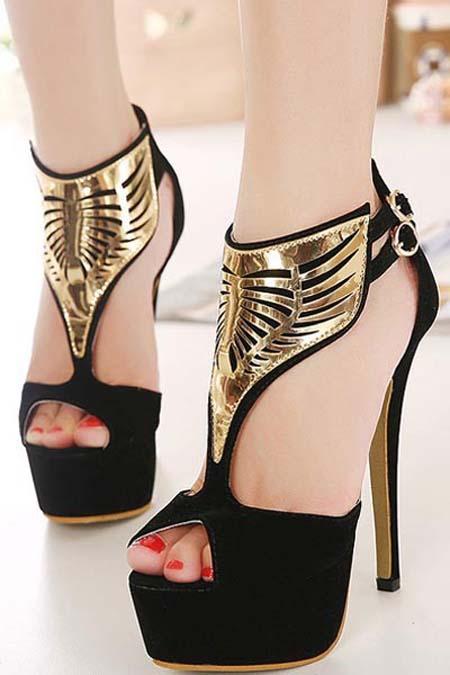 Black Velvet Sandals With Platform Heels
These pair of sandals with platform heels is ideal for casual outings as they give you charming appeal with better comfort than pencil heels. Add spice to you ensemble with these eye-catching and modern heels. It can brighten your dullest dress and make you look fabulous. Hypnotize your guests with this stylish and attractive footwear. These comfortable high heels will lift your spirits tenfold.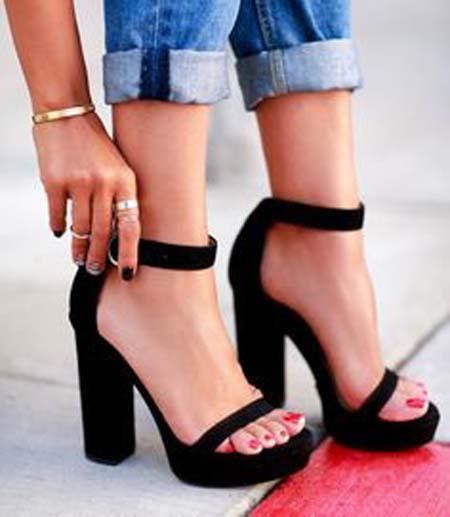 Read : 10 Simple Tips To Get Clear Skin Naturally
Ankle Strap Multicolored Heels For Splendid Looks
Ankle strap heels are in vogue these days. Look elegant in these high heels with appealing wraparound ankle strap. Mark your presence in these caged shoes.Compliment them with equally gorgeous dress and set the stage on fire. They echo your ease with the fashion compelling the guests to give you a second look. Let your feet taste the charm of these dazzling red and black ankle strap heels and be the sparkling star of any occasion.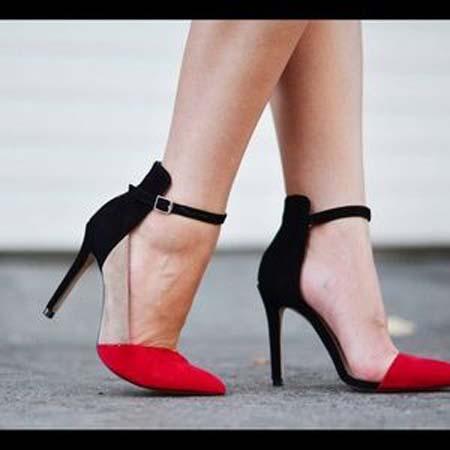 Oxford Shoes With High Heels For Stunning Appearance
Oxford heels are setting trend these days. These out of the box heels give you a soft and romantic appeal. Get an artistic and graceful look with these smart heels and rescue yourself from boredom with these modish shoes. Get Taylor Swift's sweet girl look with these heels. These loveable heels will surely find their way to your wardrobe. Oxford heels have the dual advantage of being formal and casual at the same time leaving you worry-less about right combo for your dress.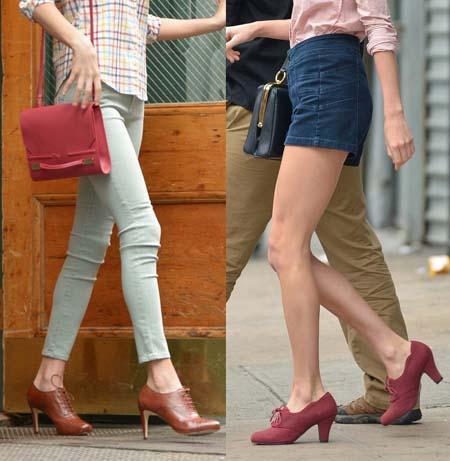 Read : Coconut Oil Face Masks For Beautiful Skin
Heels can brighten dullest of your dress or lighten up your mood with no effort at all.  Celebrate your stylish look and be ready to be the attention-grabber with these never disappointing heels. The tick-tock of the heels will definitely turn the heads around.So go and grab your style partner now.