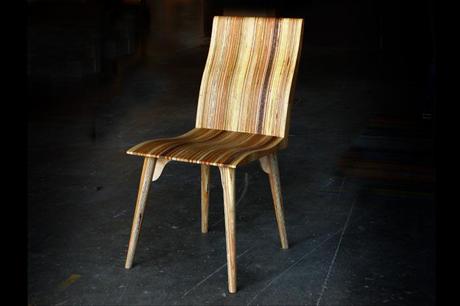 This chair was made from scrap plywood, rescued and crafted by Steve Lawler of rePly Furniture.
Not all beautiful furniture comes from fresh wood. Some of the most incredible furniture you will ever see is crafted from the scraps used to make other furniture.
Steve Lawler of Tacoma, WA creates these amazing pieces from leftover pieces of plywood from local cabinet makers. Using his own craftsmanship and landfill fodder he makes practical, colorful and unique home furnishings. He calls his company rePly, since the upcycled and recycled plywood is used in all of his creations.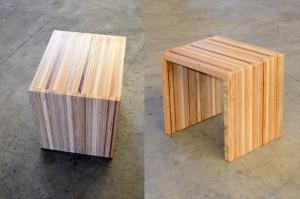 This stool's colors come from the wood itself. No stain, dye, or paint was added in the upcycling process.
Steve is currently running a project on Kickstarter to improve his company's offerings, by making his furniture more available, his workspace more adequate for ramping up production, and his process even more environmentally friendly.
For the brightly or subtly colored pieces of furniture, Steve does not paint or stain the wood. Rather, as he prepares the reclaimed wood the colors are brought out from the wood itself or the adhesives used in the original furniture making process. This careful attention to arranging the wood is part of what makes each furnishing he makes a special work of art.
Steve took some time to answer a few questions about his work.
Goededker's:  What is your background, and why do you like working with wood?
Steve Lawler: I began making furniture out of salvaged plywood in 2008. Before that, though, my very first experiences making things out of wood were in my grandfather's tiny shop in his one car garage in San Diego. He taught his young grandsons, me and my brothers, how to use the tools that I would later come to rely on. Although, it would take me many years to get back to the art of woodworking, the seed had been planted.
Fast forward to 2007: After many years of traveling and wandering, and multiple creative endeavors, my wife and I settled down in Tacoma, Washington. With that move came a conscious decision for a late in life career change. I quickly found an apprentice position in a custom cabinet and furniture shop and set about learning the craft. After three or four months I realized the potential for all the waste that was produced. I collected scraps of all types of wood and began experimenting. My unique style and technique slowly emerged, but didn't really take shape until I left the cabinet shop and began working full time for myself creating rePly Furniture in 2011. I'm still exploring and experimenting, and pushing boundaries, and I know the creative potential for rePly is still on the horizon.
On the surface, my process is simple. I find and collect discarded plywood, usually from local cabinet shops, and then build furniture with it. As with many things, the devil is in the details. I use only cabinet/furniture grade plywood and must create using the smaller pieces that shops can't use and throw out. Finding interesting and functional ways to use the material can be tricky, but it's a challenge I enjoy. I think my artist statement expresses this idea well:
"The furniture I design and build incorporates two passions:  The first being the creative process itself; the second is the thoughtful and respectful use of our planet's resources.Creatively, I strive to apply equal weight to form and function. Using recycled and repurposed materials is both a push and a pull, it forces me to find a unique expression for these sometimes odd and limiting pieces of raw material. It is at the same time challenging and incredibly stimulating."
My business is small and growing slowly, but even as rePly grows I will always stay true to its roots and original mission:  building high quality, hand crafted, well designed furniture with an absolute focus on being as green as possible. My business and my craft are just extensions of who I am and to compromise their integrity would be compromising my own. In the future I hope to see more green-focused retail opportunities and rePly wants to be a part of that movement. My desire is to grow rePly into a larger more efficient shop that can supply local and regional retail with green furniture options.
Goededker's: Why recycled plywood?
Steve Lawler: Because there is so much of it out there and because I think it's mostly an unexplored material. I love showing people how interesting and beautiful plywood can be when it's used in an unexpected or normally unseen way. I also, and this can't be understated, believe it is absolutely essential we (us humans, especially the ones who consume) start thinking about what we are doing to this planet, and how we need to make some serious changes. My desire is to contribute to the solution and not to the problem.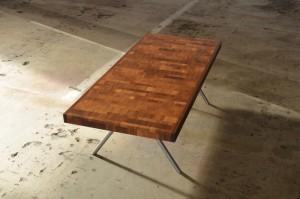 Photos courtesy Steve Lawler.
Goededker's: Can you briefly describe the process used to make those beautiful table tops from scrap wood?
Steve Lawler: Well it depends on which table tops you're referring to as each style is put together in a slightly different way. The basics are the same: I cut the salvaged plywood into the sizes I need them and then glue them back together. That's the really simple answer, but here's a quick description of how I create my edge grain style of furniture. First I cut the pieces I am going to use to size. Then I set them on edge so the plies, or layers, are exposed and facing up. I arrange them in a pleasing, random order, and then glue them together. Once it is glued I sand it flat, put a finish coat on and it is pretty much done.
Goededker's: What other materials do you reclaim and upcycle in the making of your furniture?
Steve Lawler: Other than the plywood, I also use reclaimed and salvaged hardwoods of all types. Sometimes these are small unused pieces and sometimes they are reclaimed older pieces of wood, like hardwood pallet wood. I also come across old flooring like oak or douglas fir and am happy to add that to my inventory. I will collect any and all wood I think I might be able to use. I have old beams from remodels and even old maple bowling alley wood that I've salvaged. In addition to the different types of wood, I also collect and use second hand mirror glass in all of my mirror frames. Basically, I collect and reuse as much as I possibly can.
Goededker's: Do you take custom orders?
Steve Lawler: I do currently take custom orders and rely on that as a large part of my business. I am, however, trying to shift my focus toward less custom work and move toward creating lines or collections available at green retailers, more of a wholesale approach.
Find out more about Steve's work at his website, rePlyFurniture.com, and check out his Kickstarter project before December 6 ,2013.