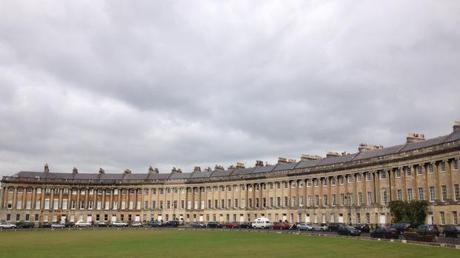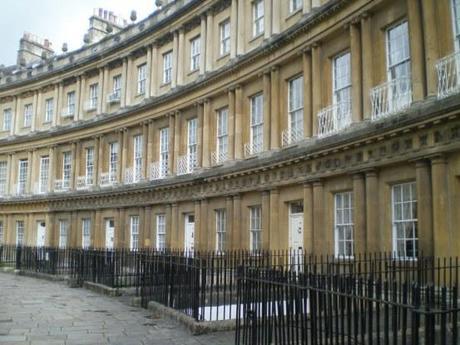 Last weekend, I set off on a day trip to Bath with my fellow Old Fashioned Girl Miranda, her lovely mom Donna and our mutual friend Rachel. I last visited Bath about four years ago, so it was high time for another visit in the city that is so well known for its beautiful Georgian architecture, and, for us literary types, its connection with Jane Austen. Just over an hour on the train from London, and you are in a different world entirely. From a distance, Bath unfolds before you as if in a fairytale; its streets are golden ribbons encircling the green hills on which they are perched, and the city sits enthroned above the surrounding countryside. When the sun strikes the buildings, they glow softly, adding to the sense of enchantment and ethereality that pervades this magical kingdom. I was wonderstruck as we pulled into the station, having forgotten just how beautiful it all was.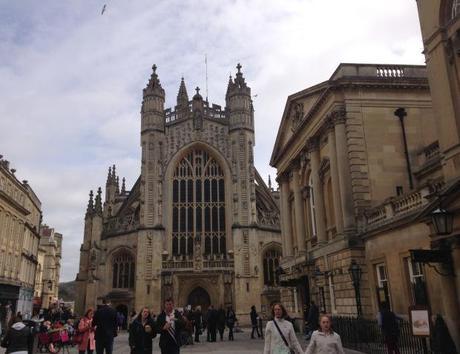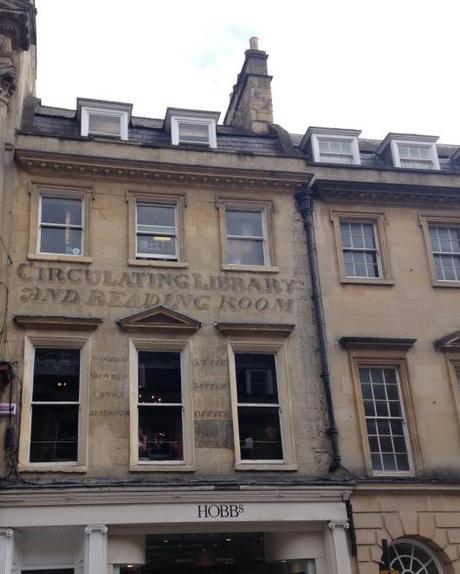 Our first port of call was The Crescent, which sits at the top of the city and has a breathtaking view down into the valley below. This street, along with The Circus just behind it, are architectural marvels, their tall, perfectly proportioned terraces curving gently around to provide not only visual beauty but also a sense of whimsy in their playful challenge to the monotony of straight lines. We loved walking these wide and airy streets, our feet striking the worn pavements that hold the echoes of so much history. If you close your eyes, you can almost hear the swishing of dresses and the clicking of horses' hooves as Regency men and women hurry from lodgings to assembly rooms, in pursuit of the next party. We wandered down from The Circus into the center of town, bustling with shoppers. On our way to get lunch, we passed the Pump Rooms and the beautiful Abbey, and I also spotted a wonderful original painted sign for the Circulating Library; I wonder if Jane Austen was ever a customer?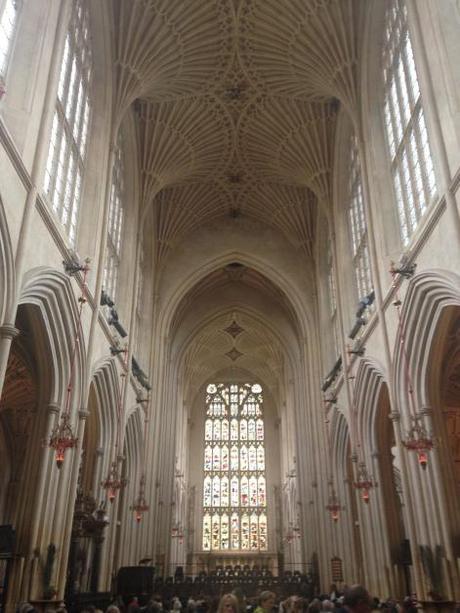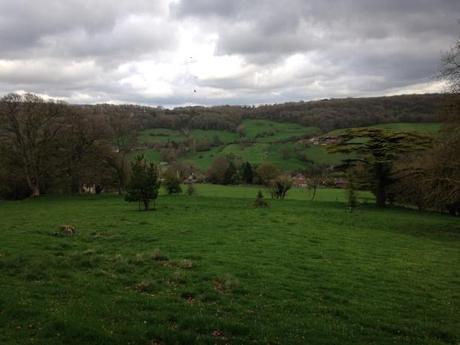 After a delicious three course lunch, which was at the outstanding Acorn Vegetarian Kitchen, we popped into the Abbey. I remembered from my last visit that it was quite unusual in my experience of such churches in that its walls are literally lined from floor to ceiling with memorial tablets, many of them very elaborate. I assume this is because so many people came to Bath for health reasons and unfortunately died during their stay. Alongside the memorials, which make for very interesting reading, there are many gorgeous stained glass windows to enjoy. Once we had looked around, we rushed off to the nearby bus stop to catch the American Museum in Britain's free shuttle bus to its location just outside of the city, which gave us some lovely panoramic views of Bath on the way and took us past some seriously beautiful mansions built on the hillsides.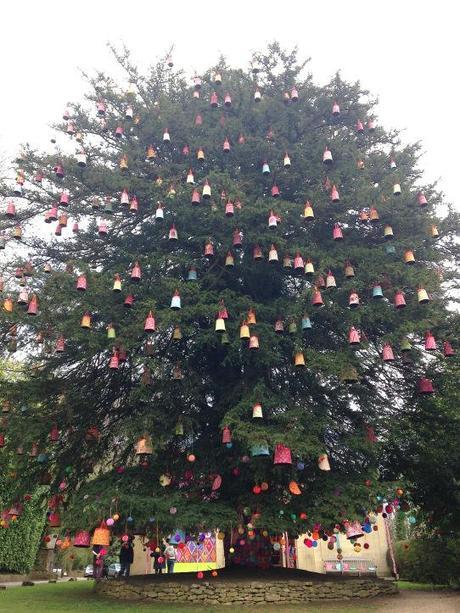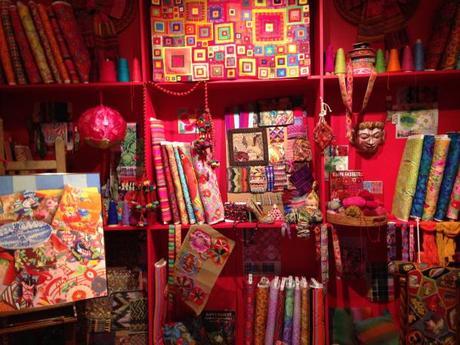 The American Museum in Britain is one of my favorite small museums in the UK. Situated within a very pretty Georgian mansion, it has a range of historic rooms from American houses as well as a wonderful collection of textiles, particularly patchwork quilts. We were so keen to visit on our day trip mainly because of its current exhibition of Kaffe Fassett's stunning textiles, which were imaginatively displayed, creating an absolute riot of color inside the museum's dedicated exhibition space. Looking at Kaffe's beautiful designs and inventive color combinations, I felt inspired to get my quilt back out and resume with my never ending hexagons…definitely a summer project! Outside, the huge tree by the entrance to the museum has been hung with fabric lanterns and blanketed with crochet, which is such a bright and fun sight to see on arriving, and is representative of the museum's ethos of giving visitors an exciting and unique experience. Alongside the museum and the exhibition, there are also many acres of garden to enjoy, which offer astounding views across the surrounding countryside. It's a truly wonderful place to visit, and a must-do if you are in the neighbourhood. Bath once again proved itself to be a remarkably fascinating, varied and beautiful city that has so much to offer. I'll definitely be back again soon!