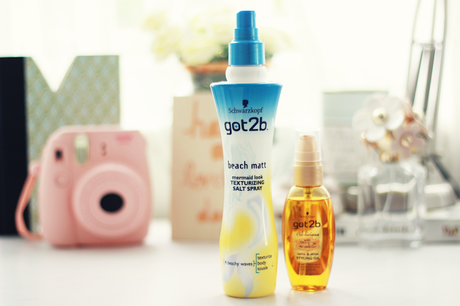 If bumble and bumble is the stuff your hair dreams are made of, but you just can't stomach the price tag, then I've found the perfect replacement. 
The Surf Spray (£21.50) is a cult favorite and celebrated all over the blogosphere for offering tousled, beachy waves and perfect bed-head finish, but for those of us looking for something a little lighter on the pocket, the Got2Be Salt Spray is the perfect dupe. Simple to use, this is glorified salt water in a bottle; spray it in your hair and watch that beachy texture appear - no one will know that you haven't been on holiday. It smells salty and sea-y - perfect for those less than sunny mornings. It adds texture and waves, instantly giving life to flat hair, and works really well with my new slightly shorter cut. 
I'd recommend it to all hair types, particularly if you're after a bit more zhuzh (is that even a word?), but also works well being sprayed into hair styles such as ponytails and plaits to mess them up a bit and avoid the over perfected look. You could probably make your own some how - but if you're looking for a quick and easy fix this is an amazing option. It's not undetectable in the hair, and can leave you feeling slightly crispy, much like a strong hair spray. It's nothing too bad, and I find that running a little Argan oil (I use the Got2Be one too) through my locks after, stops things getting dry or sticky.
So to anyone after affordable summer hair, this one's for you ...