Beach style kara pori recipe - After seeing the name the first thing strikes our mind is Marina beach and the steam hot aromatic and tempting sundals served in paper cones. This spicy puffed rice is the most common buy food for many people who comes for the beach. It's zero oil healthy snacks we can able to try at home itself. Make this masala pori just before serving to avoid soggy pori's.
We always look out for No oil recipe to feed children for their evening time. Beach style kara pori recipe is one such best choice. If you store a pack of puffed rice at home always, you can make some no cooking recipes like chaat items, inipu pori or kara pori. I mentioned the ingredients measure according to my taste. You can increase or decrease the proportions of your taste.
So now whats hold you to try out these spicy homemade masala kara pori? Start to play your hands on these easy snack.
Try these falvorful tea recipes to enjoy wth masala pori.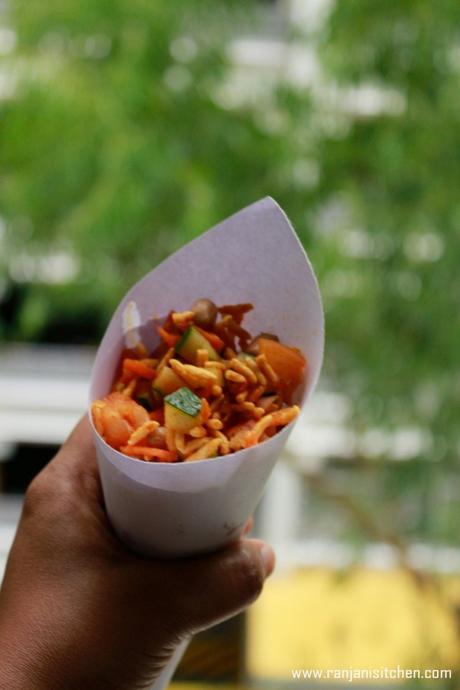 how to make beach style masala kara pori:
Wash and finely chop tomatoes, cucumber, and carrot.
If you are using raw peanuts, soak them for at least 4 hours and pressure cook for 3 whistles. For fresh peanuts, no soaking needed. Directly pressure cook and use.
In a wide mixing bowl, add the chopped onions, cucumber, carrot, raw mango, tomato, and boiled peanuts.
Add chili powder, chaat masala, and salt.
Add in puffed rice and mix well to incorporate all the ingredients.
Finally, squeeze half lemon and mix. Now the beach style kara pori is ready for serving.
Try making these snacks recipe too for your evening tea time.