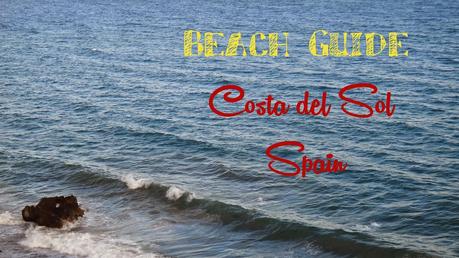 During the great Andalucia trip we've decided to spend a week in Malaga, but ended up hopping from one city to another all along Costa del Sol in search of the best beaches. 
It's a great option for budget-minding travelers as there's plenty of affordable accommodation in Malaga, whereas living in smaller beach cities like Marbella or Fuengirola would cost at least twice more! 
[More details on the Budget: 
How much does it cost totravel Spain?
]
Navigating around Costa del Sol is extremely easy with city line buses leaving once per hour (some are more frequent!) from Muelle de Heredia Bus Station near the port at the city center to reach all the popular cities at Costa del Sol within an hour or two max. 
Ticket prices
are usually 2-3€ per ride.
NB: Most buses run till 20-21 p.m. latest, so mind the time and don't miss the last bus like we did in Nerja…
July is high season in Spain, so there were quite a lot of holiday makers pretty much everywhere. Finding a secluded beach (like the one in
Corsica
where I was hanging out on my own pretty much all the time) is hard unless you have or rent a car, yet possible! 
Beach Guide to Costa del Sol, Spain 
Malaga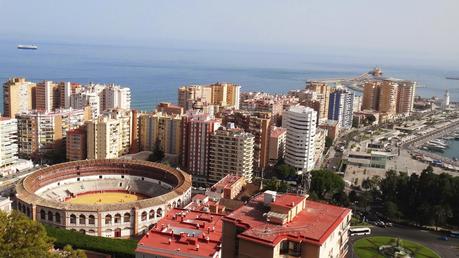 Destination overview
: Hometown of Pablo Picasso, Malaga is pretty crowded in summer, though still lovely. A compact pedestrian Old City Center, Alcazaba of Malaga and The Castle of Gibralfaro overviewing the city are just a few attractions you can't miss!
Beaches
: There are 6 city beaches in Malaga with Malaguetta being the longest and most popular one. It's in 2min walk from the City Center along the Pablo Picasso promenade and close to the port.
It's kind of nice with loads of facilities like sunbeds and parasols, beach bars and beach restos (Chiringuitos) around to grab a cania of beer with some tapas. Mildly crowded as it stretches for around 1 km becoming La Caleta beach at some point, though they seem pretty same to me
J
Things liked:
easy-to-reach when you stay in Malaga and a great place for people watching and sunset watching.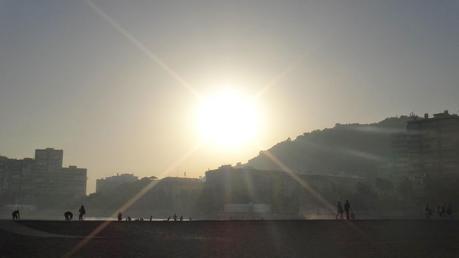 Things didn't like:
a busy road goes starts just where the beach ends + no beautiful view to enjoy while you beach bum.
La Cala Del Moral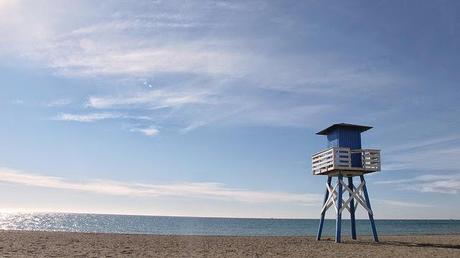 Destination overview
: A small suburban town in around 30 min bus ride from Malaga city center where a lot of locals own summer houses. You won't spot a lot of tourists here as there's no other attractions except for the beach. Prices for food are slightly cheaper comparing to Malaga.
Beach
: A long golden sand line scratching for a few hundred kilos with all variety of usual beach facilities. The sea is clean and shallow – perfect for those who don't feel like good swimmers. However, it's pretty unpleasant to walk into the sea as there are a lot of pebbles and small stones. Better wear swimming shoes.
The beach seems like popular family beach destination in Spain as there are plenty of kids around – squeaking and splashing all around.
Things liked:
a separate part of the beach where you can bring animals. Though we don't have one, it's still kind of cool.
Things didn't like:
No shadow at all. There's simply nowhere to hide from the sun, unless you have a parasol.
Fuengirola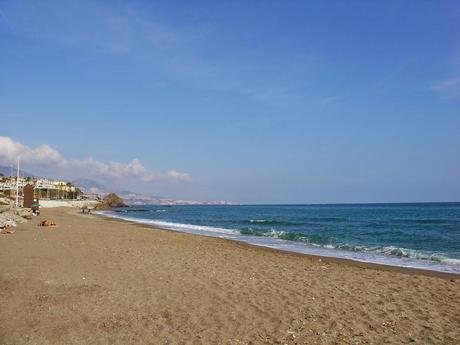 Destination overview:
One of the closes beach towns to Malaga, Fengirola is lovely indeed with narrow streets full of blooming pink tress. You shouldn't miss visiting Sohail Castle located at the city outskirts!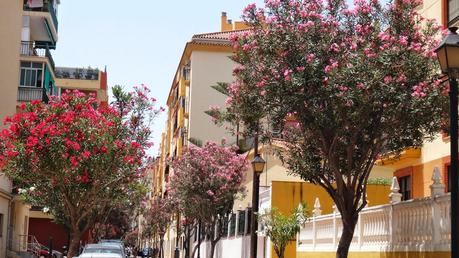 Beach:
I king of expected it to be a yellow sand beach, but the sand is more like grayish. There's plenty of room and in case you walk further from the Center and you'd definitely find a deserted spot. The beach stretches for good 7 kilometers!
Things liked:
It's so easy to get here from Malaga and buses leave as late as 3 a.m. in the morning in case you crave for a party
J
Things didn't like:
Food prices. It's kind of expensive here to dine with a view, so opt for restos hidden in the middle of the city.
Marbella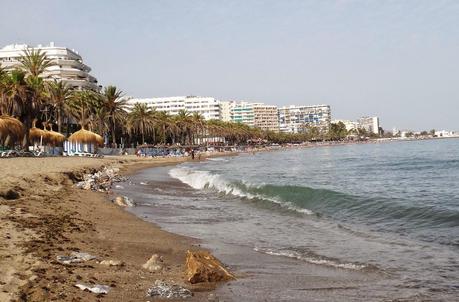 Destination overview:
A rather luxurious resort town in almost 3 hour ride from Malaga. There are a lot of 5 star hotels, a huge yacht parking and a lot of fancy restaurants with prices going on the upper side. There's a lovely park and promenade with fountains in the center where you can hang out while it's hellish hot.
Beach:
 If you walk a bit away from the center area with sunbeds and straw parasols for rent, you can find quite a lot of private place and a few palms to nap under
J
The beach line is of soft and white sand and stretches for a good kilometer.
Things liked:
Cool sand sculptures made by two nomad artists (one was from Italy) and live on the donations for their work as I've overheard in his money pleading speech.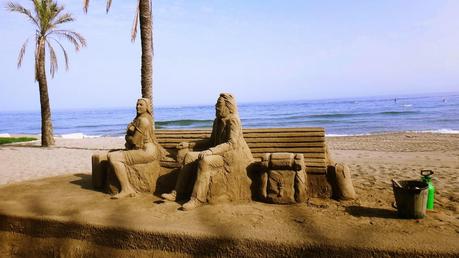 Things didn't like
: The see floor was full of stones, so it was kind of hard to get in.
Torremolinos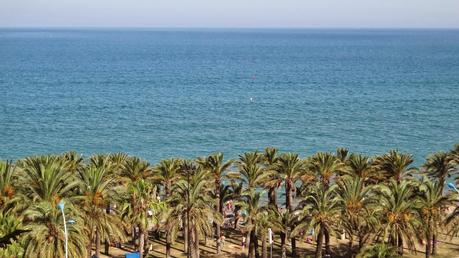 Destination overview:
Torremolinos is a super popular beach destination at Costa del Sol, so do expect quite a lot of people around. It's in a mere 30 min bus ride from Malaga with bus service till as late as 2.30 a.m. in case you'd like to party here late!
Beach:
The shore line is divided into a number of beaches with Los Alamos, Playamar and Playa de Bajondillo being the most popular ones.  
The sand color depends of the area – going from white to grayish. The place is mildly crowded after 4 p.m.
Things liked:
A lot of palm tree areas providing shadow for a perfect siesta nap.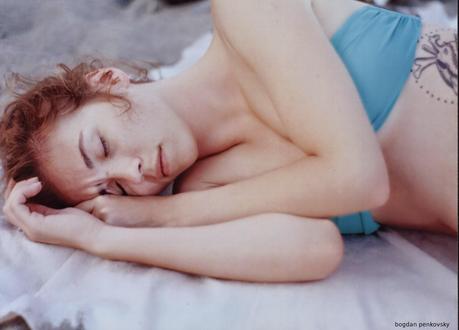 Things didn't like:
Noisy Russian tourists. Plenty of them. 
Maro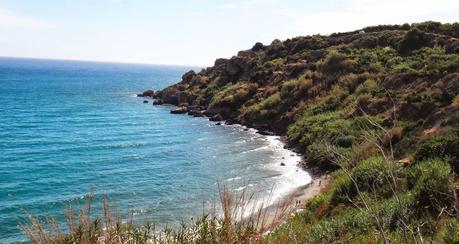 Destination overview
: One of the Nerja suburbs Maro is just in a 20 min walk from Nerja and an 1.5 ride from Malaga. A tiny town with narrow streets and glaring white houses where you will find just 1-2 hotels and a few small restaurants on a square full of blossoming bougainvillea.
There's nothing much to do here, except for endlessly admiring the gorgeous view of the surroundings: Nevada mounts from behind and deep blue sea down below + exploring chilly Nerja Caves that are right next to the town.
Actually, we've liked this place a lot of its serenity and one particular house on the hill. I envy the owners so much as they wake up to a gorgeous view like this every single day!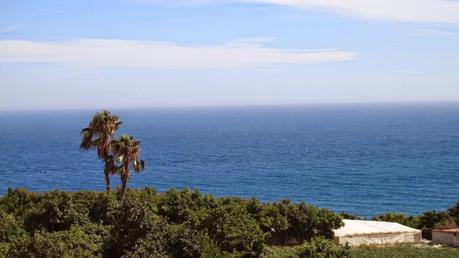 In case you are searching for a getaway place somewhere around Costa del Sol – Maro's definitely for you.
Beach:
We came to Maro because of the La Caleta de Maro – a short strip of dark sand hidden below in a rocky cove. It takes around 20 min to walk down till it from Maro – there are signs all the way long, so you won't miss your turn. Bonus: cool views all along.
It was weekends when we visited, so quite a few hippish locals came to camp here, but still I'd say the place is way less crowded than beaches in Fuengirola or Torremolinos. There are no facilities or restos around, so bring your snacks and drinks!
The sea is of pure blue color with some rocks, so mind your step.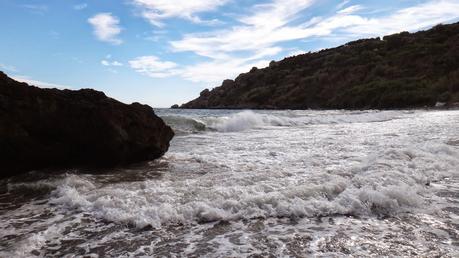 For girls: it's totally acceptable here to sunbathe topless.
Things liked
: huge waves and spectacular scenery around.
Things didn't like:
Can I please, please have this all beach to myself?!
Torre del Mar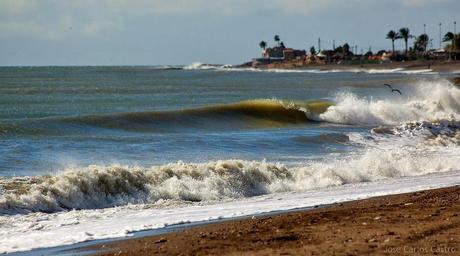 Destination overview:
Between Nerja and Malaga, Torre del Mar is another small resort town on Costa del Sol. There are a few huge supermarkets at the city outskirts with a great variety of local wines to choose from.
Beach:
Being a popular destination in summer, there were quite a lot of people around. Loads of facilities and activities available like volleyball field and children water trampolines (that I kind of wanted to jump on myself!).
Things we liked:
nice view on the Nevada mounts.
Things we didn't like
: there's nothing special about this place.
Caleta de Velez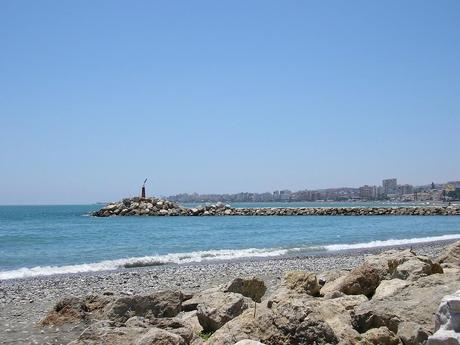 Destination overview
: Torre del Mar's suburb district, Caleta de Velez is a typical tiny beach town with no specific attractions, yet yummy and cheap food. One of our cheapest meals was in a small beach café here. For just 15€ we had a huge bowl of homemade salad, pizza and two glasses of young white wine!
There's a small port here with loads of fishing boats brining fresh seafood daily – definitely give a try to fried octopus (Pulpo Frito) and grilled sardines in one of the Chiringuitos
.
Beach
: a golden sand beach, stretching way till Torre del Mar. It actually takes around 30 min to walk there along it. The sea is crystal clear here and all the usual beach facilities available.
Things liked
: I've kind of liked the beach more in the evening, when it turned into a track, with runners disappearing in deep mist.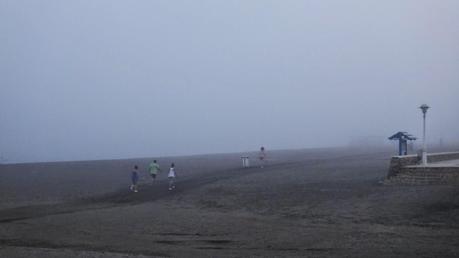 Things I didn't like:
there's nothing else to do here except for the beach. 
How's hitting on Spain? Which beach is at the top of your bucket list?