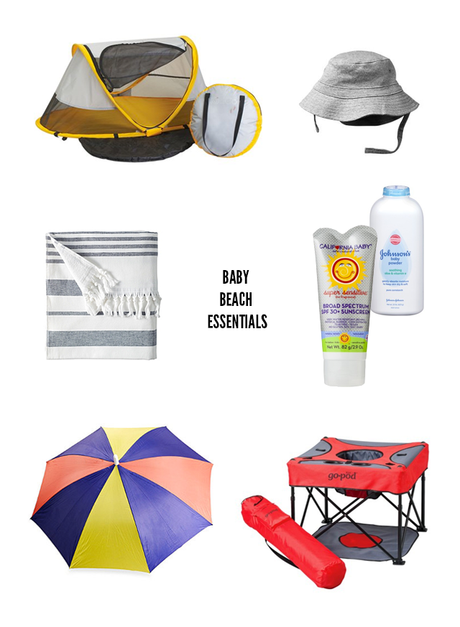 When Luke was a little guy I dreaded the beach because it was messy and complicated. (And goshdarnit, where was he going to take a nap?) Between trying to be on sand eating patrol and figuring out what where to sit him, I was pretty much that person who hated the beach. I mean, I really loathed the mother, and let's face it, nobody wants to be that person — it's supposed to be paradise, for heaven's sake!
Luckily we wised up and discovered the ultimate beach setup, and now we do beach days like champions (cue the Queen performance) with two little hooligans. If you want to have a relaxing time at the beach with your baby and brood, here are the must-have beach day essentials for a baby...
1. KidCo Portable Tent. This is where naps and quiet time happen! Hooray! It zips up so baby is contained and protected from any sun, flying sand or wind.
2. Baby Hat. I am weird about lathering Wes's head in sunscreen. I guess I just don't like the greasy film on his scalp? Anyway, hats are where it's at. We will go out and catch sandcrabs and play in the waves with Luke, and it stays on nice and snug. The key is getting a baby hat with a strap under the chin because it will fly off when a strong breeze comes along, and you don't want to go fishing for it in the waves with a baby on one hip and a toddler on the other hand. Trust me, I know from experience.
3. Turkish Beach Towel. I am a big fan of these towels, and I think they are worth the price. They are lightweight and don't suck up the sand like a regular beach towel, so it makes for quick cleanup and they hold up nicely. Also, they are just pretty to look at and have a resort-esque feel to them.
4. Sunscreen and Baby Powder. The California Baby stuff is the goooood stuff and perfect for sensitive skin, which in my opinion applies to all the babies. And here is a little trick if you aren't a seasoned beach goer: baby powder gets sand off in five seconds flat. Just pour that stuff on like there's no tomorrow and you will have a silky and sand-free child in no time.
5. Beach Umbrella. If you forget the umbrella, you may as well go home. This is the refuge from the beating sun for your little love (and you) and a place for everyone to cool off when the sweltering heat kicks in.
6. KidCo GoPod Seat. I am not exaggerating when I say at least two people ask me where we got this chair every time we are at the beach. It has a snack and drink holder and folds up like a camping chair so it is easy to port around. One word: LIFESAVER.