Please tell me that I am not the only one dealing with acne at the age of 22?!  I was under the impression that as you got older, acne got better not worse.
Well I think I finally discovered what has been causing my blemish-filled face. MAKEUP. I've never been a huge makeup wearer. I actually just started using foundation, concealer, blush & bronzer in November of last year. I went with MAC, because I was familiar with the brand and knew that it was well-known & respected.
Please don't see this post as me bashing MAC, because that is not the case at all. But what is the case...MAC totally screwed up my complexion. I've never had flawless skin, but I've never really considered myself to have problem skin either. Ever since I started using MAC, I've had these little pimple/bump things all over my chin & forehead. NOT CUTE. Nothing like acne to smash a girl's confidence...you feel me?!
I didn't want to blame the makeup, so I attributed the issues to stress. I mean I was taking 5 classes, working 28 hours a week & living far away from  my loved ones. So I assumed those things, along with lack of sleep, were causing me to  break out uncontrollably.
Fast forward to now...well 2 weeks ago. I was totally stress free but my face was still full of the acne. What gives?! So I stopped using the MAC makeup for a few days and guess what...the acne slowly started going away. After a lot of research and some wonderful advice from  Amanda & Lindsay I decided to make the switch to...
Bare Minerals. And let me tell you - I couldn't be happier with that decision :)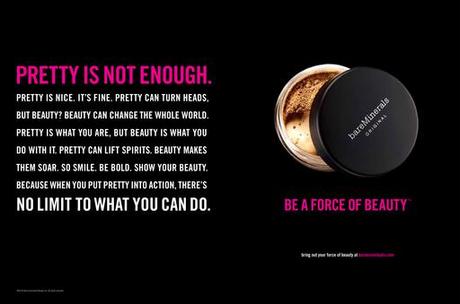 via
I had always heard that BM didn't offer enough coverage and that it dried skin out. So I wrote it off without giving it a shot. But with the condition that my skin was in, I needed something that wasn't so harsh and that allowed my skin to breathe. I wasn't really concerned with a crazy amount of coverage anyway - just something that evened my skin tone out.
Well this stuff is incredible! It helps reduce the shine on my forehead/chin, and PEOPLE... it has even helped my acne!  I mean it's not a magic potion that has magically taken  care of all my skin issues, but I can't really tell a difference. My blackheads are almost completely gone and I haven't had a new break out since using BM. I still have a few  trouble spots left from where the MAC makeup damaged my skin, but I think that with time  those will clear up. Plus I absolutely love the "Be a force of beauty" campaign that  Bare Minerals is using right now!
The products that I am using are:
Skin Care // Purifying Facial Cleanser // Purely Nourishing Moisturizer // Firming Eye Treatment  (never too early to prevent wrinkles! Or so the sales lady told me...)
Makeup // Prime Time Foundation Primer // SPF 15 Matte Foundation (in medium beige) // Mineral Veil // Warmth (bronzer) // Blush (The One shade)
 I was a little bit intimidated by all of the product that I was about to cover my face in, but even with all of that it still feels so light! My skin looks clean, feels light & can breathe! Sounds like a win to me :)
I'm excited to keep using it! Have you tried Bare Minerals? What do you think?

...............................................................................

And here is a little photo drop from my past week for your viewing pleasure ;)
I started doing the Photo a Day May challenge on Instagram (which I am failing miserably at). This was day 3 "something you wore today." That's one of my favorite skirts :) Coral & a scalloped hem...yes please! I got it at Forever 21.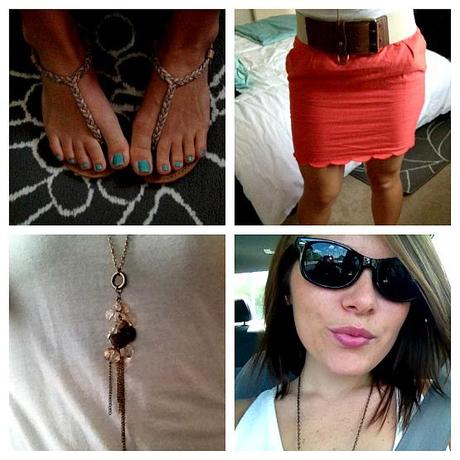 one// I started working out with a Kettlebell...my arms have felt like jello all week!  two// This verse came at the perfect time. Faith will take you places :) three// One of my friends had her wisdom teeth taken out - I brought her ice cream & flowers! four// Adam took me to see The Lucky One...the movie was ehh but I have to say that Zac Efron was looking mighty fine! five// A flour-less brownie from my graduation dinner at Bonefish Grill with my family!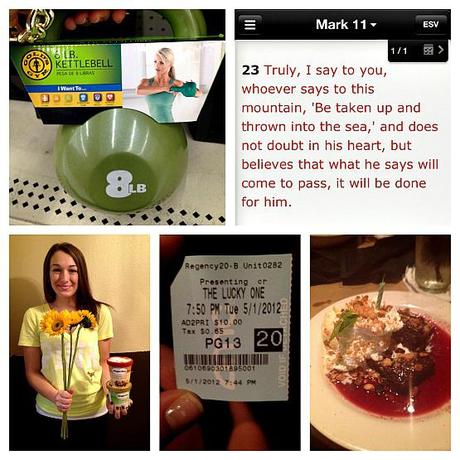 Rays game with Keisha, my brother & Shelby! So much fun...even though they lost...whomp whomp :(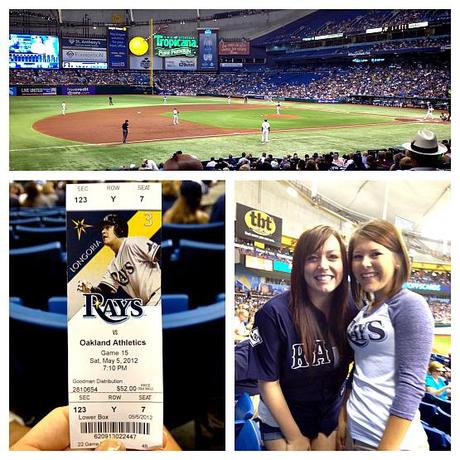 Happy Tuesday to you!