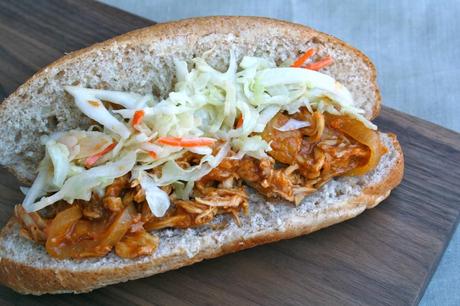 Ryan and I went out without Lucy on Tuesday night. We went to our favorite restaurant in the Springs. I wore a fancy handmade dress. We ordered drinks and a goat cheese bruschetta to share. And then we fought.
We fought over little things and over big worries. I tried to pretend I was having fun, but I kept on thinking about Lucy and how badly I needed a cup of hot tea and a nap.
"I think you love the baby more than you love me," I confessed halfway through my salad. Ryan put his sandwich down, reached his hand across the table, and told me, "I love you more than anything in the world." And then we kept on fighting.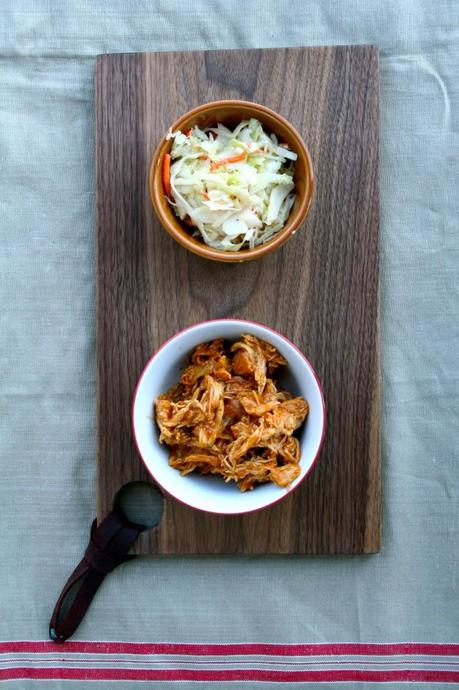 We walked around a quiet neighborhood and we wondered if we had made the right decision moving back to Colorado. We missed our friends in Austin, and we realized how unsettled we felt without the little creature who had been occupying our every day and night for the past two months. Eventually, Ryan took me in his arms and in that moment, with the mountains behind us, I realized that everything was okay. We are still very much in love.
But having a baby has meant that we bottle a lot more of our emotions while at home. Even though she can't understand our words, we don't want her to perceive stress or anger. And so I think that on our nights without her, instead of romance….frustration bubbles to the surface. And we realized on Tuesday night that this needed to change.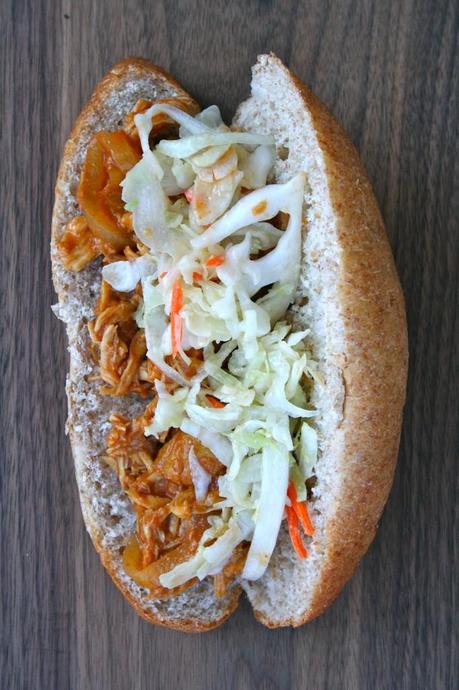 Because while we're learning how to be parents we also need to learn how to be partners again. Lucy will need to see us fight. She'll need to see us upset. Because most importantly, she needs to see us deal with our emotions positively. She needs to learn to fight well. She needs to learn to cope with stress. And hopefully, if we can manage conflict at home, we can have much more romantic evenings in the months to come.
Because our dinner on Tuesday was stressful, I wanted to make something extra delicious for dinner on Wednesday night. This BBQ pulled chicken and apple coleslaw was just what I hoped it would be. Healthy, easy, and quick to put together. Instead of a traditional mayo-laden coleslaw, I made a light and tangy apple cabbage salad. Slightly sweet with a bit of acid and heat, this coleslaw tastes much more sophisticated than what you normally scoop up at a picnic. The BBQ sauce for the chicken came together quickly with ingredients I had on hand. After baking in the oven for an hour, the chicken was fork tender and the sauce was brown and bubbly. Ryan and I had a hard time just eating one sandwich. This will be making the monthly rotation. No doubt.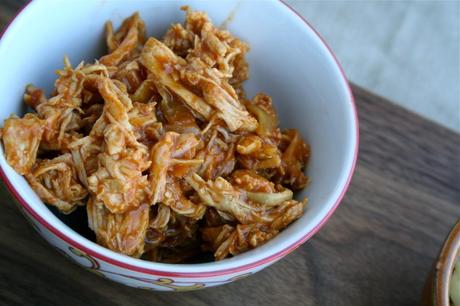 BBQ Pulled Chicken
1 1/2 pounds boneless skinless chicken breasts
6 TBSP brown sugar, divided
1 teaspoon smoked paprika
1 teaspoon roasted garlic salt
1 teaspoon kosher salt, divided
1 teaspoon black pepper
1 cup ketchup
1/4 cup Worcestershire sauce
3 TBSP yellow mustard
2 TBSP apple cider vinegar
1 white onion, sliced thin
Apple Slaw
One bag coleslaw mix
One granny smith apple, finely grated or shredded
1 garlic clove, finely minced
2 TBSP red wine vinegar
2 heaping TBSP dijon mustard
1/4 cup olive oil
Salt and Pepper to taste
Chicken: In a small bowl, combine 2 TBSP brown sugar, smoked paprika, garlic salt, 1/2 teaspoon salt, and pepper. Rub spice mix over chicken breasts. In a small pot, combine 4 TBSP brown sugar, ketchup, Worcestershire sauce, mustard and apple cider vinegar. Heat on medium-low and stir for five minutes, or until warm. Place chicken in an 8 x 8 baking pan. Place sliced onions on top of chicken breasts and cover with sauce. Tightly cover pan with aluminum foil and bake in 325 degree Fahrenheit oven for one hour, or until chicken is no longer pink. Remove chicken from oven and either shred with two forks or shred in kitchen aid mixer (this is amazingly simple).
Coleslaw:
Combine coleslaw mix and shredded apple in a large bowl. In a small bowl, whisk together vinegar and mustard. Stir in garlic. Slowly drizzle in olive oil, whisking all the while. Pour dressing over coleslaw and stir to combine. Season with salt and pepper to taste.
Monet
Anecdotes and Apple Cores