Summertime BBQs are here, and these BBQ Cauliflower Wings will be a great addition to any party.  These wings are batter dipped and then baked to a crispy perfection, perfect for slathering on your favorite BBQ sauce.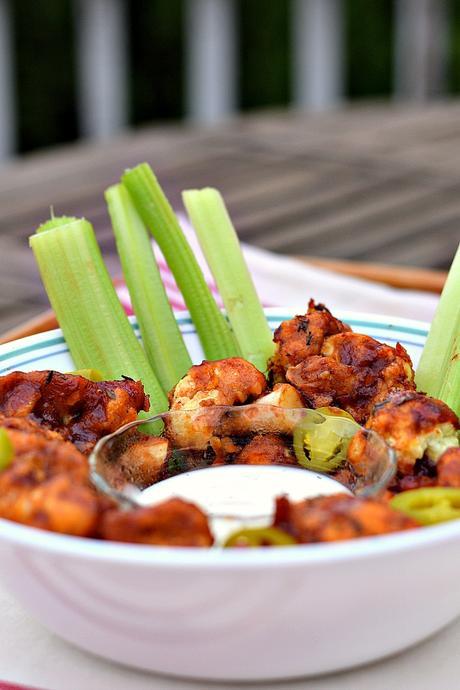 BBQ Cauliflower Wings | Brand New Vegan
My wife came home with yet another head of cauliflower yesterday – not knowing I had just bought one myself.  All of a sudden, dinner looked liked it was definitely going to include cauliflower.
"Ruh Roh Raggy….."
"Not to worry Scoob, old buddy – old pal…… We'll like, just make some BBQ Cauliflower Wings!"
Not quite Scooby Snack material….but definitely snarf worthy.
BBQ Cauliflower Wings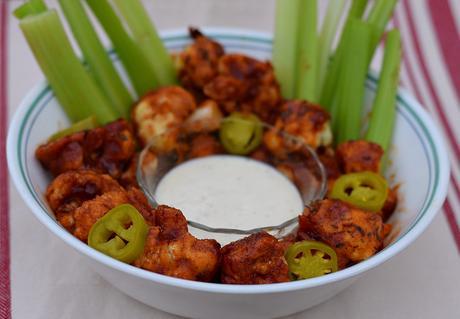 To make these yummy BBQ Cauliflower Wings, we're going to break up one small head of cauliflower into bite sized florets.   We then hand dip them into a homemade batter and then bake them in a 450° F oven for 15 minutes or until golden brown.
Once baked – try not to eat them all before slathering on your favorite BBQ sauce because yes – they are THAT good even now.
Carefully coat your 'wings' with your favorite sauce and bake for an additional 5-10 minutes.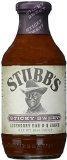 The sauce you use it totally up to you, although I highly recommend my homemade BBQ Sauce I use in my
BBQ Soy Curl Recipe
.  It's sweet and smoky but has none of the HFCS you'll find in store-bought sauces.
For a quicker option, I have used Stubbs Sticky Sweet BBQ Sauce and it's also very good, and has no weird chemicals.  However, as the name implies.…it IS sweet.  You can find it at your local grocery store or the affiliate link to Amazon I included here.
And as for dipping?  Although totally optional (because these wings are very good all on their own) I highly recommend serving them with my Cool Vegan Ranch Dressing.
Zoinks!  Because like finger foods become so much better when you dip 'em  

Happy BBQ'ing!

Save
Print
BBQ Cauliflower Wings
Prep time:  10 mins
Cook time:  20 mins
Total time:  30 mins
Serves: 2-4 Servings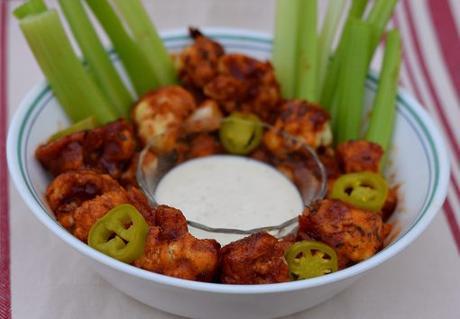 Summertime BBQs are here, and these BBQ Cauliflower Wings will be a great addition to any party. These wings are batter dipped and then baked to a crispy perfection, perfect for slathering on your favorite BBQ sauce. Ingredients
1 Head Cauliflower, small
2 cups BBQ Sauce
1 cup Unsweetened Almond Milk
2 tsp Apple Cider Vinegar
¾ cup Flour
¼ cup Cornmeal
2 tsp Garlic Powder
1 tsp Paprika (I used smoked)
½ tsp Thyme
¼ tsp Salt
¼ tsp Ground Pepper
⅛ tsp Cayenne Pepper
Instructions
Preheat oven to 450 degrees F.
Line a cookie sheet with parchment paper.
Wash cauliflower and break into bite sized florets
Mix milk and vinegar together and set aside
Mix all dry batter ingredients in a large bowl
Pour in milk and stir thoroughly to make a thick batter
Dip each floret into batter and ensure they are evenly coated
Place on cookie sheet and repeat until all the florets are coated
Bake for 15 minutes or until golden brown
Remove from oven and using tongs, carefully dip each floret in BBQ sauce.
Return to cookie sheet and bake for an additional 5-10 minutes
Notes Garnish with celery sticks, carrots sticks, and our Cool Vegan Ranch Dressing. 3.5.3208