claims their products are specially formulated for Indian hair, in my opinion, that's just a BBlunt Intense Moisture Conditioner, a product I have been using for a couple of months now. marketing gimmick. I like a lot of L'Oreal products that aren't specially formulated for indian hair, which is why I believe that its all just statement. Today, I'm going to write about the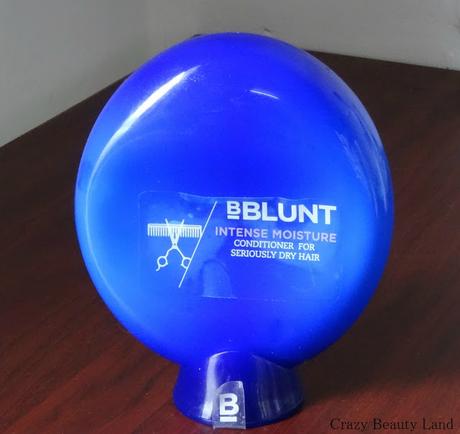 This moisture-rich conditioner makes out-of-control hair manageable. It smoothens, softens and adds shine. Show your hair some love.
Texture : thick & creamy. Like a hair mask. But it doesn't feel as silicone-y as a hair mask. I suppose its thick because its meant for seriously dry hair. I use it twice during one wash, each time I keep it for approximately 3min, as instructed. I like that it doesn't weigh my hair or make it greasy, unfortunately that just means my hair is super dry. =(
After effects : I have seriously dry hair, my hair ends are the worst & they actually look pretty bad too. This conditioner does make them smooth & soft, but they still look dry & ugly. So if you have really dry, damaged hair, this conditioner does help smooth your locks but you will need a hair serum/oil to make your hair actually look healthy. For sometime I felt that this did not do much for my hair & I switched to another conditioner, only to realize this one works & does so much more on my hair. However, it does not add shine to my hair as it claims.
I know the packaging looks cute & its something new, but I don't like it. It's inconvenient because the bottle keeps bending from the middle & strains the plastic...the plastic will eventually break. A bottle with a pump would have been perfect.
Ingredients of BBlunt Intense Moisture Conditioner:

I was skeptical about how good this would be for my hair because it has so many alcohols but I did some research around this.
(3 - Cetyl alcohol & Stearyl alcohol rd & 4 th ingredients) are fatty alcohols i.e they are oily & can condition hair.
These are good ingredients for dry hair.
The rest of the ingredients are silicones & parabens so if you prefer conditioners free from those, you should skip this one. I think the conditioner is more thoughtfully formulated for dry hair than most drugstore conditioners.
Shelf Life : Doesn't have any. Expiry is 24 months from Date of mfg.
BBlunt products are easily available online and at BBlunt stores. I don't know if they are available at department stores.
BBlunt Intense Moisture Conditioner is a nicely formulated and does soften & smoothen my locks, it doesn't meet its claim of making hair shiny. In order to make my hair look shiny/presentable, I still need to use a serum. But I think seriously dry hair can't be remedied with just a conditioner, its a small step that needs to be taken along with other steps like hair oil, mask, serum etc. I feel that if you have dry hair (or seriously dry like mine), you will not be disappointed with this conditioner.