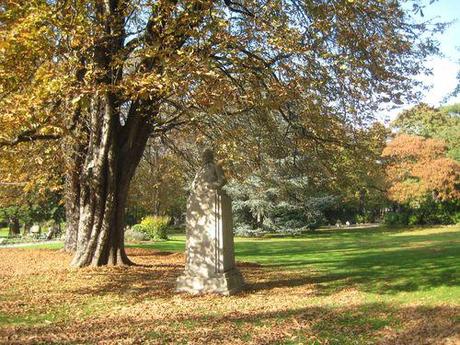 One of the many things I love about living here is the respect France has for its poets. This is the only country I have ever been to where an autoroute sign quotes a line of poetry, where parking garages have poems on the wall, and where there are statues of poets all over the place. The Jardin de Luxembourg has several, including Baudelaire, above. He was a true Parisian, often writing nasty things about his native city, but also taking full literary advantage of the human variety it offered. 
Here is one of his most famous poems, about that classic city poet's theme, a  brief glimpse in passing of a beautiful stranger.
To a woman passerby 
The deafening street roared around me.
Long, slim, in darkest mourning, majestic sadness,
a woman passed, with a sumptuous hand
lifting, swaying her scalloped hem;
agile and noble, her limbs like a statue.
As for me, I drank in, tensed as an wild man,
a fascinating sweetness and the pleasure that kills,
in her eye, a pallid sky of hurricane.
Lightning... then your night! Fugitive beauty,
whose glance made me suddenly reborn,
will I never see you again before eternity?
Elsewhere, far far from here! Too late! Maybe never!
Since I don't know where you've fled, you don't know where I'm going,
O you whom I would have loved--  O you who knew it!
Here is the original with some other translations.