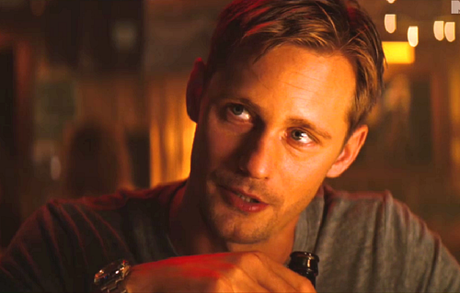 Close your eyes and "make a wish"! If your wish included watching Alexander Skarsgard in his role as Stone Hopper in "Battleship" – you've come to the right place!
Below is a video from MTV.com where they show Alexander Skarsgard and Taylor Kitsch playing the roles of brothers in the new blockbuster, "Battleship"! However, this video is not able to play outside of the U.S. You can watch it below!
For those of us, who are visually challenged (outside the U.S.), Lilabitbif was kind enough to kind of recap it for me, because I'm not able to see it either.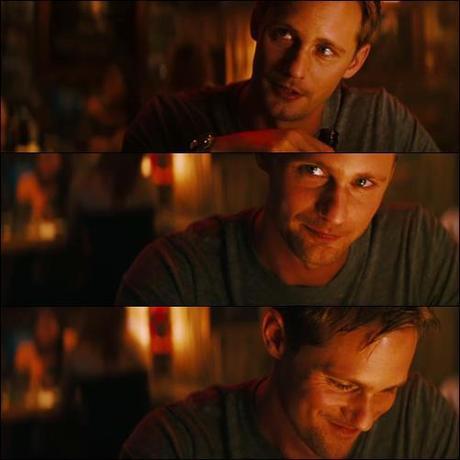 Here is a rough recap of what happens…
Stone (Skars) and Alex (Kitch) in a bar celebrating Alex's birthday. Stone, in big brother fashion, is trying to get Alex a job. Alex wants none of that. In walks Brooklyn Decker (Sam) just as Alex is going to make a wish. Stone tells him not to waste the wish (on her, cause Alex is very distracted by her…and drunk). Alex blows out the candle and goes to hit on the Sam at the bar…
Here's a bit of the dialogue;
Stone: so I got this guy Tony, who said he could get you a construction job. All you gotta do is call him

(Alex is watching girl walk in and go to bar, she orders a buritto…but the kitchen is closed)

Stone: You aren't going to call him are you.

Alex: Give Tony my best, but I don't want yours or Tony's help for the matter.

Stone: Well you can call him or join me in the Navy

Alex: No

Stone: Happy birthday. Blow out your candle…make a wish. DO NOT waste a wish on a girl. Wish for a job, a apartment, a new alternator belt so I don't have to drive you everywhere, a job…

Alex: You said job twice. My birthday…my wish.Right?

Stone: Please don't waste it? (Alex blows out candle) You just wasted that wish didn't you

Alex: I'm going in.

Stone: You're not going in.

Alex: How do I look?

Stone: Let me just…(swats Alex on side of head) awesome. Alright princess, go get 'em.

(Alex makes way to bar next to Sam and knocks bottle over)

Stone (yells over): Great start

(Scene ends with Sam and Alex looking at each other.)
Thanks Lilabitbif for recapping it for us! On a more shallow note, Alexander Skarsgard is lookin' FINE in this movie too! I already know a number of us, might be suffering from Skarsgasms over this.
What do you think? Sounds like something you'll enjoy? Sound off, below!