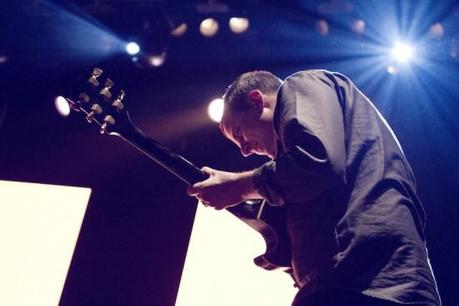 Nisennenmondai (@nisennenmondaiO) opened for Battles (@battles) Tuesday night at Webster Hall. Listening to their aggressive, evolving, and repetitive math-rock, I would never assume that the sound was coming from three small Japanese women. After the impressively intricate
performance, my favorite part was still the very end. With a soft, small voice, and broken english, one of the members walked up to the microphone and expressed how grateful they were to be on tour — a pretty great moment.
Over a year ago, Battles' lead singer, Tyondai Braxton, left to focus on solo work. This would generally be viewed as a setback, but the other members saw this as an opportunity to forge a completely new sound on their recent release, Gloss Drop. After an hour or so of constant head bobbing and even a little moshing, I can't imagine that anyone left that show without a neck ache. Nobody plays their instruments quite like Battles, whether it be playing a keyboard and guitar at the same time or hitting a crash cymbal so high that it looks out of reach. You'll never hear anyone say that their music is catchy, but I left that venue with their endless riffs and loops stuck in my head for a days.

View Photo Album

View Photo Album