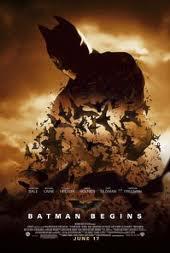 Pop Factor: 10/10
Bruce, Why do we fall down?  So that we can learn to pick ourselves up.
Batman Begins
Plot
 9/10
In this film the most important message comes from what Bruce Wayne's father tells him at the beginning. He asks Bruce, Why do we fall down? To which he then replies so that we can learn to pick ourselves up. I really like this saying because it has such a simple meaning but one that is so incredibly true. Without defeat we would never achieve.
The main crux of the film explores the origins of Batman, it has a much more gritty and darker edge to it; than that of the previous true to comic book films of the 80's and 90's. It is an incredibly refreshing take on a genre which has been done several times before. The characters are swarve and sophisticated and each witty line is delivered with just the right amount of finesse. The story stays true to batman's graphic novels and is lovingly reconstructed, it is done with real thoroughness and detail that I am sure any fan or nearly anybody would enjoy it.
Acting
 10/10
I will start by saying that the acting was near flawless I could not fault it, I think the cast in this film all worked perfectly together.
Christian Bale is another one of the actors I can just watch in almost any film, he is a real screen prescence and plays the man with lots of money role 'surprisingly' well.  Other actors of note would be Morgan Freeman who plays Lucius Fox, the close family friend and guarder of Wayne enterprises top secret weapons facility. Finally of course one of England's finest actors, Micheal Cane. In this particular film he plays the old Wayne family butler Alfred. He puts on a great act which is believable and compelling and I know he drew me in the second time just as much as the first.
Pros
The acting strong swarve and sophisticated. You really get the feeling that the family are of real wealth and the people and places that Bruce Wayne inhabits and meets for a good proportion of the film are believably wealthy and of a high standard.
As I have already mentioned this story is rather linear in the way that it follows quite closely to that of the graphic novels, however each detail has been included and you can tell they have taken their time to tell the story really well and with great care.
I loved the gritty re-imagining of this seemingly tired superhero. Chris Morrison has done an excellent job of recreating Batman as a battle hardened, bad ass, vigilante. Gritty tones work well with superheroes and they must be continued!
I cannot fault his film, therefore have decided not to try.
-Summary-
A thoroughly enjoyable film and story, for anyone who is a fan of comic books action or superhero films you most certainly must see this film.
Its fine story telling and impeccable acting make the 2hour 20 minute duration fly by.
I really love all three films however felt that reviewing the first of the three films would be best. I have seen all three films and can tell you that number two is the best out of all of them, and number three was somewhat of a dissapointment. Dark knight rises is the worst simply because there was not enough Batman in it.
Thank you for reading and sticking with me my loyal few, I have decided however that given the way my life is heading at the moment I feel it best that I hang up the hat and say goodbye to preaching for a while. I need to focus on education in order to get those few valuable grades. thank you for reading and good bye.