Ok, finally here with some pics of the updated bathroom. This is all due to my dad's help installing the pedestal sink that started it all :)
Before.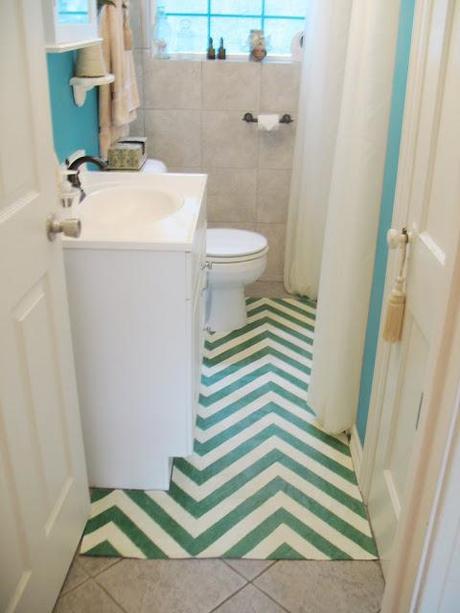 I have no really good before pics as it turns out, but this kind of shows where we started. Nothing majorly wrong with it but that vanity was taking up a lot of floor space in our tiny bathroom. Not to mention that the kids have flooded the sink a few times and the laminated wood was warped and moldy in places. The medicine cabinet was showing it's age as well so I decided to remove it, too.
Afters.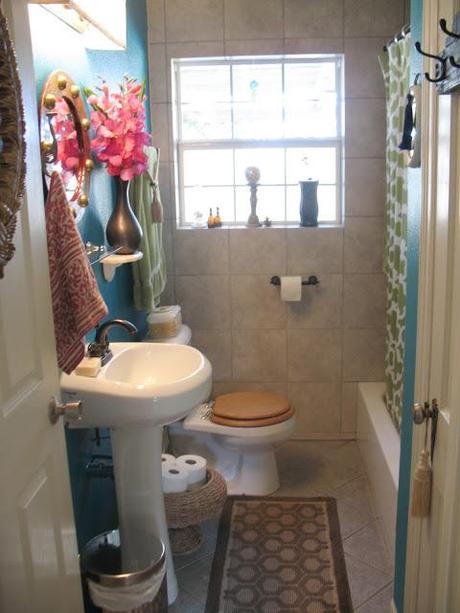 So much more room to move in here. My husband and I can actually pass each other in here now without having to squeeze :) And nothing will warp if the kids are being naughty with the sink again. This cute little pedestal sink was only $60 at Home Depot.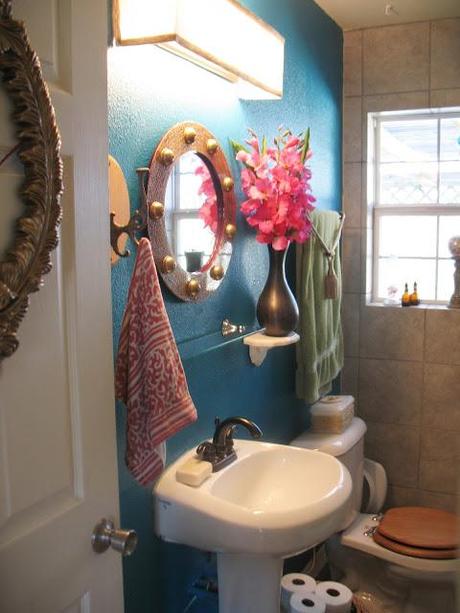 The round mirror was in here before (above the towel bar) but is now center stage. A small shelf was added to make up for some of the lost surfaces that were on the vanity.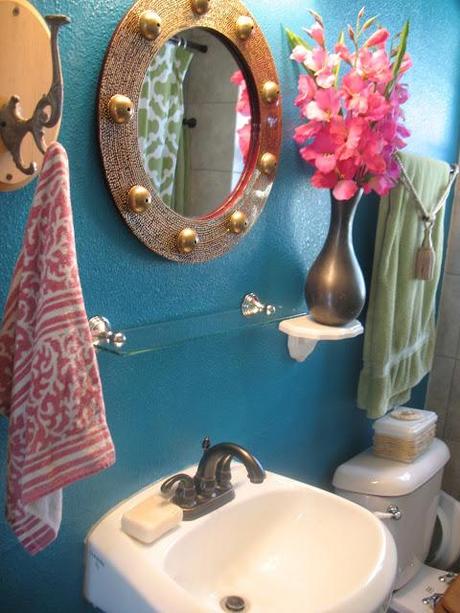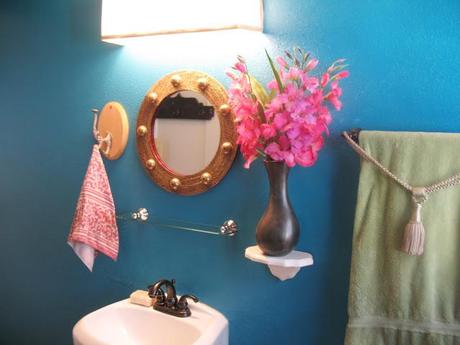 The wall to the left looks empty to me but I decided to not fill it with stuff right now. Even though we have no immediate plans to sell I'm thinking about re-sell and "keeping my walls bare" for now. Besides, that wall is usually covered by the bathroom entry door anyway so it's not like I see it very often unless we have guests (we have an open door policy in our family, sorry for the TMI :))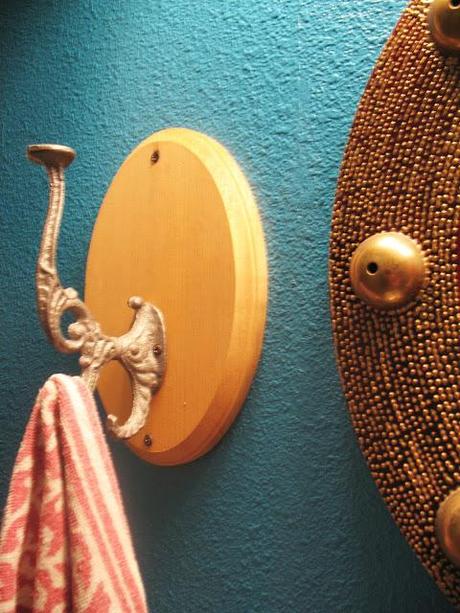 The hand towel hangs from this great hook I picked up at a local antiques store. It's a reproduction but I just love the old fashioned look of it. It's mounted on a wooden plaque from Hobby Lobby. The hook will eventually get a coat of glossy black spray paint (when I can get to it) and the plaque was just stained with coffee for now to remove the untreated wood look.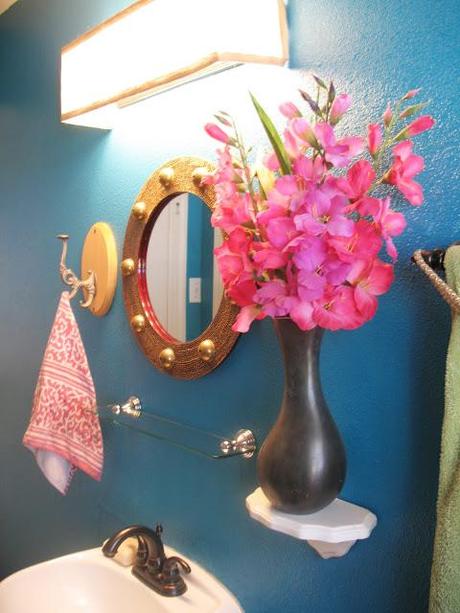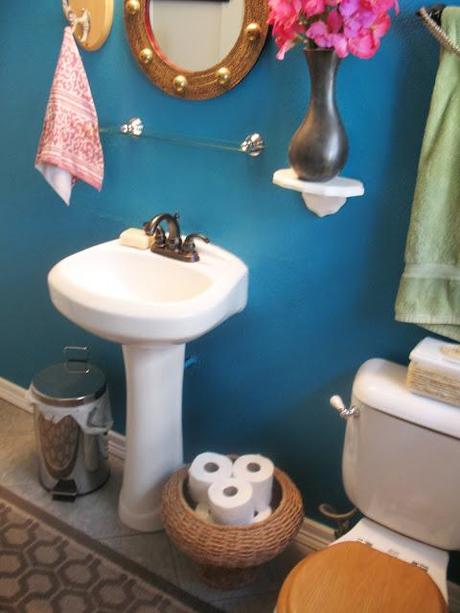 A pretty trash can and a basket for the loo paper replaces the storage we used the vanity for. But it looks so much prettier than a vanity :)
I really wanted to get a new light fixture in here. Something modern-ish with square shades is what I had in mind. Turns out they're incredibly expensive and since this vanity bar light works just fine I decided to do a hack instead. It cost me exactly $3 to make.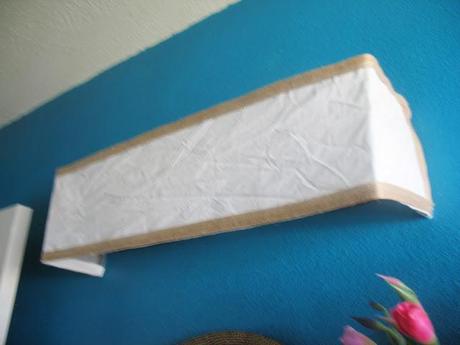 Blurry, I know, but it shows you what it looks like.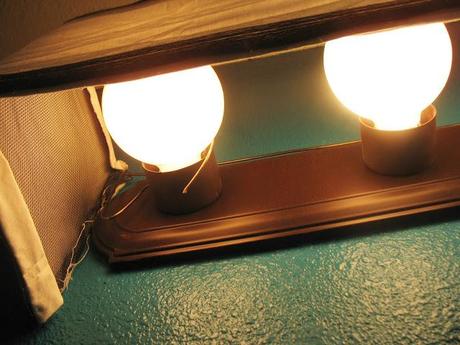 I made a wire rectangle from wire hangers with these little arms that hook over the lights on each side. From this rectangle I formed/hung a half shade from window screen which was then covered in a starched on piece of white sheet. The cool ribbon (which is where the $3 went to) added a touch of sophistication and earthiness. The whole contraption lifts off easily if needed.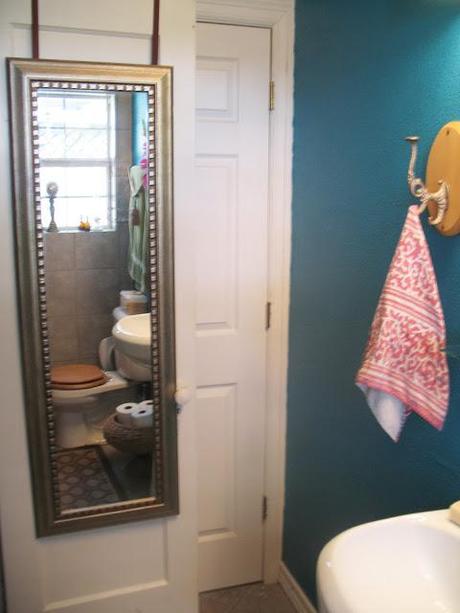 To compensate for the loss of storage with the medicine cabinet gone I re-organized the closet in the bathroom to hold all our stuff. A full length mirror on the inside of the door makes this feel like a mini dressing room when the door is open.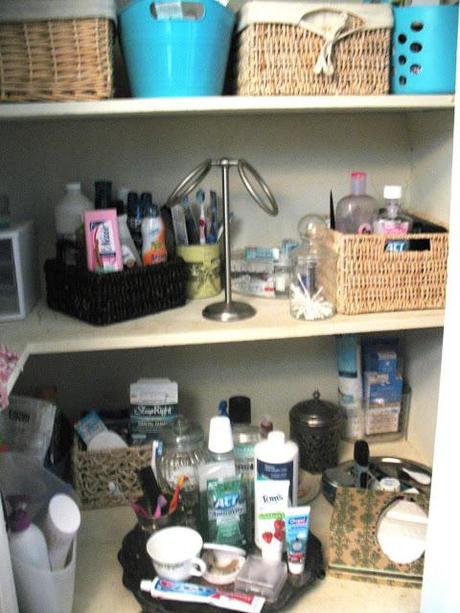 The inside of the closet needs a major overhaul, I don't think anyone has touched the inside for at least 30 years, and it shows. Old water damage, peeling paper and dingy paint. I intend to paint this all in a rich gray and continue this basket and tray thing to where it looks like a boutique. For now all our daily stuff like tooth brushes etc are stored on trays on the bottom shelf and all the rest is in various baskets. It's not pretty yet, but it will be when I'm done with it. And it'll be all concealed storage to keep the rest of the bathroom looking sleek and clutter free.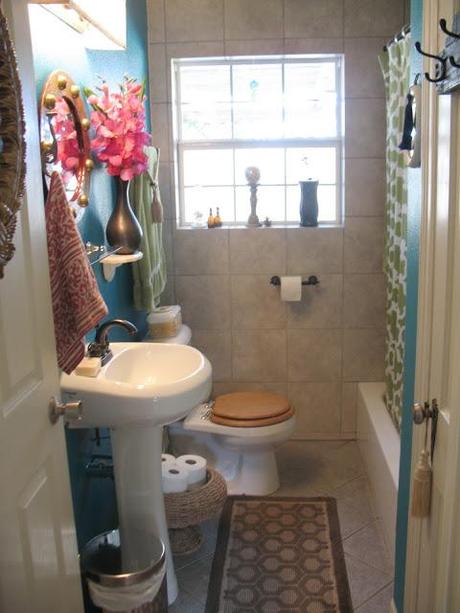 The look I was going for in the bathroom was a mix of the girly colorful stuff I like tempered with more modern, rustic and masculine elements. I kind of feel like I succeeded, what do you think? And do you like it? I often find myself trying to judge my stuff objectively and not really succeeding and that's where your opinions come in handy :) What would you do differently in here?
Wish you a great rest of the week, I'm busy trying to keep the kids happy (it's spring break here). See you!