Hey everyone!
I'm back in Chicago after a month long holiday which flew away so fast, honestly, I wasn't in the mood to come back

but have to go on and get back to the hectic life  :(
I just got back yesterday and picked up my haul package from my friend's place today and here I am showing you all

Here in the US, brands like BBW and VS have amazing clearance sales twice a year in which they clear off almost all products and make way for new launches!
These semi annual sales are so amazing and a great way to stock up stuff for the coming months.
I just casually noticed their Semi Annual Sale in December when I was in India and you all know how much I love bath and body products and I couldn't resist these sales at all

when I show you at what prices I have bought these stuff, you'll definitely be quite envious

I only shopped from BBW and BBW brings back products that they have discontinued earlier and sells them off in these sales!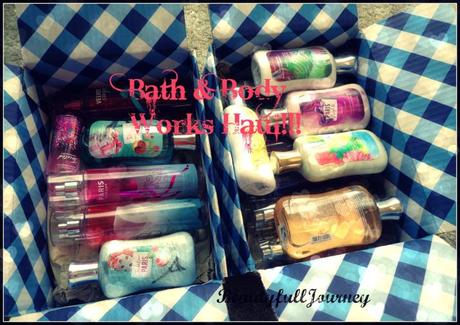 My stuff came in 2 parts. No, don't get hyper seeing the quantity

I'm not going to keep all of this stuff for myself

Read on to see what I got

So, I'll show you what all I bought now –
I mainly wanted to buy fragrance mists as I already have quite some moisturizers and shower gels. So I have really bought a lot of them

These products were discounted at 50-75% off and plus I had some coupon of $10 off if you purchase above $40. So the prices I've mentioned as after discount are after all discounts and including taxes and shipping.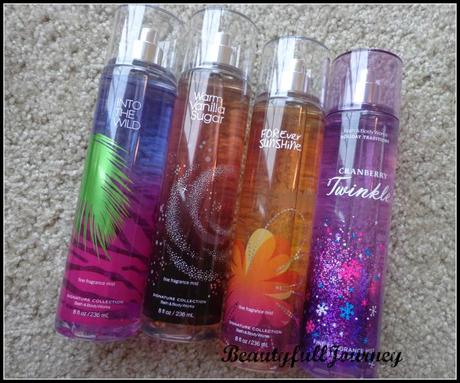 Into the Wild fragrance mist, a nice blend of fruity and floral scents. Full price $14; After discount $3.457= Rs.220
Warm Vanilla Sugar fragrance mist, vanilla is my all time favorite

. Full price $14; After discount $4.6= Rs.280
Forever Sunshine fragrance mist, a very nice summer fruity scent. Full price $14; After discount $5.4= Rs.335
Cranberry twinkle fragrance mist, it's from the 2013 holiday collection. Full price $14 ; After discount $6.147 Approx.Rs.380.
Some more mists –
These mists were not on clearance sale but I bought them on buy 2 get 1 free offer.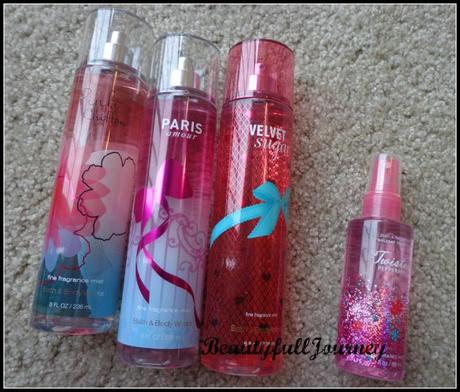 Pink Chiffon fragrance mist, this one is a lovely feminine scent. Full price $14.
Velvet Sugar fragrance mist, the bottle is gorgeous

it's a newly launched range and LE I think.
Full price $14.
Paris amour fragrance mist, a very sophisticated fragrance! Full price $14 but I got for free with the above two.
And a baby mist, travel sized mist in Twisted Peppermint. This is more minty than I thought but I'm quite liking it

Full price for $5, after discount $2.50.
Now, tell me guys, how can anyone resist all these at such low prices

when otherwise you'll buy them at full price so why not collect them during the sales

Then I also got these –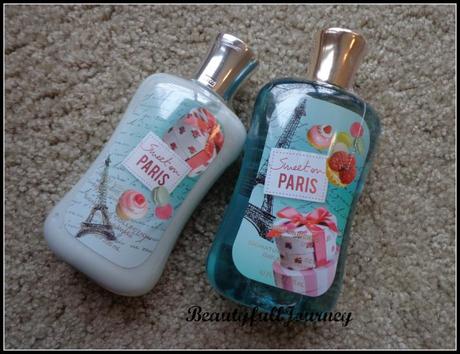 Sweet on Paris body lotion, this is a discontinued scent and I have a whole story coming up on this for you

Full price $11; after discount $3.7 = Rs.230.
Sweet on Paris shower gel. Full price $11; after discount $4.5 = Rs.280
So, that's it for myself!
Rest all that you see in the first picture is for gifting purpose. Like for friends' birthdays or occasions that come through the year as these are such great gifting options! They are all in the range of $2-4. So now I don't have to worry about gifts when friends' birthdays come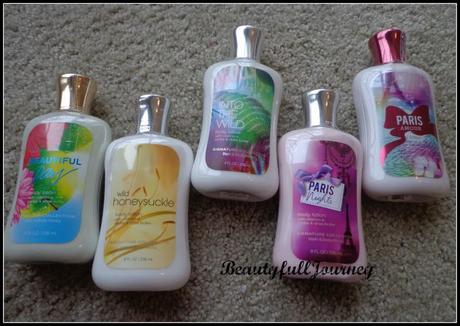 All to be gifted :D
I might keep the Paris Nights lotion for myself from these as I've tried it at the store and it had a really nice fragrance but I'll open it only when I've finished my current moisturizers! Till then, all these are going to be kept in their box and ready to be gifted!!
To be honest, I'm very tempted to open them all and atleast smell them but well, I can't

but if I finish some of my current moisturizers, then I'll open these and Chicago winters are just making my skin super dry so I hope I can finish alllll my body stuff

In these sales most people stock up stuff for 5-6 months

and that's what I've done!
Now I'm super well stocked on moisturizers, body washes and fragrances!!
I honestly can't tell you how much I love bath products, well you can get a good idea from my frequent hauls

it's my dream to be surrounded by different kind of scents all the time
I love love love smelling good all the time

and such prices can tempt anyone

I really wish brands in India would start keeping such sales too!
If you have a friend or relative visiting you from abroad I really recommend telling them to bring you BBW stuff bought during semi annual sales that are in December-Jan(starting right after Christmas) and June-July.
There's no point in buying all this at full price where we can easily get them at such low prices!
I have fallen madly in love with BBW, their stuff is super awesome plus the amazing range of fragrances available and plus the dirt cheap prices in these sales, what more can a girl want

Now I'm going to use all these pretty goodies and review them all for you one by one!
Do let me know in the comments if you want a particular review first