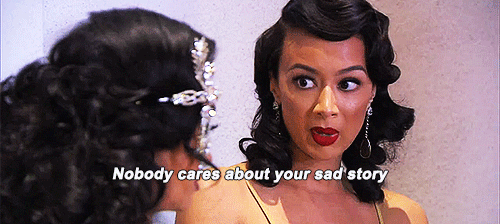 Thanks to JoeyBGCBlogger the full description of all 12 episode of Basketball Wives LA has be released. Do you want to know what happens this season? Check out the descriptions below. FYI these are spoilers.
401 – Jackie desperately tries to work her way back into the group's good graces after causing so much trouble in Paris and at the reunion.
Malaysia and Brandi refuse to speak with Jackie unless she agrees to some stipulations. At Draya's first ever fashion show,
new girl Mehgan introduces herself, but Draya, Brandi, and Malaysia are skeptical since they know she's friends with Jackie.
Jackie and Draya meet to hash out their differences.
402 – Jackie shoots her first commercial for her cognac and is overwhelmed by the chaos of directing.
Mehgan and new friend Patrice show up to support Jackie's endeavor, but the shade is real when Mehgan starts calling Patrice "evil".
Draya pushes an emotionally ravaged Malaysia to her breaking point and a first time fight ensues between the besties.
Jackie, consumed with jealousy over the fact that she allowed a date between Doug and her enemy Malaysia, starts coming apart at the seams.
403 – Malaysia finally agrees to meet with Jackie to discuss their issues, but makes no promises about friendship moving forward.
Shaunie O'Neal joins the LA ladies and learns that the drama is strong within the group. Draya helps Jackie edit her cognac commercial
and has some critical words to say about Mehgan's performance. Jackie premieres her commercial, but things
go left when Mehgan finds out what Draya said behind her back.
404 – Jackie's commercial premiere continues and so does the heat between Draya and an insulted Mehgan.
Brandi notices the balance is off in the group and proposes the girls take a weekend trip to get their bonds back on track.
Draya, still put off by new girl Mehgan, demands she get to bring a new friend on the trip. Draya introduces her friend Angel to Jackie,
and Jackie is offended to find out the truth about their friendship.
405 – It's time for a weekend away in Santa Barbara and at a pre-party lunch Jackie lets loose with every drink she can get her hands on.
Draya gets the side eye when she introduces her "real" friend, Angel, to the group. Brandi and Malaysia see a new side to their bestie
Draya when they realize that she's out for herself. A playful game of Q and A turns physical when Mehgan gets called a liar, again.
Jackie and Meghan's friendship is put on the chopping block and Jackie stoops to the lowest level of fighting tactics.
406 – Santa Barbara comes to a quick and dramatic end when Draya prompts Mehgan to question Jackie's loyalty.
Jackie's actions towards Mehgan may prove unforgivable but, back in LA, Jackie immediately puts the blame for all the group drama on Draya.
Patrice opens up about the difficulties of having a mixed family and her hopes of someday adopting her husband Eddy's son.
All the stress of Santa Barbara really gets to Jackie's head and she loses her mind when Brandi shows up late to a lunch meeting to
discuss their upcoming cancer event. Will Jackie ever be able to recover from this?
407 – Brandi and Mehgan bond over their hatred of crazy Jackie and Mehgan plots her revenge for getting spit on.
A heated game of dodge ball proves to be the perfect way to squash festering feuds and to create new tensions, but when Draya arrives
tensions only increase. Draya's selfish ways are put on blast by Malaysia and Brandi, and everyone starts to question if she's ever been
a loyal friend.
408 – Draya says some unforgivable things that leave her fledgling friendships on the line. Brandi and husband Jason try to reconcile their
differences in couples therapy, but have Jason's actions caused too much damage to Brandi's heart? Shaunie watches her oldest son Myles grow
up from a boy to a man and confides in her boyfriend Marlon on the changes in her life. Draya, who is on the outs, makes a surprise entrance
at Brandi's cancer event. Major emotions explode when Brandi reveals Draya's true colors. Draya can't take the heat and runs for the hills.
409 – Brandi wins the group's support when the truth about Draya is revealed. Angel styles Malaysia at her luxury bedding photo shoot,
but tensions arise when Malaysia disses Angel's risqué lingerie line. Shaunie, still wary of the LA girls, brings in her old Miami
friend Tami Roman for backup. Angel shows up to her first group event without Draya and a sensitive Malaysia and Brandi immediately jump
down her throat. Malaysia and Jackie butt heads once again when they conflict on the definition of friendship.
410 – Malaysia refuses to stand for Jackie's underhanded comments and kicks her out of her bedding-line launch party.
Shaunie invites the girls to the launch of her son's clothing line and hopes to bring some resolve to the group now that Draya is gone. She
asks the ladies to join her on a trip to Puerto Rico but Jackie and Angel are on the fence because of their beef with Malaysia. It's quickly
made clear that Tami and Shaunie have distinct opinions of the LA girls and a Miami and LA divide starts to form. Jackie and Angel make a
surprise entrance in Puerto Rico and it is far from a peaceful reunion.
411 – Angel attempts to defend her character but is quickly put in the hot seat when Malaysia and Mehgan come for her.
Jackie and Malaysia grow sick of their differences and try to use this vacation to finally mend fences. Still uneasy about the words
exchanged at dinner, Angel takes a personal day while the other girls smoke, drink, and dance their way through Puerto Rico.
When Angel returns to the group for a day on the beach, tempers flare and the beef between Mehgan and Angel comes to a head.
A real sandstorm is brewing.
412 – Mehgan finally pushes Angel to her breaking point and a second beach brawl ignites when Brandi and Malaysia confront the Miami ladies,
Tami and Shaunie, because of some assumed giggling. The LA crew, unable to forgive and forget, spend a day separate from the Miami ladies
hoping they can enjoy Puerto Rico without any drama. The entire group faces each other for a final dinner. Brandi can't hold back her feelings
for Tami and Shaunie and uses some choice words which do not bode well for her in Shaunie's eyes.
[source]