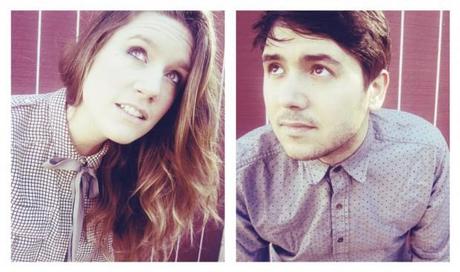 We just cracked open the love-it-on-loud EP by the one-from-Paris, one-from-Michigan duo Freedom Fry and could not be feeling better about it. Three-track summertime teaser Friends and Enemies has us primed, prepped and on our way to happier, sunnier days of troublemaking and daytime dance partying. What's that, you say? Envious of our stellar vibes? Just put this pretty EP on high volume, and you'll be aching from its seriously chill yet sunny slap of springtime serotonin too.
Freedom Fry is the beyond cool combo of French chick (Marie Seyrat) meets American boy (Bruce Driscoll), who together produce the kind of coed vocals that are vital enough a vitamin to keep us street skipping for eternity.
The pair's male/female call and response style falls not too far from the trend set by the likes of Crystal Fighters, Savoir Adore, Wild Nothing and even, perhaps, of Monsters and Men. But it's the duo's playful lyrics, killer harmonies and easy sound that puts this one-side of Freedom Fry's on an indie pop platter of its own.
Especially with the title track and "With the New Crowd," you'll be joy-binging on too high a high to let anything get in your way. Even on the shadier side of the EP, with my personal favorite track, "The Sea Invisible," you still get far more brightness than you bargained for. This track is totally packed, if not more than the rest, with the freshest, sweet and spiked punches of instrumentals.
It's safe to say we'll be stuck on Freedom Fry for all coming seasons, but it's putting us in a particularly summery state of mind. So, let in the fresh air, turn up that volume, and prepare for this sunnier than sunny taste of Freedom.