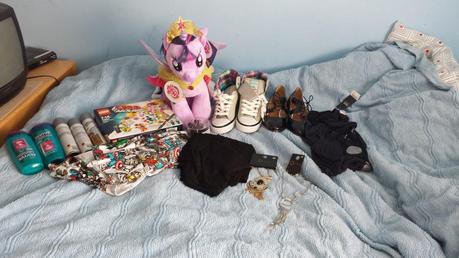 Yesterday i went to Basingstoke with my mom and brother for a spot of shopping. I quite like going to Basingstoke as it is somewhere different to Reading (the shops might not be as good but sometimes i get bored shopping in Reading). We had a good look round the shops and had a spot of lunch, it was a nice day out together. I also bought quite a few bits so i thought i would share with you what i got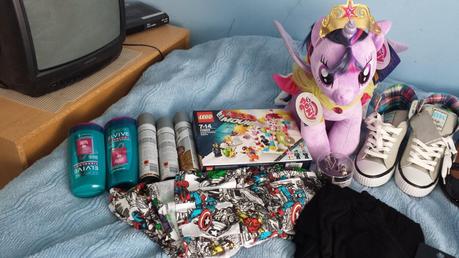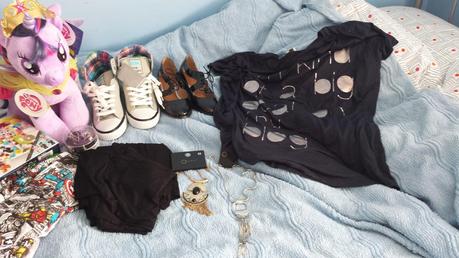 Superdrug had some amazing better than half price deals on, i stocked up on dry shampoo and thought i would give the new Elvive thickening set a go. This all cost me £8.89 and is worth over £20.
After seeing the lego movie i loved unikitty so i picked this up in Argos (my mom mocked me but i don't care) 
I have wanted this My Little Pony for ages and i had a £5 off voucher so i thought now was the perfect time to use it, i also got the coronation cape (yes i am 26) 
I got some new trainers, since my back is has been bad, i have found myself turning to trainers even more, my brother is a huge fan of British Knights and when i saw this pair i loved how different they looked, they are jr size but luckily my feet are small enough, they were 50% so a bargain, my mom treated me to these. I think i am going to get some baby blue laces to put in them. 
There is a shop called tiger in Basingstoke which sells all sorts of magical things, i picked up some large bulldog clips for keeping all my work together.
The Primark in Basingstoke isn't as trend led as the Reading store but it has lots of stock in bigger sizes  so a bonus for me. I picked up this super hero t shirt dress, i love it. I also stocked up on some leggings and got two necklaces, at £3 each i couldn't leave them behind.
My final purchases were from Next, i got the now famous 'i'm kinda a big deal on my blog' t-shirt and some amazing geek cut out shoes, sadly they are actually too big so i need to go exchange them for a smaller size.