Just like that. Six months have flown by without a new blog post. Oh dear. I've been meaning to get back to the blog. So here I am.
Almost a year ago, I shared that I had left the school counseling profession to restore balance to my life. And I did, sorta. For the 10+ months that I was not in a school counseling role, I focused a lot on transitioning my family into our new home, being a mom to my daughter, and figuring out my own self-care. But, I missed the work.
About three and a half months ago, when I was good and ready, I rejoined the school counseling world.
And what better way to celebrate than with a post about National School Counseling Week?! I almost overlooked it this year, but highlighting the work that I do is important, especially as a new person in my school.
Combining information from a flyer I created in previous years, I decided to make a new one with just a tiny snapshot of the data I collect to showcase some of the services I provide our students. Being transparent about my data lets my staff know how I spend my time.
Here's what I plan to share with staff next week: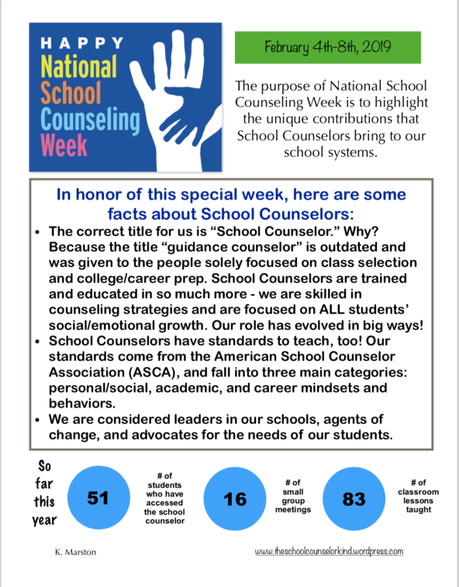 I hope you all can find some small way to celebrate National School Counseling Week in your schools! Check out ASCA for daily ideas.
The work we do is important. Don't be afraid to say so! 🙂
Advertisements