I hear that many high school baseball teams around the country have begun tryouts.  I look outside and still see a few inches of snow and temperatures in the teens so I'm envious of those warmer states.  Anyway, I thought I'd dedicate a few posts to high school tryouts.  

Yesterday's

was about getting your coach to notice you.  Today's is what I look for during tryouts.
The following is information I provide for my high school players and parents before tryouts begin.  I'm guessing most coaches probably approach tryouts similar to the way I do.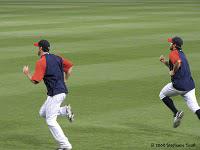 60 yard times are one thing.
"Usable speed" is another.
Speed: 
As players get older, the game gets faster. The players who are able to keep moving up the ladder from middle school to high school to college and to the professional levels are the ones who can keep up with the faster paced game at each level. Players are evaluated to see if they can perform at the speed needed to be successful in high school. Speed, however, does not simply mean running speed. It also means first step quickness, the speed of catching and throwing, bat speed, and the ability to think quick to adjust to changes in the play and/or game. When we time players in the 60 yard dash, we are looking at the player's overall athletic ability. Professional scouts look for times generally under 7 seconds but it can vary due to the position you play. If a player is slow compared to others, it doesn't mean he is at a disadvantage since we are more concerned with what is called "usable speed." A player might be very fast in the 60 yard dash but very slow with his first step when getting to a ball or getting a jump on the base paths. We would rather have players with speed that will help him in game-like situations.
Throwing: 
The ability to throw a baseball is toward the top of our list of things we look for during tryouts. If a player has a strong, accurate arm with good mechanics, he can generally be taught to play any position on the field. If a player lacks a strong arm or has problems with accuracy, there is no place for him on the defensive side of the ball. He would need to be an outstanding offensive player in order to make up for his throwing difficulties. Remember, there are nine defensive positions. There is only one Designated Hitter.
Offense: 
Offense, in our opinion, does not simply mean the ability to get hits. It means bat control, the ability to get on base, and the ability to score runs. It includes both hitting and base running. A player does not need to show 
the ability to hit .400 to be valuable. He must show the hitting mechanics and bat speed that will allow him to keep pace with high school pitchers. We look for a player's ability to hit the ball to all fields, bunt, and move/score runners. On the bases, he should hustle and show baseball knowledge and "instincts" that help runners take the extra base and score runs.
Defense: 
The player who shows good defensive skills has an advantage over others because that will allow him to play numerous positions and therefore be more valuable to the team. The ability to catch and throw properly and effectively is the number one skill needed for defense. We look for players who have good, quick footwork and hands on the field. For outfielders, we look for the ability to get good, quick jumps on batted balls and their ability to catch. We also look for quickness in their ability to return the ball to the infield with strong, accurate, overhand throws.
Pitching: 
Although many kids tend to focus on velocity, we focus more on command of pitches. Throwing the ball harder does give a pitcher an advantage but it does not guarantee success. The ability to throw strikes with all pitches and to locate 
them within the strike zone is what ultimately will determine a pitcher's success. The pitcher who can do this with the added bonus 
of velocity has the advantage over others.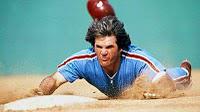 Showing passion and enthusiasm
can go a long way during tryouts.
Potential: 
Player potential is a difficult thing to judge because every player peaks at different times. Some peak prior to coming to high school. Others peak at the JV level. Some start out as average players but grow into very good players by the end of their high school career. Some don't peak until college or even after college. We try to keep the players that, in our opinion, have more potential for growth in their baseball skills.
Work Ethic: 
Players should show a strong work ethic during the tryout period. The level of work a player puts into his game can tell a lot about the character of the individual. It can provide a clue into how much he enjoys the game and how well he can handle the length of the season and the huge amount time spent in practice. It also provides a window for coaches to see how interested the player is on improving on a daily basis. We understand that some people improve their work ethic over time but in many cases, if a young man has not developed a strong work ethic by the time they are in high school, it's almost too late.
Passion: 
Passion for the game never goes unnoticed by coaches. Many athletes have talent but talent + passion is something special. Coaches love kids who want to be on the field, who never seem to get enough baseball, and who always want to learn more and get better. The more time you are expected to put into the game at the high school level the more you have to enjoy the game. If you don't, you will begin to resent the game, complain often, and become a problem to coaches and teammates. Kids with no passion for the game are easy to spot. No coach wants one.