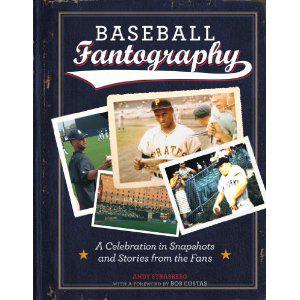 I recently came across a fascinating new book that was written by Andy Strasburg, and put together by the fans. It's called "Baseball Fantography: A Celebration In Snapshots and Stories From The Fans."
Strasburg, who was a San Diego Padres executive from 1975-96, began the project when he found a picture of himself posing with Roger Maris at Yankee Stadium in 1966. He put out the word he was looking for fans with similar photographs and stories of meeting their heroes.
"Baseball Fantography" is a Who's Who of baseball greats from down through the years, and shown on and off the field, posing with fans, in the dugout, that sort of thing. You name them, they're here: Babe Ruth, Roberto Clemente, Gil Hodges, Carl Yastrzemski, Hank Aaron and Sandy Koufax, to name just a few. And you'll find a few players who you won't recognize or remember either.
It's a collection of never-before-seen snapshots, and you won't find them anywhere else. There are color and black-and-white shots, pictures from Cooperstown and players on the street. There are also sections where players talk about who their idols were growing up and what their favorite places to play were.
Andy Strasburg has put together a nostalgic look back at baseball from the fans perspective, and seen through their lenses. The book will be released on April 1st and is available through Abrams Image.
Nice job, Mr. Strasburg.