The past 5-6 days were super hectic but fun, starting with the Maharashtrian New Year, Gudi Padwa, on Thursday & a steady stream of family visiting over the weekend. Food of course played a very important part in the festivities! Puran Poli (sweet, thin flatbread stuffed with jaggery & lentils), little date & nut squares (which were actually sugar-free), Mango Shrikhand… Sweets always take centre stage during Indian festivals! It took a lot of will power to not reach out for the mango & yogurt dessert, though I couldn't resist a bite of the Poli! The main courses too were rich & masaledar (spicy)… mutton curry, kheema (minced mutton), prawns, chicken, served with wada (small, flat, deep fried rice & white gram flour flat bread, shaped like donuts) & neer dosa (light rice flour pancakes)… sigh…my diet!
Anyway, although the food was tasty beyond words, we had had quite enough of the heavy, fiery flavours. It was time for a palate cleanser, something light, fresh & flavourful without the excesses. It was time for my favourite fish… Basa!
I wanted to use a new recipe book I had recently bought & try a technique I had never used before. And luckily for me the Easy Everyday Simple Cookbook (edited by Anne McDowell) had just the thing… a recipe for a Basque Baked Haddock in Parchment or "En Papillote" (French). I had Basa in my freezer so went ahead & used that instead.
"En Papillote" is a cooking technique where fish, poultry, meat or even vegetables are wrapped in parcels of parchment paper & baked. The moisture from the food itself or from water, stock or wine is held in by the paper to steam it. In some traditional South East Asian, Indian & Parsi dishes the meat or fish is wrapped in banana or cassava leaves & then steamed or grilled, which also adds a subtle flavour to the food.
I had first heard the word "En Papillote" on MasterChef Australia. I was an avid follower of the show, which in many ways influenced the way I looked at cooking, specially the non-Indian, Global Cuisine. Almost every episode was an "A-ha! So that's how they do it?" or "Wow! I've gotta try that at home now!" moments! More often than not, the husband & I would be watching the show (yup… this was one show that I watched which actually interested him!) while eating dinner…terrible idea! Because there we were in our living room with our plates of Okra & Roti (whole-wheat flatbread)… BORING!! While on screen, the contestants would be prettily plating up dishes like Roast Pork Belly with Seared Scallops & Apple Brandy Sauce or Stuffed Middle Eastern Snapper with Onion Rice & Salsa! And the desserts…OMG! I could cry! So then I started revising my dinner menus a bit. Even if it was a simple Indian dish or even an omelette or a sandwich, I made an effort to make sure I served it pretty J Then we didn't feel as left out!
"En Papillote" seemed exotic & somehow I never got around to cooking with that technique. Well there's always a first time, I guess! So here it is, my first attempt… Basa "En Papillote"!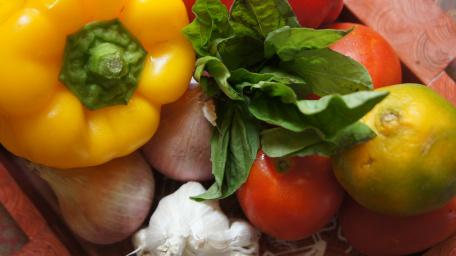 Ingredients
800 gm Basa fillets
½ each red, green & yellow bell peppers (finely chopped)
1 onion (finely chopped)
2-3 cloves Garlic (finely chopped)
2 Tomatoes (skinned, seeded & finely chopped)
Juice & Zest of 1 Orange
4 tablespoons White Wine
Black Olives
1 tablespoon Basil
a handful of Coriander
Chilli flakes
Dried Herbs
Salt & Pepper
Sheets of Baking Parchment Paper
Note: The original recipe asked for:
Only Red & Green Peppers, I added the Yellow ones 'coz I had them & I love the colour!
Juice of 1 Lemon, which I didn't have, so I used Orange instead & added the zest for good measure.
1 tablespoon fresh Oregano, none in the fridge, so threw in the Basil & Coriander
I added the Chilli Flakes 'coz hey, we're Indian & we love the heat!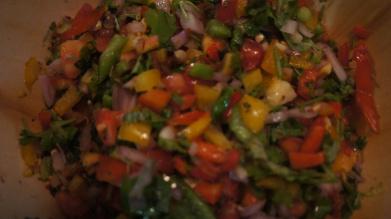 Method:
Mix together in a bowl all the ingredients, except for the fish & olives, like a salad.
Cut the parchment into squares larger than the size of the fillet. I could not manage squares for some reason (I'm geometrically challenged I think!) so made rectangles.
Place a piece of fish on the parchment & spoon 1-2 teaspoons of the salad over it. Scatter olives too.
If you've managed a square, fold the parchment over the fish to make a triangle. If not, just fold it tightly over the fish to make whatever shape you can (like I did!) Either way, remember to fold the edges together tightly to make a sealed parcel. Repeat this with all the fillets.
Arrange the parcels on a baking tray & bake in a pre-heated oven at 170 – 190C for 20 min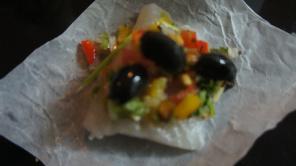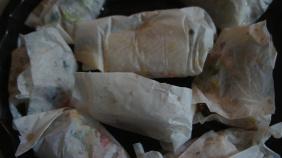 Note: If the size of fish fillets is small, then you could arrange 2 – 3 pieces per parcel. Cut the paper accordingly.
Serve immediately! It tastes best piping hot! You could serve it with some garlic bread & buttered mushrooms (like I did) or any other side-dish you might like. The fish is steamed to perfection, absorbing all the flavours beautifully. The dish is truly very simple, healthy & easy to put together & yet looks & tastes gorgeous!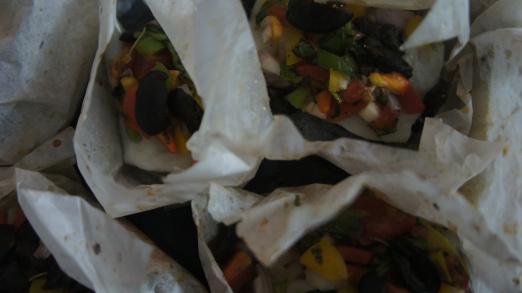 This recipe serves 4