From Last Best Brewing & Distilling in Calgary Alberta comes their first ever bottled beer the "Barrel-Aged Imperial Porter" the first of their Lineage Series. This beer was barrel aged in rum barrels for 7 months. The beer pours a black opaque colour with a brown head. The aroma consists of roasted malts, chocolate, vanilla, plums and sweetness. The flavour is of plums, dark fruits, chocolate, vanilla, sugar, toffee, rum, wood and alcohol. The alcohol content comes in at 10.5% with an IBU of 30. I look forward to trading for more Lineage Series beers in the future as this one was very tasty!
Commercial Description: We want every bottled beer to get better with time. This is restrictive, but important. It means the beers we bottle will be big. Like the 10.5% of this porter big. Alcohol preserves beer and is involved in a variety of chemical reactions that develop complex flavours over time. We've aged it in ex-rum barrels for 7 months until the tannins started to leach from the wood, giving it structure akin to a well-oaked red wine. It's a touch rough right now, but will smooth out in time. This beer is already full of intense dark fruit, chocolate and raisin notes, and we expect these to only get better.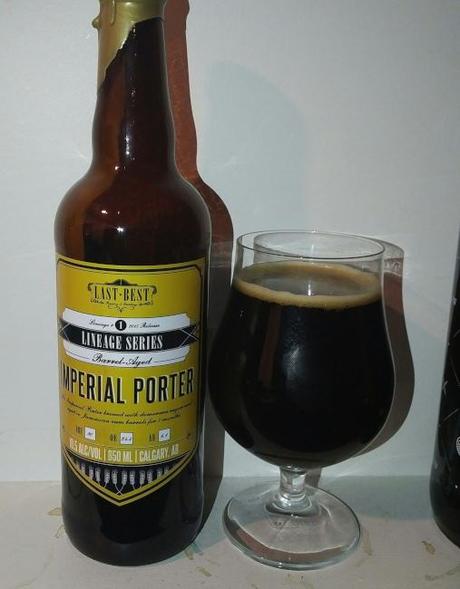 About Mike
I am an avid outdoors man and hobby photographer who loves to spend as much time as possible exploring the beautiful backcountry of the Province of British Columbia and everywhere else! When not exploring nature though I am exploring Craft and Micro Brew beer locally and from around the world. If you love beer like I do please come on a journey for your taste buds. Who knows you just might find your next favorite beer!
This entry was posted in Barrel Aged, Imperial, Porter and tagged alberta, alcohol, barrel aged, barrel aged imperial porter, beer, calgary, chocolate, craft beer, dark fruit, dark fruits, imperial, imperial porter, last best brewing & distilling, last best brewing and distilling, plum, plums, porter, rum, sugar, toffee, vanilla, wood, woody. Bookmark the permalink.