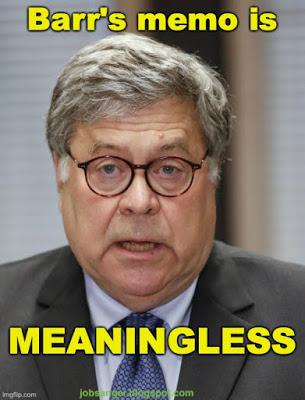 On November 9th, Attorney General Barr issued a memo to his assistants and the Director of the FBI. His memo gave them permission to investigate any instances of fraud regarding the 2020 presidential election. (The entire memo can be
read here
.)
Democrats, and the talking heads at cable news, immediately became upset. The thought was that Barr would force an investigation that came up with dubious results and called the legitimacy of the election into question. They based this on Barr's past actions, where he acted more like Trump's personal lawyer than the attorney for the people of this country.
I understand their concern. But I think it is unwarranted. Why? Because of an important paragraph in the memo. That paragraph reads:
I authorize you to pursue substantial allegations of voting and vote tabulation irregularities prior to the certification of elections in your 
jurisdiction
since certain cases, as I have already done in specific instances. Such inquiries and reviews may be conducted if there are clear and apparently-credible allegations of 
irregularities that, if true, could potentially impact the outcome o
f a federal election in an individual State. Any investigation of claims of irregularities that, if true, would clearly not impact the outcome of a federal election in an individual State should normally be deferred until after the election certification process is completed.
Note that it says an investigation should not be done unless it could affect the outcome of the election in that state. If it would not, then an investigation should be deferred until after the election is certified.
The New York Times has contacted the election administrators in all of the states, and every administrator said there was no evidence of any fraud in their state. Without such evidence, there is no chance of an investigation overturning the results of an election -- so no investigation would be done.
This memo is virtually meaningless. It was issued to keep Trump happy, and for no other reason.