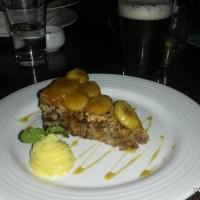 It was an unusually rainy evening and I questioned myself why in the world was I headed towards a pub on such a stormy evening? I guess my mind knew the answer even before I could realize, the thought of trying out a revamped pub menu (as the invite said) was interesting in itself. I was quite curious to see what special menu had been designed by the culinary creators of Barking Deer pub apart from the usual nachos-bbq wings type pub grub.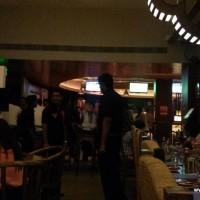 On reaching the place, which is within a by-lane of the Mathurdas Mill compound, I was quite amazed at the crowd despite it being early hours of the evening. What I realized soon was that most of the crowd was the neighbourhood office going crowd catching a quick drink before heading home. The place, after all, has a very American sports bar/pub kind of a feel to it.
I made my way to the long table (set out for the blogger group) and was greeted by two cheerful ladies. Iwas told that I could order whenever I wanted. I decided to wait for a few minutes to see if more bloggers came, but I guessed, the rain played a spoil sport to many a good evening plans. The table was long and funnily enough there were two blogger groups one at the extreme end, one in the center and me. There was absolutely no interaction amongst any of us (which I found a bit weird, thinking that we would act like one big family, comparing and sharing food notes). Anyway, after about waiting 30 minutes indulging in mindless chit chat with my hostess and her blogger friend, I decided to go ahead with my order.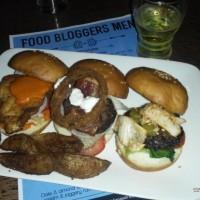 Being someone who was invited to review the menu, I assumed that we would be brought small samplings of all the dishes on that menu for us to give our comments, but what followed thereon was just a long ride downhill, with some highs and many many lows. The first low came when after about 45 minutes of me asking the head chef that he may start with our service, I enquired my server how long before he would bring my food and he had no clue about it. Poor guy looked utterly confused and turned to consult his fellow server who looked equally clueless. Eventually our hostess for the evening spoke to the server and explained and finally after a wait of another 20 minutes I was served the first platter of 3 slider burgers. These burgers were paired with a small glass of Budweiser Pilsner Lager which was warm and flat (??!!). Now those who know me know that I am not a heavy drinker but a very particular one, and when I say particular, I mean, I am very particular about my drinks, the taste and the way they are poured. I must say that I was quite put off at the lack of attention shown by the organizers/pub administration by (a) deciding to pour a flat and slightly warm beer (b) pouring it into a small glass (Oh I wish I could have taken a picture of that glass). I pointed out to the hostess that they should at least serve the beer in proper glasses and at the right temperature and they could maintain the quantity in the glass the same as that of the small glass.
All three burgers were quite dry and but the sauces used in all of them were quite interesting. The best of all three was the Dragon burger which had a distinct flavor of lemongrass and a spicy tang of kimchi salad.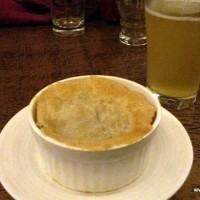 We then moved to our next course where I chose a chicken pot pie, this time paired in the right glass, at the right temperature, with Fullers Honeydew Ale – crisp refreshing ale with very nice earthy palate. The pie was probably the highlight dish of the evening though the filling was a bit liquidy. Another observation about the pie was that the upper crust did not have egg wash so it looked a bit pale in color and since it didn't have any hole for the inside steam to release, the meat inside had more of a curry rather than a pasty consistency. However the flavors were absolutely bang on and I wouldn't mind going back to the pub for a second helping of this pairing.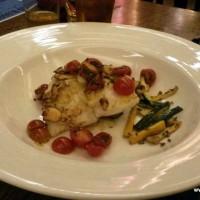 The third course saw the lady sitting next to me go for an Almond crusted Basa while I ordered the grilled chicken with rosemary sauce and tabouleh salad. While the basa dish was perfect with all the components on the platter complimenting each other, my chicken dish was a bit of a mismatch where the chicken and the sauce did not go well with the tabouleh salad (perhaps a garlic mashed potato
would have paired well with it). This was paired with a light headed Hoegarden with Blanche which I think went well with the chicken. The funny part however was that after finishing my meal, I asked the server if I could get another glass of beer and I was brought one with a disclaimer that that was all I could ask for and the management did not permit any refills (??), even though I found it quite insulting, I could understand the stand of the management to put a curb on some freeloaders. What I could not understand was this: why invite guests for a food review and not train the servers attending the table with the orientation and attitude? Most of our food reviews are where we PAY for our food and drinks unless we are invited and this was a bit off handed I think.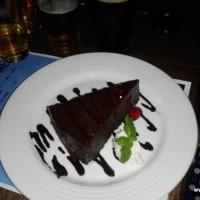 Finally we closed the meal with some desserts where I went for a Date and Almond tarte with Ginger and my friend went for a Chocolate Raspberry Truffle cake. While the chocolate cake was very dense and totally unforgettable, the date and almond tarte was quite a delight. Both the desserts were correctly paired with the right stouts.
I must add, here, that during the course of the evening, Greg, the owner of the place was kind enough to visit our table, interact with us and enquire about the food. On one of these visits to our table, Greg brought a cocktail which he had asked his mixologist to prepare and it was perhaps one of the best cocktails I have had in a long long time. I would certainly recommend my readers to head to Barking Deer for these cocktails if not for anything else.
To sum up the whole evening, associating fine dining with Pubs is not a very usual thought. The management of Barking deer must be commended for creating a menu which is different to other usual pub fare and they have given quite some thought to the ingredients. However I should also point out that much is desired as far as the execution is concerned. Dry Burgers (even though interesting flavours) don't translate into a good burger. Liquid filling doesn't make a good pie. Tabouleh salad may not necessarily go well with Grilled chicken in rosemary sauce (yum) and a dense chocolate cake certainly is not an apt finish after a glorious meal and drink session.
All in all, if I was asked to visit Barking deer again, I would certainly say yes. Though my reasons would not primarily be the food but the superbly crafted cocktails (I am told that the mixologist makes his own bitters and mixes in-house), the good selection of beer and then the interesting selection of gourmet food, in that order).
A few days back I put up a comment on the Indian Food Freak-FB group pondering upon a question whether it is important to be a good cook to be a good chef. Perhaps the visit to Barking Deer was the perfect proof that to a good cook doesn't necessarily become a great chef!
Food: 2.5 | Drinks: 3.5 | Ambience: 4.0 | Service: 2.5 | Overall: 3.0
Meal for two: Rs. 2000| Alcohol: Yes | Credit Card: Yes | Timings: 12:30 PM to 1:00 AM
Address: Mathuradas Mills Compound, Lower Parel, Mumbai. Landmark: Opposite to Kamla Mills | Phone: 02261417400
- Suprio Bose