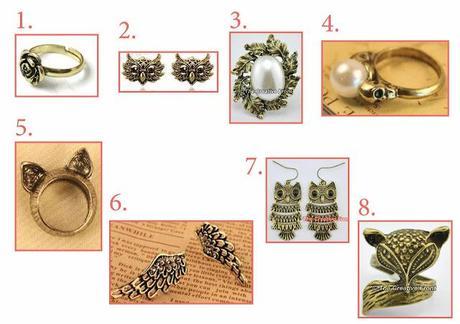 1. 

Vintage Bronze Rose Ring

 99p

2. 

Bronze Resin Night Owl Earrings

99p 

3.

Oval Pearl and Leaf Ring 

99p




4. 

Gold skulls ring with faux pearl 99p

5.

Cat Earring

s

99p 

6. 

Angel Wing Earrings £1.49 

7. 

Owl Drop  Earings 99p 

8. 

Fox and Tail Ring 99p 

One of best sets of presents I have ever gotten is when my boyfriend visited India a few years ago and bought back crazy amounts of hair clips, jewelry and cute little note books. I loved every single thing in the package and it took me so long opening up all of the little parcels. Seen as though my nearest and dearest don't go away to these exotic places to pick up bargains all that often I find eBay the next best thing. I'm very fickle when it comes to jewelry so these little bargains tick all the boxes for me. I also find that no matter how much I spend on costume style jewelry rings they always make my fingers go green so I'd much rather grab something for a pound than the £9 on the high street. Loving the vintage look to all of these pieces!