Everyone loves a good bargain and with its centuries-long history of trade and prosperity it is safe to assume that Amsterdam has more treasures than the average large city. For all you bargain hunters and lovers of antiques, here's a tip on what is guaranteed to become one of your favorite Amsterdam events.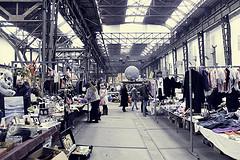 The IJ-hallen flea market is the biggest flea market in the Netherlands and one of the most unique in Europe. It is also (usually) held on the first weekend of the month, making it a monthly experience you can look forward to if you're staying in Amsterdam for a lengthy period of time. It is held in the IJ-hallen located in Amsterdam Noord. If you are driving, there are usually plenty of parking spaces available. If you are taking public transit or biking there, you can reach the flea market by taking the free ferry from behind Central Station to the NDSM Wharf. The ferry ride only takes a few minutes and the views as you pass into Amsterdam Noord are pretty spectacular.
The IJ-hallen flea market is a wonderful event to hunt for keepsakes, discount items, as well as many other types of undiscovered treasures. Although only second-hand items are permitted to be sold by private retailers (no official stores), the Dutch are known for their thriftiness and enjoy good deals on useful items whether selling or buying. For this reason, expect the flea market to be more than just the usual knick-knacks. Be prepared to fall in love with all manner of items from clothes and shoes, to electronics, to furniture. Of course, unique antiques can also be had for reasonable prices, and make for great souvenirs.
The market lasts all weekend (opening at 09:00 and closing at 16:30) with all 750 stands already sold out. Entrance fee is 4.50 euros for adults and 2 euros for children under 11.
Good flea market going tips include being early and bringing looooots of cash.

© 2013, Amsterdam City Tours Blog. All rights reserved. On republishing any part of this post, you must provide a link back to this original post